Lowton is Back, Bigger and Better!
Friday August 8th sees the return of the popular Lowton Civic Hall soul nights after the Summer break.
Lowton has remained one of the most popular Northern Soul nights on the soul calendar and many soulies have been looking forward to its return since the last event in April. The night is coming back bigger and better with a second room dedicated to the very popular 70's soul revival happening in the North West at the moment.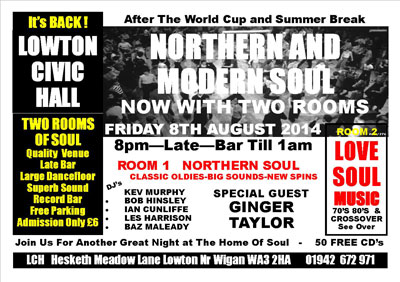 The additional room is being promoted in conjunction with the re-launch of LOVE MUSIC REVIEW magazine, which ran from 1995 to around 2000 and was dedicated to the more Modern side of the scene and the emerging Crossover Soul scene in the North West. Those attending the night can expect a blend of soulful 70's anthems, eclectic 80's selections and choice late 60's Crossover tunes. DJ's on the night will include LOVE MUSIC REVIEW main man Andy Love together with Leyland's, 'So Soulful 70's', Steve Plumb plus soul connoisseur Roger Williams together with Lowton residents Baz Maleady and Bob Hinsley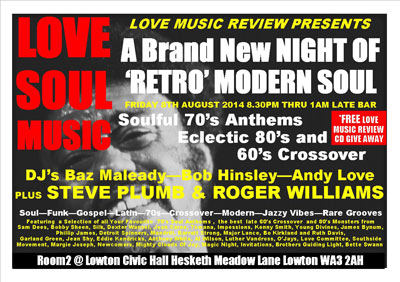 The main room at Lowton continues to feature a varied selection of the best classic Northern Soul oldies as well as the big reactivations on the scene today and showcasing some of the new spins breaking through. All of which keeps a growing and appreciative crowd very happy. DJ's in the main room in August include Lowton favourite, Kev Murphy, local stalwarts Ian Cunliffe and Les Harrison, plus Bob Hinsley and special guest on the night is possibly the busiest and most popular DJ on the scene, Ginger Taylor.
To mark the occasion a complimentary CD will be available with a choice of main room Northern tunes or a Love Music Review preview people signing up for our regular e mail newsletter on the night will also a receive a copy.
Soul Sourcers who may like a copy of the CD and notifications regarding Love Music Revue can email andrew.love7@ntlworld.com (mailto:andrew.love7@ntlworld.com)
So, make a date in your diary and join us the gathering at Lowton Civic Hall on Friday August 8th for what promises to be a great soul night out!