The 6TS Rhythm 'n' Soul Society is pleased as punch to announce that Sandy Wynns and Greg Perry will be our live acts at the 22nd Cleethorpes Northern & Modern Soul Weekender on June 14th 2014.
It will be the first time Sandy aka Edna Wright has performed her Northern Soul classics 'Love Belongs To Everyone', 'I'll Give That To You', 'How Can Something Be So Wrong' and of course the forever monster sound 'The Touch Of Venus'. She will perform more sensuous soul sizzlers including the Modern Soul highlight 'Oops! Here I Go Again'. Additionally there will be Honey Cone numbers from her successful career at Hot Wax/Invictus.
Sandy has been at the forefront of the Los Angeles female backing singers' scene that cut so many international hits over the past four decades. That incredible work was recently documented with reference to several of her friends and colleagues in the Oscar winning documentary 20 Feet From Stardom.
Many of those H-D-H period songs were written by the hugely talented Greg Perry who started out as an artist and songwriter in the Chicago and Detroit area. One of his early writing partners was friend of the 6TS @ Cleethorpes, Sidney Barnes. His 1967 Northern double-sider 'Head Over Heels' / 'Love Control' on Chess set the standard and he composed for the likes of Cookie Scott and Thelma Jones in the 60s before being recruited by Holland, Dozier, Holland for Invictus. There he composed many hits including 'Somebody's Been Sleeping In My Bed' for 100 Proof, 'Bring The Boys Home' Freda Payne, 'Pay To The Piper' Chairmen Of The Board and 'Want Ads' for the Honey Cone.
Like most of the Detroit music scene in the early 70s he moved to Los Angeles; the home of his wife Honey Cone Edna Wright. He produced her 1974 RCA LP there and his own Casablanca LP and singles in 1975 and his RCA LP in 1977. Those two great albums included such Modern Soul gems as 'Variety Is The Spice Of Life', 'Come On Down (Out Of The Clouds)', and 'How's Your Love Life Baby' and a 1982 swansong for the Alfa label tacked on a Northern Soul smash 'It Takes Heart' to the end of an illustrious recording career.
After Bettye Swann's stunning performance last year I found it tough to come up with an exciting bill for this year. I think that has now been achieved.
See you in June.
Ady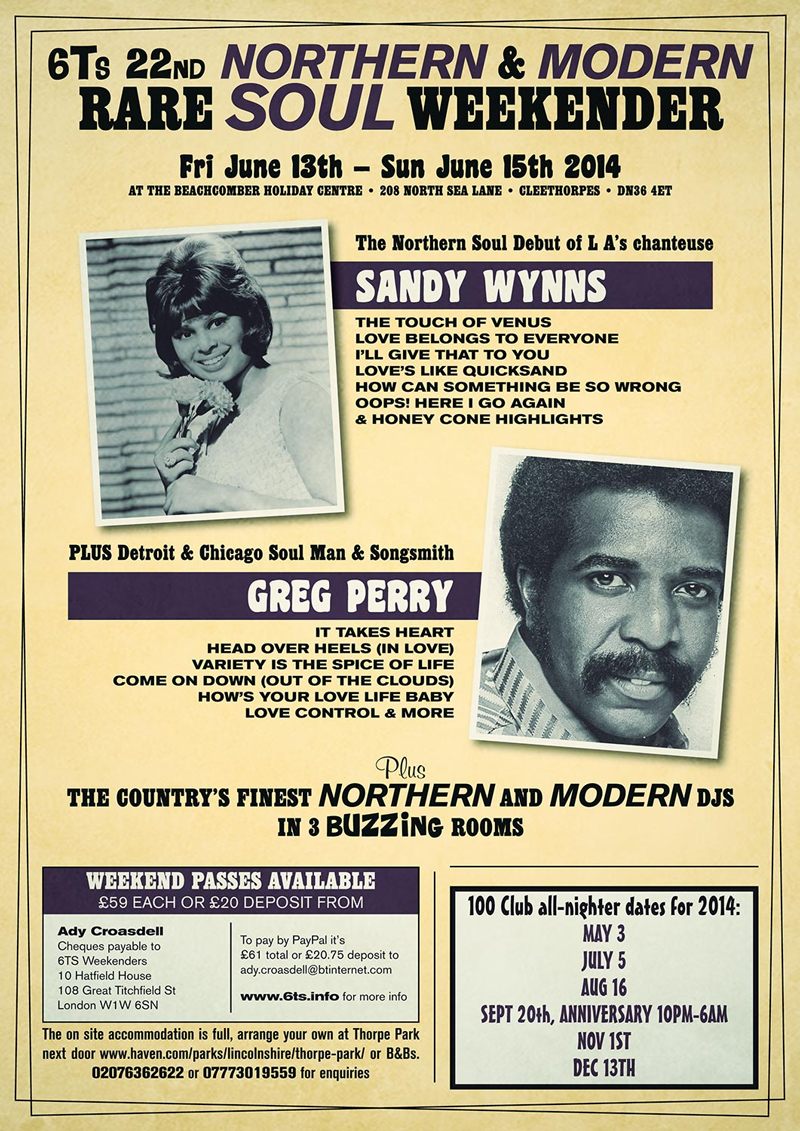 BOOKING DETAILS
6TS WEEKENDERS
10 Hatfield House
108 Great Titchfield St
London
W1W 6SN
TEL 07773 019559
Or 020 7636 2622
E-MAIL ady.croasdell@btinternet.com (mailto:Ady.Croasdell@btinternet.com)
Web site http://www.6ts.info (http://www.6ts.info/)
Deposit cheques of £20 per person are best to the above address payable to 6TS Weekenders. We can accept PayPal to the ady.croasdell@btinternet.com (mailto:ady.croasdell@btinternet.com) address which will cost £20.75 for each deposit to cover the extra charges. Feel free to pay in full now if you wish, details below.
Unfortunately due to the Beachcomber's limited capacity there is only enough room on site for last year's on site customers. However Thorpe Park (01472 813395) caravan site next door has plenty of accommodation, or try the tourist board for B&Bs 01472 323222.
The final prices will be £59 for weekend dance passes (£61 by PayPal). The weekender is on the 13th-15th June 2014 and the full live act line-up will be announced soon.