STOP PRESS !
THE FIRST BLACKPOOL INTERNATIONAL SOUL FESTIVAL JUNE 17-19th 2016
The Winter Gardens in Blackpool has been described as " the most magnificent palace of amusement in the world " – quite a claim, but as you enter this 10,000 capacity venue it's hard not to be impressed by the Victorian grandeur coupled with it's state-of-the –art 21st century facilities .
For over 130 years has played host to world famous entertainers and many music events so it is with great pleasure that the location has been selected for the first Blackpool International Soul Festival which is set for the weekend of Friday – Sunday June 17th – 19th 2016.
Headlining at the event are no fewer than four iconic American soul artists, each of whom will be performing specially selected sets which reflect their most popular recordings on the UK soul scene.
Bettye LaVette One of the world's most celebrated soul singers , with an exclusive Northern Soul classics set , to include : "I feel good ( all over ) " , "Only your love can save me", "I'm Holding On" , " You'll wake... In addition to writing a sensational book about her life in music , Bettye has appeared for President Obama at the White House and is a regular on late night TV shows in the States. Bettye cut many superb songs in the 60s and 70s for labels including Atlantic, Karen , Calla and Epic , and will be performing these to provide an one-off "oldies" show at the festival.
Dee Dee Sharp was a teen hit-maker in the early 60s with big-sellers for the Cameo label, before she married producer Kenny Gamble and recorded many magnificent tracks between 1965-1978. Dee Dee will be singing her previously unissued version of "I'll do anything" as well as Northern Soul anthems including "What kind of lady" and "Deep, dark secret" plus her sensational reading of the classic "Comin' home baby"
Chicago has long been considered the home of soul music and no artist better exemplifies the 60s into the 70s "crossover" mellow sophistication than Bobby Hutton. His ABC recording from 1974 has long been considered one of Northern Soul's most glorious discoveries "Lend a hand". Bobby had previously recorded for Chess and then Philips and his show at the festival sees him perform many of these in demand songs for the very first time.
Finally, an exciting discovery – for over 40 years vocalist Gerri Granger had remained totally unaware that her 1971 recording for the American Bell label , "I go to pieces ( everytime )" had packed dancefloors all around the UK and had been reisissued due to demand , selling over 30,000 copies on a 45 and appearing on several compilation CDs. This will be Gerri's first visit to the UK to perform for her legion of fans who also remember with love and affection her recordings in the mid 60's for the Big Top label.
To guarantee that the acts all sound just like their records, the musical director will be Snake Davis who has a wealth of experience working with American Soul artists including Dionne Warwick, Frank Wilson, The Impressions, Ronnie McNeir , The Vibrations, Mitch Ryder, Willie Hutch, Barbara Lynn and The Originals!
In addition to the mouth-watering array of live acts, the Blackpool Soul Festival 2016 also boasts no less than 60 top UK DJs playing in 6 venues . With all styles of soul covered , from Motown and 60s club soul, 70s Phillysoul, rare groove, Jazz Funk, Classic and newly-discovered Northern Soul, Modern Soul "crossover", soulful dance and today's new "luxury soul" releases, plus Mod styles from the 60s with Ska and Jamaican soul..
Over the 3 days, there will be special tribute sessions to legendary venues including the Blackpool Mecca Highland Room, Manchester's Twisted Wheel, Wigan Casino, The Manchester Ritz All Dayers "Angels" in Burnley and "Cassinelli's".
The event will also be featuring film shows , Q&A sessions and a scooter exhibition. Top soul merchandisers will be displaying their wares in the "Horseshoe" area.
The Blackpool Winter Gardens, with it's ballrooms, restaurants and theatres and exhibition areas is the perfect location to host the first such event of it's kind. The perfect meeting place for hordes of soul fans from all around the UK to come and celebrate all that's been good in soul for the past 50 years.
Blackpool has many award-winning accommodation options , some of whom will be partnering the 3 day festival and offering "event and accommodation" bundle deals .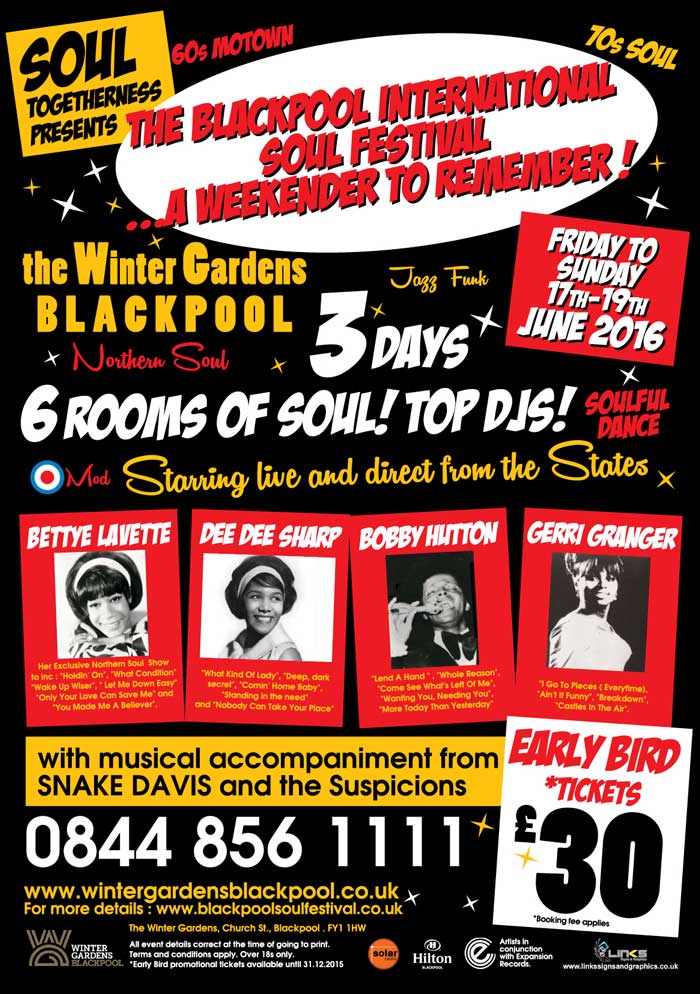 For more information about the Blackpool International Soul Festival, please visit the website :
http://www.blackpoolsoulfestival.co.uk
"Early bird" all weekend tickets are now on sale on either : 01253 629666 ( daytime) or 0844 856 1111 ( 24 hour, booking fee applies ).
The Blackpool International Soul Festival