Summer Kent Cd Competition - Kent's Cellar Of Soul Volume 3 CD
The destined to fail attempt to run a regular once a week competition for all you soul source members continues, here we have...
A chance to win yourself a copy of this fine CD.
Released earlier this year the third in this series continues travelling a more classic than rare soul road.
Ace said about this...
We present for your delectation 26 mid to late 60s classic soul tracks, only six of which are currently on Ace CDs. Inevitably many are uptempo but the CD is designed to capture the spirit of 60s soul rather than its later UK dance-centric revision. Several were R&B hits and a few made the Pop Hot 100 too. Most were released in the UK, some on groovy little labels such as Action, Spark, Soul City, Direction, B&C and Pama. They were the type of records the pirate radio stations would plug from their off-shore floating studios. It was mod music in the sense of new, hip and in the groove, rather than of any elite, exclusive in-crowd. If it was groovy you bought it.
See more at: http://acerecords.co.uk/kents-cellar-of-soul-volume-3#sthash.M4THzGlQ.dpuf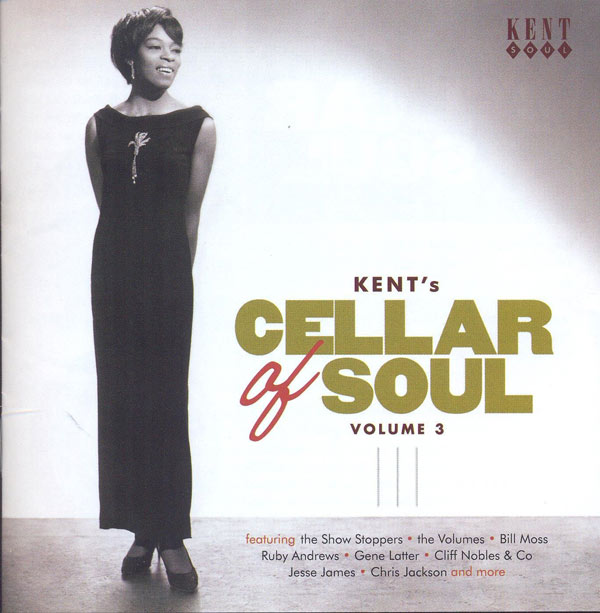 While on Amazon a review by Mark Coyle went like this....
This is the singles release of these early soul seminal classics. I grew up in the Mod/soul scene hearing these songs in this way. This is one of the best series of reissue soul ever and although the emphasis isn't said to be on dance soul, much more than half of the tracks are Northern Soul classics from the pure soul part of the sound. Almost all these tracks don't have stereo mixes so this is as they were meant to be heard. Buy with confidence.
Kent's Cellar Of Soul Volume 3 CD on Amazon
Track Listings
1. Peaches N Cream - The Ikettes
2. Gimme Little Sign - Brenton Wood
3. The Horse - Cliff Nobles & Co
4. Sign On The Dotted Line - Gene Latter
5. Lovers Holiday - Peggy Scott & Jo Jo Benson
6. Believe In Me Baby Pt 1 - Jesse James & The Dynamic Four
7. Gotta Give Her Love - The Volumes
8. Baby Please Come Back Home - J.J. Barnes
9. And Get Away - The Esquires
10. The House That Jack Built - Thelma Jones
11. Tramp - Lowell Fulsom
12. Freedom Train - James Carr
13. What Can A Man Do - The Showstoppers
14. Giving Up - The Ad Libs
15. With This Ring - The Platters
16. Sock It To Em Soul Brother - Bill Moss
17. One Eye Open - The Maskman & The Agents With The Billy Clark Orchestra
18. Ooh Wee Baby I Love You - Fred Hughes
19. Sharing You - Carl Henderson
20. Touch Me, Kiss Me, Hold Me (Goose Pimples) - The Inspirations
21. Funky Fever - Clarence Carter
22. Casanova (Your Playing Days Are Over) - Ruby Andrews
23. Take It Baby - The Showmen
24. Never Love A Robin - Barbara & Brenda
25. I'll Never Forget You - Chris Jackson (Marke Jackson)
26. Baby It's Over - Bob & Earl
Members just go to here
https://www.soul-source.co.uk/raffles/raffle/3-summer-kent-cd-competition/
then hit the "Enter Comp" red button (top right) and you are in
next friday the result will be annouced along with next weeks competition
Good luck now!