Date Of Induction: November 2014 Category: Female Vocalist
When I realised Linda Jones was going to make the first list of inductees to our Northern Soul Hall Of Fame I have to admit to allowing a small satisfying smile cross my lips. For just about all my adult life I've marvelled at the lady's talent and ability and her contribution to the lives of soul fans deserves no less than to be recognised by those very same fans to whom she is so endeared.
Linda was born on January 14th, 1944 in Newark NJ. Even at the tender age of six years old she was entertaining crowds with her singing as part of her family's Gospel group The Jones Singers and throughout her teenage years she developed her distinct powerhouse vocal style that would place her up alongside the highest echelons of female soul singers.
In 1963 she made her first foray into the world of secular recording when she was billed as Linda Lane on the MGM subsidiary with a version of the Berry Gordy penned Jackie Wilson hit, Linda Lane — "Lonely Teardrops b/w Cancel The Celebration" — Cub 9124 but as with much of Linda's catalogue it didn't quite resonate with the record buying public. Undeterred by a lack of success from her initial waxing she persevered with her art and continued to sing on the local lounge and club circuit. Without completely ditching her Gospel roots, Linda nurtured them and embraced the sound in her singing. It was this fusion of a Gospel tinged, heart-wrenching vocal combined with Linda's passionate delivery and wide range, that formed the building blocks of her career. Discovered singing in a local club by Jerry Harris, a sometime song-writing partner of legendary record producer George Kerr, the meeting led to an introduction that would change Linda's professional life and open the way for her recording career to finally take off.
George Kerr's career had begun with him being a member of The Serenaders alongside Sidney Barnes, Timothy Wilson and Howard Curry but had really took off when he, alongside Mr Barnes, became a staff writer for the newly established Jobete (Motown) office set up by Berry Gordy's second wife Raynoma. (1) When Berry Gordy decided to close down his New York office he transplanted George Kerr and his family to Detroit, which is where over the next two years, he would study the intricacies of arranging and producing. With Motown's existing arranging and producing teams right at the forefront of the explosion of soul music during the mid-sixties it's no surprise that George Kerr's opportunities were limited and frustrating. On release from his Motown contract he returned to New York with all the skills and determination to forge his own way musically and his introduction to Linda Jones was one of those glorious coincidences when two talents collide with mouth-watering results.
Basing their recording sessions in NY, George Kerr and Linda Jones kicked off their association with a song that was probably written whilst Kerr was a staff writer at Motown's NY office. Linda Jones — "Take The Boy Out The Country b/w I'm Taking Back My Love" — Atco 63344. The B Side of which highlights just how mature Linda's voice had become as she performs a dramatic twist and turn through her vocal range. An equally dramatic, piano laden backing rack from Messrs Kerr and Harris provide Linda with a great platform and she delivers in spades.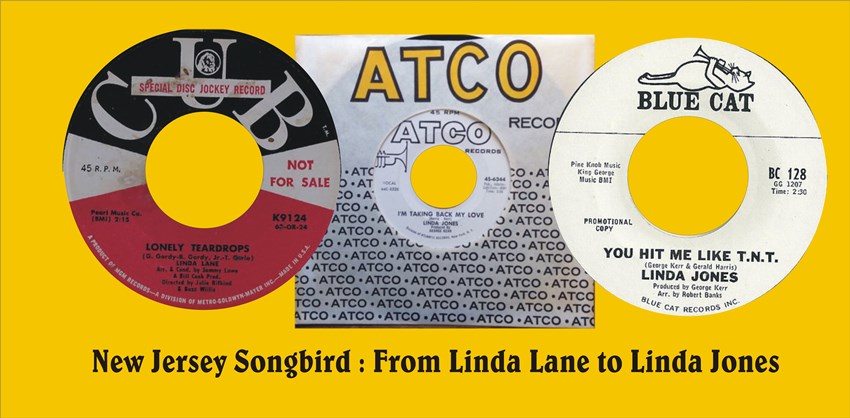 The team's next outing was placed with New York Brill Building tenants Jerry Leiber and Mike Stoller's famous Blue Cat imprint, Linda Jones — "Fugitive From Love b/w You Hit Me Like TNT" — Blue Cat 128, the flip being another Kerr and Harris penned song but this time a full blown, on the fours, up-tempo dancer. (2) Mr Kerr was beginning to get the gist of Linda's abilities and this outing solidified their combination with it's almost Motown-esque driving beat, chanking guitar, Hammond organ riffs and forceful backing singers. There's no mistaking the real star of this particular show though, Linda's strained impassioned vocal takes centre stage and remains there throughout! As Linda extols the merits of being hit like TNT by her lover's charms, this uptempo, bounce-along dancer gives the listener an audio peek of what was to come from the New Jersey songbird.
George and Linda had recorded a song that Kerr tried to lease out and played to one of Brunswick's main promotional guys, Joe Medin who liked it but with Brunswick in full promotional swing for a certain Jackie Wilson suggested Kerr punt the song to Ronnie Mosely who had just started work at the newly established Loma records. Mosely wasn't particularly taken by the track but Jerry Ragavoy brokered a deal for George Kerr with the Warner Brothers' subsidiary label, when he heard Linda singing the song. Ragavoy was producing records for the Bob Krasnow owned logo at the time and knew of Kerr's emerging talent. With a Richard and Robert Pointdexter song utilising Richard Tee on duty as the arranger, the team got off to a veritable 'flier' right off the bat. Their initial release for the West Coast label in 1967, Linda Jones — "Hypnotized b/w I Can't Stop Loving My Baby" — Loma 2070, combined a strong ballad with Linda's vocal gymnastics and delivered a performance that resonated with the record buying public who pushed it to #4 on the Billboard RnB Chart and #21 on its Hot 100 Pop equivalent. The flip is a fantastic Northern Soul dancer that has often been touted as the next big thing on DJ turntables but has yet to see it's real appreciation by the dance-floors.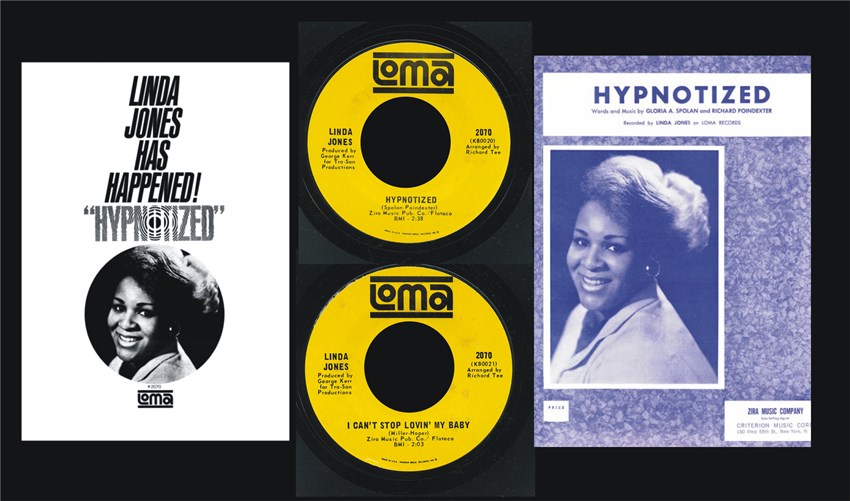 It would prove to be Linda's most commercially successful outing and the resulting LP, Linda Jones — "Hypnotised" — Loma (LP #5907), would become a 'must have' for soul fans and ranks up amongst other outstanding Northern Soul quality albums by such notables as The Metros, The Hesitations, Bobby Hutton, The Tempests etc. A couple of more than noteworthy tracks that can only be found on this album are Linda's version of the Shirelles classic, "Last Minute Miracle", which has an added urgency to the original and the sublime mid tempo outing, "If Only (We Had Me Sooner"
The album also proved fertile ground for single releases too with six of the tracks making it to a 45 release on three outstanding back to back 45s. In addition to the album title song, three other singles were culled, Linda Jones — "What've I Done (To Make You Mad) b/w Make Me Surrender (Baby, Baby Please)" — Loma 2077, the A Side of which is a fantastic ballad on which Linda's signature vocal gymnastic take centre stage as she interprets a song by George Kerr and Jerry Harris. It's George and Jerry who provide the vehicle for the flip too, although this side seems to be a departure for not just them but also for Linda in that it's a funky story of unrequited love which features a rather messy horn arrangement that leaves Linda kinda shrouded in the mix. The third and final 45 taken from the album was back to business as usual though, Linda Jones — "Give My Love A Try b/w I Can't Stand It" — Loma 2085 provides a wonderfully produced Pointdexter Brothers ballad and a raucus and criminally overlooked pounding dancer, both sides highlighting Linda's now fully developed range and powerful delivery technique.
One other track on the LP, "You Can't Take It" was also picked up for plays on the Northern Soul scene but because of it's LP status has never really dominated the dance-floor as it could have. The song does appear on a rare French 7inch single and is also available on a very much sought after French EP as well.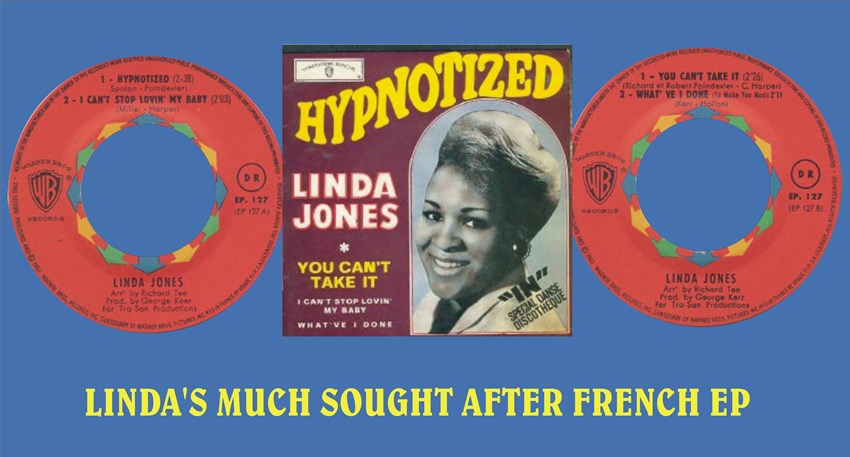 Linda had three remaining outings on the Loma label, Linda Jones — "What Can I Do (Without You) b/w Yesterday" — Loma 2099, coupled a deep soul, Gospel influenced ballad with a version of the Beatles classic but Linda Jones - "I (Who Have Nothing) b/w It Won't Take Much (To Bring Me Back)" — Loma 2105 sees Linda deliver her interpretation of the classic first produced by the Brill Building residents Jerry Leiber and Mike Stoller on Ben E King (Atco #6267) in 1963 but made famous by Shirley Bassey the same year on a UK production (Columbia # 7113). She really grabs the song by the musical horns and her dramatic, soulful intonations give the song a different feel from Ms Basseys'.
Linda Jones is one of those artists that will be forever linked with a song that is seen as their signature Northern Soul outing. Actually, in Linda's case she will be forever intrinsically linked with two songs, both from the Warner Brother's stable albeit only one showing the Loma insignia. Linda Jones — "My Heart Needs A Break b/w The Things I've Been Through (Loving You)" — Loma 2091 and Linda Jones — "I Just Can't Live My Life (Without You Babe) b/w My Heart (Will Understand)" — Warner 7 Arts 7278 are both iconic femme Northern Soul classics, the first one was written by Sammy Turner (3) and encompasses all the components of our music's signature goodies, a dance-floor magnetic intro, peaks and troughs backing track, swirling strings, a metronome like tambourine and right at the fore is that impassioned, unique, gut wrenching vocal from a lady who absolutely nails it as she tales her tale of overpowering love in full blown dramatic fashion. The second one, written by George Kerr and arranged by that soul stalwart Richard Tee, has of course filled dance-floors for over 40 years. If anything is pitches up Linda's emotionally charged vocals yet another notch! A tad faster than the predecessor, it's a full 'on the fours' roller coaster ride as Linda battles amongst the harp, the machine gun like 88s, vibes, angelic backing singers, subtle horns (including a great sax mid range)! In this musical battle there's only ever going to one winner and that's Linda. Not only does she come out on top but she totally dominates the song especially on her high notes with her intense and undulating style of delivery. It's easy to see that whilst everyone from the harpist to the drummer and Kerr and Tee are all on top form, it's Linda's vocal that is still ringing in your ears as the song fades after 2 minutes and 40 seconds of sheer dance-floor exuberance. Uptempo, Femme Northern Soul doesn't get any better. (Actually it does but more of that later!)
With Linda's chart success with "Hypnotized", came an opportunity to tour and with PR photos paid for by an advance from Ragavoy, Linda signed with the legendary Queens Booking Agency and subsequently made her first foray out on the tour circuit, joining Henry Wynn's line-up which included Jackie Wilson, The Vibrations, The Chantels and The Bobbettes. She sang two songs on that initial tour earning $1250 per appearance as she wowed the crowds with her highly emotional interpretations of "Hypnotized" and Sam Cooke's "A Change Is Gonna Come" .
"We only did three takes on the songs and I always ended up using the first one. The best way to describe her performance in the studio is to say she was in love with the microphone, so at ease. We would turn down the lights in the studio and just listen. Linda did everything with no effort..." — George Kerr
George Kerr and Linda's success at Loma did however peter out in terms of sales when the last three 45s failed to impact the charts and they needed to look round for new opportunities. That opportunity came from Philadelphia and the city's musical supremos Gamble and Huff who had established Neptune Records in the City of Brotherly Love with the tagline The Sound Of Philadelphia. The logo saw a couple of releases from Linda in 1970, the highloight of which has to be Linda Jones — "I'll Be Sweeter Tomorrow b/w That's When I'll Stop Loving You" — Neptune 17, that featured a song that Kerr had previously released on The OJays as the flip to "I Dig Your Act" (Bell # 691) in 1967 and fantastic version of the Vernon Harrel (4) penned song that has Linda slay the listener with an account of how nothing will ever stop her loving her man.
Neptune was ill fated from the outset as Gamble and Huff had negotiated a distribution set up with Chess Records but had seen that company bought out by GRT who really only had eyes for the labels back catalogue at that stage. And so as Neptune languished Kerr approached Sylvia and Joe Robinson who were growing their New Jersey based All Platinum company. The musical entrepreneurs had newly established two labels called Stang and Turbo that they had started enjoying some success with, especially on the Whatnauts and Linda was signed to the company. Amongst the singles released was a version of the Jerry Butler classic on Linda Jones — "(For) Your Precious Love b/w Don't Go (I Can't Bear To Be Alone)" — Turbo 021, a song that had wowed audiences in her live performances when she added it to her repertiore and a release that for many of Linda's fans ranks up at the very pinnacle of her legacy. George Kerr had already produced the self-penned song on The OJays, (Bell #704) a few years earlier and had revamped it for this outing that would see Linda duet with The Whatnauts. Carlos 'Billy' Herndon, Garnett Jones and Gerard 'Chunky' Pinkney were a trio of singers from Baltimore, OH who were also produced by George Kerr under the All Platinum banner. Putting both these acts together was something of a eureka moment and the ensuing single, Linda Jones and the Whatnauts — "I'm So Glad I found You" b/w The Whatnauts — "World Solution" — Stang 5039 is a performance of monolithic proportions in terms of Linda's powerhouse delivery. The song itself is a great song, the backing track is faultless and the male vocals are superb but when, at 1:12 into it, Linda Jones, one of THE iconic voices of soul music turns up, its game set and match to the lady. From her initial "Ooh Ooh Oooh!" she tales control with her searing, almost blistering vocals, her voice simply pushes everything else out of the way in a kind of 'Move over, real singer in town, let me show you how it's done!' attitude. For your author, this is Linda's finest hour and that's certainly saying something taking into account her catalogue of performances of such a high calibre.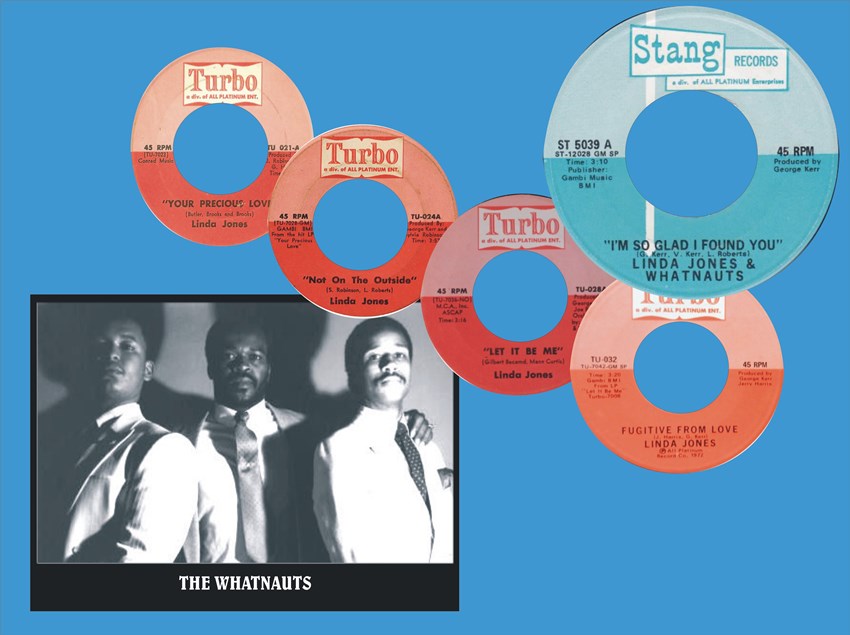 Sadly Ms Jones' career was about to be tragically cut short. After another couple of releases back on the Turbo logo Linda was appearing in a short run of engagements at the famed Apollo Theater in Harlem and had, the night before, completely enamoured the audience with her performance. That fateful afternoon on March 14 1972 Linda was resting at her mother's home between the matinee and evening shows and slipped into a diabetic coma, she had suffered from Diabetes for most of her life. Tragically Linda never recovered and a few hours later passed away at the tender age of only 27 years old. For one so young she left a legacy of music appreciated by a legion of fans and one can only wonder what she could have achieved had she been dealt a fairer set of life's cards.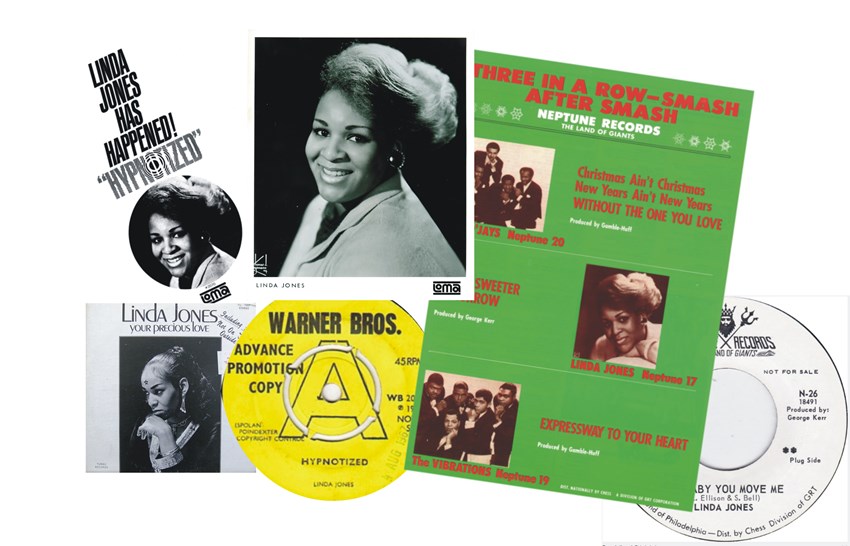 Linda Jones would never receive the recognition in her homeland that she deserved, her voice was one of the iconic sounds celebrated by soul fans worldwide and as far as the Northern Soul fraternity is concerned her musical legacy lives on in all its glory. And that is why Linda Jones, New Jersey soulful songbird is one of the inaugural inductees into our Hall Of Fame. And rightly so.
Dave Moore : February 2015
Notes And References:
1. The Serenaders did in fact release a 45 on Gordy's VIP logo as, The Serenaders — "If You're Heart Says Yes b/w I'll Cry Tomorrow" — VIP 25002.
2. Although credited on the 45 to a George Harris, I think this is in fact Jerry Harris.
3. "My Heart Needs A Break" was originally recorded by Sammy Turner but only progressed to the demo tape stage and remained unissued until it appeared on the UK. Goldmine CD entitled, "Detroit Soul From The Vaults Volume One", (GSCD 19) in 1983.
4. Vernon Harrell was a New York based songwriter and performer who often collaborated with JR Bailey, (Bailey is often rumoured to have been Chuck Wood of "Seven Days Is Too Long" fame, the song was certainly written by Harrell and Bailey). Also amongst Harrell and Bailey's other song-writing accomplishments is The Platters — "Sweet Sweet Lovin' ". Mr Harrell would also become a member of long standing group The Coasters in the sixties.
Discography:
Linda Lane - Cancel The Celebration b/w Lonely Teardrops — Cub 9124
Linda Jones - Take This Boy Out Of The Country b/w I'll Take Back My Love — Atco 6344
Linda Jones - Fugitive From Love b/w You Hit Me Like T. N. T. — Blue Cat 128
Linda Jones - Hypnotized b/w I Can't Stop Loving My Baby — Loma 2070
Linda Jones - What've I Done (To Make You Mad) b/w Make Me Surrender (Baby, Baby Please) — Loma 2077
Linda Jones - Give My Love A Try b/w I Can't Stand It — Loma 2085
Linda Jones - My Heart Needs A Break b/w The Things I've Been Through (Loving You) — Loma 2091
Linda Jones - What Can I Do (Without You) b/w Yesterday — Loma 2099
Linda Jones - I (Who Have Nothing) b/w It Won't Take Much (To Bring Me Back) — Loma 2015
Linda Jones- I Just Can't Live My Life (Without You Babe) b/w My Heart (Will Understand) —Warner 7 Arts 7278
Linda Jones - I'll Be Sweeter Tomorrow b/w That's When I'll Stop Loving You — Neptune 17
Linda Jones - Ooh Baby You Move Me b/w Can You Blame Me — Neptune 26
Linda Jones- Stay With Me Forever b/w I've Given You The Best Years Of My Life — Turbo 012
Linda Jones - I Can't Make It Alone b/w Don't Go On — Turbo 017
Linda Jones - (For) Your Precious Love b/w Don't Go (I Can't Bear To Be Alone) — Turbo 021
Linda Jones - Not On The Outside b/w Things I've Been Through — Turbo 024
Linda Jones & The Whatnauts - I'm So Glad I Found You b/w World Solution — Stang 5039
Linda Jones - Let It Be Me b/w Don't Go (I Can't Stand To Be Alone) — Turbo 028
Linda Jones - Fugitive From Love b/w Things I've Been Through — Turbo 032