Date Of Induction : 01 November 2014 Category : Post Production
The name Richard Popcorn Wylie has always been a legendary one in Northern Soul history , to see his name in the credits on a 45 is likely to quicken the heartbeat, knowing that the record you are about to hear will usually be very special, like a guarantee of quality. As older record collectors will testify, when young and still learning, if you saw the name R. Wylie on a 45 you bought it blind! You knew you wouldn't be disappointed!
Richard Wayne Wylie was born on 6th June 1939 in Detroit, his family was very musical and he was taught piano by his mother. By the time he was at Northwest High School he had formed his own band Popcorn And The Mohawks, with Popcorn appearing on stage in full Mohawk Indian head dress. After gaining a following around the teenage clubs and school hops in the Motor City, they recorded a 45 for Johnnie Mae Matthews's Northern label Popcorn And His Mohawks - "Pretty Girl b/w You're The One" — Northern 4732, but when it was released in 1960 it attracted little local interest. (1)
Released from their contract by Johnnie Mae, Popcorn and the rest of his group continued to play the clubs and during a set at the famous Twenty Grand Club, were spotted by Motown engineer Bob Bateman. They were subsequently signed to Berry Gordy's Motown company and saw a 45 release in each of the next three years from 1960 onwards. The first of this trio, Popcorn Wylie - "Custers Last Man b/w Shimmy Gully" — Motown 1002, delivered disappointing sales, which isn't surprising when you listen to it. It's a strange tale of a soldier of the 7th Cavalry who appears to have been digging a hole since the Battle Of The Little Big Horn and who quotes song titles! The second outing fared no better as Gordy's company raided its vaults for the song that had been their first real smash when they released it on Barrett Strong. Popcorn and The Mohawks — "Money (That's What I Want) b/w I'll Still Be Around" - Motown 1009, however bears little resemblance to Mr Strong's outing with Popcorn battering the keyboards to create a raucus, boogie woogie styled rocker! Mr Wylie had actually played the piano on Strong's original. The next year's offering was the band's last 45 on the logo for this stint at Motown, although Popcorn would return a decade later for a rerun with Gordy's empire. Popcorn and The Mohawks — "Real Good Lovin' b/w Have I The Right" — Motown 1019, was another up-tempo rock n rhythm performance that highlights the musicianship of the performers involved but once again didn't connect with the record buying public. In addition to recording his own band Popcorn would also hit the road playing behind Gordy's newly emerging soul stars, many of whose hits he had also played on in the studio, including The Miracles — Shop Around, The Marvelettes — Please Mr Postman and the fantastic outing by Mary Wells — Bye Bye Baby.
After falling out with Berry Gordy, he left Motown in 1962 ,and was signed to Epic, a label on which he released four singles including a Goffin and King song, "Brand New Man", (which was issued in UK by Columbia). None of these records were successful, so Popcorn decided to stop performing and concentrate on writing and producing records. His first production was for a young female singer that would gain recognition from soul fans with her later Topper recordings Pricilla Page- My Letter b/w Dreaming - Rose G 500, a 45 that would albeit strangely, also see a release on the Alcor imprint with a different publishing credit, which was based in LA.
The list of Popcorn's mid sixties independent song-writing and production works, in and around the Detroit recording scene, reads like a who's who of the city's copious talents of the era, with names including, Theresa Lindsay, The Volumes, Yvonne Vernee, contributing to his impressively growing soul cv. Meanwhile, over at 3246 West Davison, Ed Wingate who had been recording his earlier releases in New York had decided to relocate his operation within his home town of Detroit and had purchased an old electrical store, employed legendary engineer Bob d'Órleans to refurbished it as a recording studio, thereby establishing Golden World Records. Wingate was on the hunt for local talent to utilise the new facility and offered Popcorn, along with a number of other emerging musical luminaries, an opportunity to write, perform, record and produce. (2) Popcorn would subsequently collaborate on a series of 45s with the likes of Ronnie Savoy, Joanne Bratton, Freddie Gorman and Sonny Sanders amongst others and although he would contribute to many of The Reflections releases on the label would also be involved in such classics as the lilting, Juanita Williams — "You Knew What You Was Getting" — Golden World 18, the crash, bang, wollop and pounding, Carl Carlton — "Nothing No Sweeter Than Love" — Golden World 23 and the smoother but equally uptempo, The Adorables — Oh Boy — Golden World — 25. Popcorn would see his name appear on over 20 sides for Ed Wingate's iconic label but it was a chance meeting at Magic City Studios at 8916 Grand River, with another young up and coming song-writer and producer that would inextricably link the two forever in the eyes of soul fans. Enter into our story a certain Mr Tony Hester.
When Popcorn and Tony Hestor became song-writing partners they proceeded to carve a niche into the psyche of Northern soul fans that would rival and indeed surpass many others. Their names would become as famed as the Mirwood team of Carmichael/Smith/Relf, the Brunwick soul royalty of Davis/Sims/Sanders and for some die hard Detroit soul fans the quality of their Northern Soul output would rival that of Motown Giants: Holland - Dozier - Holland. Just a cursory glance of their collaborations throws up classic after classic. Although both would continue to write solo and even in conjunction with others, it was the magical names of Wylie and Hester that became joined at the musical hip and encouraged soul fans to buy records bearing their name, whether they had already heard them or not. In the mid - 60's a group that had previously topped the US Billboard charts had seen their career stall somewhat as the musical styles developed. The doo wop, dreamy ballads they'd enjoyed such success with had now become the fare of yesteryear and they needed a shot in the arm so to speak.
The Platters line-up had gone through a number of major changes over the years and in 1966 when they were signed to the Musicor label and produced by Luther Dixon comprised, David Lynch, Herb Reed, Sonny Turner, Nate Nelson and Sandra Dawn, It was his quintet that would see their balladeer repertoire updated, initially by Mr Dixon and then by Popcorn. The team of Dixon-Wylie-Hester would, between them, deliver a fistful of 45s that became sought after by soul collectors starting with, The Platters — 'With This Ring b/w If I Had A Love' — Musicor 1229, which it has been rumoured was a collaboration between Popcorn, Tony Hester and Luther Dixon's wife Inez Foxx. It's a fantastic song, built on a simple, romantic message, on which Sonny Turner solidifies his lead vocal role and the group's harmonies are about as tight as they come.
The second outing to come under the scrutiny of vinyl hungry soul fans was, The Platters - "Washed Ashore (On A Lonely Island In The Sea) b/w What Name Shall I Give You My Love" — Musicor 1251 which saw Popcorn take over the production reins completely on a song he and Tony Hestor had written. With a Sonny Sanders arrangement, Popcorn elicited one of the all time great performances from the group that once again stars Sonny Turner up front and centre but owes so much to the people around him. From its teasing piano intro, through the group's angelic, 'Ooooo's and Aaaaaahs', past the mid song break so favoured by Northern soul dancers, right to Sonny's fading "Gone....Gone...Gone", it's a great example of how Popcorn's talents could leave you wanting to play his songs again...and again....and again. The final production we highlight here from the group, The Platters — "Sweet Sweet Lovin' b/w Sonata" — Musicor 1275, once again saw Popcorn and Sonny Sanders furnish the tools for the group to deliver a fantastic up-tempo, raucus dance record that became an instant classic with UK's ardent soul fans and still gets nods of approval today. Popcorn's involvement with The Platters left us with a fantastic set of songs that have that magical element that turns good records into great records... they make it all sounds so effortless. Musicor issued a couple of albums on The Platters featuring their collaborations with Dixon-Wylie-Hestor-Sanders and I'd wager their "Going Back To Detroit" — Musicor LP #2125 sits proudly on most collectors shelves.
By 1967, Mr Wylie was in full flow. Constantly in demand his writing and productions skills would grace dozens of record labels and his name became synonymous with outstanding soul records, not only from his native Detroit but nationwide. One artist that benefitted from an injection of Mr Wylie's 'know how' was Jamo Thomas. Popcorn and his some-time song-writing partner Herman Kelley had written a song themed on the en vogue espionage films and TV series popular at the time. Recorded by Chicago based singer Luther Ingram, it hit the shops in January 1966 as, Luther Ingram and The G-Men — "I Spy For The FBI b/w Foxy Devil" — Smash 2019, a great atmospheric dancer that unfortunately didn't quite cut the mustard in terms of chart action. When fellow Chicago based singer Jamo Thomas recorded it and released it as Jamo Thomas And His Party Brother Orchestra — "I Spy For The FBI b/w Snake Hip Mama" — Thomas 303 (3), in April a few months later, it managed to slide unobtrusively into the lower reaches of The Billboard Hot 100. Picked up by Polydor for a UK release it made The Top 50 and became a club classic from then on. Mr Wylie had a UK Pop hit! On the back of that success, Popcorn Wylie also wrote Jamo Thomas' follow up single, Jamo Thomas — Arrest Me b/w Jamo's Soul — Thomas 304 and although these 45s were recorded in Chicago by legendary producers Monk Higgins and Boris Gardner, the pumping, driving relentless beat of Detroit's 'sound' is ever present. Luther Ingram would of course become an icon on the Northern soul club circuit with yet another Wylie penned song that would reach classic status, Luther Ingram — "If It's All The Same To You Babe b/w Exus Trek" — HIB 698 which saw both the vocal and the instrumental sides grace the turntables. Penned by Popcorn and recorded at Golden World Studios in a moonlighting session by The Funk Brothers, Neil Rushton, after a conversation with Robert Bateman says he (Bateman), took the tapes to Mercury studios in New York and overdubbed strings to create the 'orchestra' feel. Bateman says he sold about 5,000 copies, before achieving a distribution deal from Jerry Wexler at Atlantic Records. He was trying to capture a similar sound to The Four Tops and in doing so, produced a stone classic of the Northern Soul scene with a record that still fills dance-floors even today.
Popcorn was by now working alongside many of Detroit's artists, writers and producers whose names at the time remained hidden from their own homeland's public but who's same names generated intense interest over the ocean in the darkened, all-night soul clubs of UK. Names like Solid Hitbound, Don Davis, Palmer Records, Dale Warren, Groovesville, Mike Terry, Groove City, LeBaron Taylor, Barney 'Duke' Browner etc along with a whole slew of others would reverberate in record bars around the country as Detroit's golden era of soul leaked its secrets.
One such luminary whose labels would bear Popcorn's name was Ollie McLaughlin an Inkster based DJ who had started his own labels and would eventually achieve a mountain of success producing Barbara Lewis and Deon Jackson. (4) In addition to Popcorn's own solitary outing on Ollie's Karen label, Richard 'Popcorn' Wylie — "Rosemary's Baby b/w Instrumental" — Karen 1542, an eerily atmospheric dancer based on the movie of the same name, he was also responsible for a number of other 45s on McLaughlin's logos, including 45s by Jimmy Clark. The fantastic but often overlooked Jimmy 'Soul' Clark — "Tell Her b/w Hold Your Horses" — Moira 104 is a masterpiece of late 60s Detroit flavoured dance music whilst the slightly earlier release, Jimmy Soul Clark — "If I Only Knew Then b/w Do It Right Now" — Karen 1539 puts Mr Clark's Popcorn penned outings on 'two for two', in terms of quality. Songs by Popcorn would also be recorded and released on Ollie's labels by The Fabulous Counts, The Excels and Belita Woods.
By early 1967 Popcorn had moved into the realms of record label ownership. Operating as an independent from his basement at 3044 Taylor and with his own songs now registered with his own publishing company A La King Music, (named after his mother Althea King), it would seem a prudent next move. He therefore established two labels, Pameline, (which he named after his three daughters) and Soulhawk. When these two logos came into existence it probably didn't cause so much as a musical ripple in DTown but for soul-fans a few years later, it would be an event of thunderclap proportions. There followed over the next couple of years, a series of records released that, when viewed through the eyes and ears of devoted soul fans, equals any other individuals' Northern soulful legacy in terms of quality. The early and mid seventies Northern soul DJs playlists were peppered with A La King songs performed by a plethora of differently styled artists.
It's impossible to highlight all of the records by Popcorn that made it to UK dance-floors but some of the highlights are, The Detroit Executives — 'Cool Off b/w Sho Nuff Hot Pants' — Pameline 2010, a real quality production built around a song based on teaching a girl the latest dance craze after which the song is titled. This was also the backing track to the release on Sammy Kaplans label, The Mighty Lovers — "The Mighty Lover b/w Soul Blues" — BooGaLoo 468 which itself was released as The Ideals with "Dancing In The USA" on the flip side BooGaLoo # 108. Nestled on the flip of the uptempo funky A side of, The Innocent Bystanders — "Crime Dosent Pay b/w Frantic Escape" — Pameline 302, sits a magnificent vibe laden, sax burping, piano tinkling almighty slab of music that is often held up as one of our man's finest moments. It's a veritable musical juggernaut! It must have been some studio experience as Popcorn counted the musicians in and then proceeded to batter his way through the animated Dave Hamilton produced vibes on his piano, until Mike Terry's growling almost threatening, baritone sax came in support! There's simply nowhere to hide from this outing, feet start tapping immediately as James Jamerson's Precision Fender and Robert Finch's drum lay down the metronome like bottom end, then whoooosh, you're gone, dancefloor demands your presence, best to just surrender and get down to it!
Although Popcorn is also associated with Jimmy Clark via his releases with Ollie McLaughlin, it's really the Soulhawk outings that highlight just what a powerhouse of a team Popcorn and Tony Hester's songs and Jimmy's vocals were when combined. Add to this combo a Mike Terry arrangement, a bunch of Motown musicians quietly going about their business without Berry Gordy breathing down their necks and hey presto... a pair of classics in the making! Jimmy Clark — "Sweet Darlin' b/w (Somebody) Stop That Girl" — Soulhawk 001 was the initial release for Popcorn's new enterprise and he came out of the starting blocks with all musical guns blazing!
With The Vibrations and The New Holidays, Popcorn had vehicles to push his boundaries and both groups would release quality 45s that would sit somewhat dormant for a number of years until revived by soul fans across the Atlantic and records like the New Holidays — "Maybe So Maybe No b/w If I Only Knew" — Soulhawk 1008 are seeing their time in the spotlight at last.
No tribute to Popcorn could ever be considered complete without at least a tip of the hat to a number of 45s that are intrinsically linked to him. The 45, Larry Wright — "Sweet Sweet Kisses b/w It's Okay With Me" — A Go Go 541 with its driving beat, handclaps, deep deep bass subtle sax interludes, guitar break and drum fills galore is, vintage mid sixties uptempo Detroit dance music and the flip is a gorgeous mid tempo affair, the evergreen, Stanley Mitchell — "Get It Baby b/w Quit Twisting My Arm" — Dynamo 111 sounds like it could easily have been recorded at the same session as The Innocent Bystanders.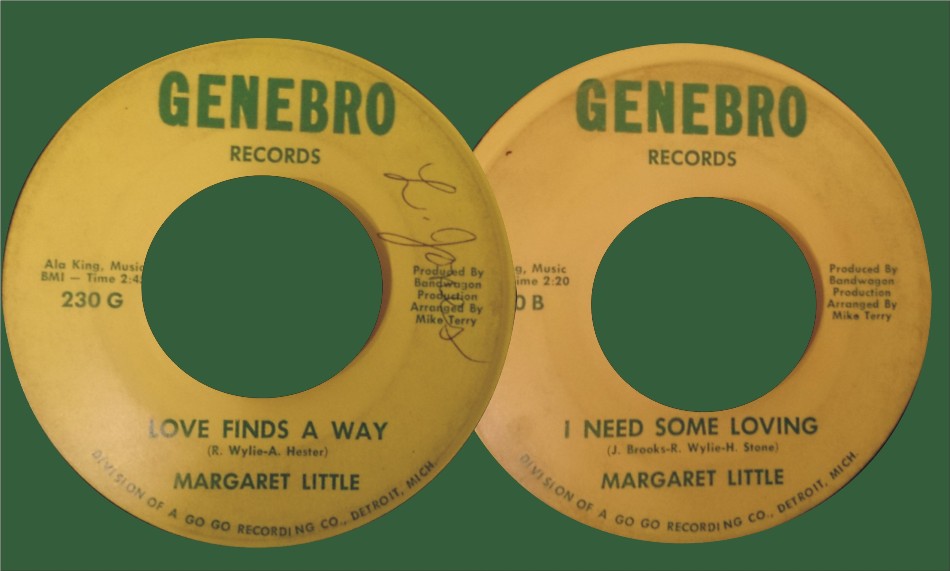 One of Popcorn and Tony Hester's most talked about and currently in-demand sides, is Margaret Little — Love Finds A Way b/w I Need Some Loving - Genebro . Quite who Ms Little was, had been the subject of some conjecture or indeed how she came to record for Popcorn, but that UK erstwhile soul detective Andy Rix finally located her and the detailed story of the daughter of Fortune recording group The Four Kings and the 'Gene' of Genebro Records can be found by using the soul source search facility. I guess the actual 45 in question is something of a 'marmite' outing but both sides are very good musically, with "Love Finds A Way" being a perfect foil for a Northern soul dance-floor in particular, despite Margaret's less than great vocals. The backing track is unbelievably good, bearing all the hallmarks of superb Detroit musicianship. The song is penned by Tony Hester and Popcorn and arranged by Mike Terry so it's really only to be expected.
In the mid seventies with the Northern Soul scene sustaining its momentum, the search for fresh, different and rare records became a huge money spinner for record dealers and collectors alike. Many people began to search the shops and warehouses across the USA and once the record stores were exhausted of stock, the next move was to contact the artists, producers and musicans themselves, to see what they had to offer. One such UK record dealer was John Anderson, the operator of Soul Bowl Records in Kings Lynn, Norfolk. He also had a record label Grapevine Records in partnership with Wigan Casino's greatest DJ Richard Searling. He had become close to Popcorn, and with Popcorn being very prolific in the studios, for every song that made it to wax, many more were left on master tape, forgotten about or had even been discarded .
Mr Anderson obtained some outstanding tracks from the vaults off Popcorn by various artists lots of which were first aired at Wigan Casino via Richard Searling on acetates or dubbed from master tapes. One that particularly resonated at the time was by Betty Boo, the ex member of the Golden World femme group, The Adorables with, "Say It Isn't So" which gained a UK release, eventually appearing on John Anderson's RCA backed Grapevine logo.
Of course the popularity of Popcorn's work meant that UK collectors were beating a path to his door and after one such trip by UK DJs and collectors, Richard Gilbert (Gilly), Guy Hennigan and Chris King more unknown and unissued masters were unearthed by Popcorn and different versions of existing songs sat side by side with completely new songs being heard in UK for the first time and on the back of this visit came a number of performances in UK by the man himself starting with a night at the Top Of The World Allnighter where Popcorn performed a selection of his songs both that he'd recorded himself and written for other acts.
Four years later Popcorn was back, John Buck putting together two live shows, one of which took place at the old Carousel building in Manchester that had housed allnighters in the seventies. John recalls picking Popcorn up in a gold coloured Rolls Royce and that Popcorn had a great time seeing the tourist sites of London as well as being able to hook up with Edwin Starr, then a UK resident and who hadn't seen Popcorn since those heady Detroit days. Popcorn would return to UK shores in 2000 and appear at the Motown and Northern Soul Great Yarmouth Weekender alongside a number of other iconic soulsters whose stars shone brighter in UK than at home.
When Motown left Detroit the writing team of Holland Dozier Holland had already severed their ties to the company and established their own companies in the city. This led to Popcorn's involvement on the writing and production side on a number of the seventies anthems including, Laura Lee — "I Need It Just As Bad As You b/w If I'm Good Enough To Love, I'm Good Enough To Marry" — Invictus 1264 and what is arguably the most popular post Motown 45 by the HDH team, Eloise Laws — Love Factory b/w Stay With Me - Music Merchant 1013. Strangly enough Popcorn would enjoy his biggest hit on a subsidiary label owned by the Giant Motown company that he'd left a decade earlier when, in 1971 he scored with, Popcorn Wylie — "Funky Rubber Band b/w Instrumental" — Soul 35087 which was just after he'd co written with Edwin both sides of, Edwin Starr — "Time b/w Running Back And Forth" — Gordy 7097.
Popcorn's outings would continue to enthrall his fans and when surrounded by musicians like Dennis Coffey, James Jamerson, McKinley Jackson, Paul Riser, Gene Page etc it's no surprise that the comment "He never made a bad 'un", is usually the departing comment when in conversation about his work. But there, right at the core of his musical legacy is his raw talent, an ability to create stirring music. Music that tuned a whole generation of soul music fans into the delights of Detroit soul outside of Motown. And he did that right up to his work on his Extrasensory Perception album (ABC # 834 ) . The last years of Richard Popcorn Wylie's life were creatively pretty quiet, but he fully deserved a rest after many years of producing ,writing and singing stunning Soul music .Many people from the Soul scene kept in touch with Popcorn and never let him forget how grateful we are for his huge contribution to our music. Popcorn sadly passed away September 7th 2008 but thankfully he had experienced the euphoria of realising his life's work was treasured and revered by fans all over the world. And it surely is. And that's why Richard Wayne Wylie aka 'Popcorn' is an inaugural Inductee to our Northern Soul Hall Of Fame.
Eddie Hubbard & Dave Moore 01 November 2014
Notes and References:
Johnnie Mae Mathews was instrumental in the early careers of a number of Detroit based acts including The Temptations. Known primarily for her mid 60s Big Hit logo. Her children would continue her musical legacy as Black Nasty (the group who recorded 'Cut Your Motor Off')
Ed Wingate's Golden World Studios would prove fertile ground for a number of aspiring songwriters and budding producers as it grew to rival Motown's A&R. George Clinton, Mike Terry, Sidney Barnes, The Hamilton brothers etc would all interact there, which led to lifelong friendships and professional relationships being formed that would heavily influence the city's soul output over the next decade or so.
The Thomas label was owned by Eddie Thomas, the manager of both The Impressions and Curtis Mayfield. It's his name that forms he 'tom' in Curtom Records, a label he and Curtis Mayfield established together.
Ollie McLaughlin named his labels after his wife (Ruth) and daughters, Karen, Carla and Moira. He also had a son Ira who is also record producer.
Acknowledgements
1 Grateful acknowledgement to "Groovesville USA" Book by Keith Rylatt: www.groovesvilleusa.com
2 Grateful acknowledgement to the following for their assistance: Richard Gilbert, Rob Moss, Mark Speakman, Dave Thorley, Karl White and www.soulfuldetroit.com
Discography: Listed below is a sample of Popcorn's work covering all aspects of his involvement in music be it as a performer, a songwriter, a producer or label owner, often wearing more than one hat on many the 45s. It's by no means complete or even comprehensive but gives a flavour of his legacy. The youtube clips at the bottom highlight the quality of his contribution.
Popcorn and The Mowhawks - Custers Last Man b/w Shimmy Gully - Motown 1002
Theresa Lindsey - Gotta Find A Way b/w Wonderful One - Correctone 5840
Yvonne Vernee - Does He Love Me Anymore b/w So Much In Love - Correctone 3178
The Adorables - OOH, Boy! b/w Devil In His Eyes - Golden World GW 75
Barbara Mercer - Nobody Loves You Like Me b/w Doin' Things Together With Me - Golden World GW 28
Little Carl Carlton - Nothing No Sweeter Than Love b/w Love True Love - Golden World GW 23
Juanita Williams - You Knew What You Were Gettin ' b/w Baby Boy - Golden World GW 18
Jamo Thomas - I Spy (For The FBI) b/w Snake Hip Mama - Thomas 303
The Platters - With This Ring b/w If I Had A Love - Musicor 1229
The Detroit Executives - Cool Off b/w Sho -nuff Hot Pants - Pameline 2010
Luther Ingram - Exus Trek b/w If It's All The Same To You Babe - Hib 698
The Mighty Lovers - The Mighty Lover b/w Soul Blues - Boog Ga Loo 468
Jimmy (Soul) Clark — (Come On And Be My) Sweet Darlin b/w Stop That Girl - Soulhawk 001
New Holidays - My Baby Ain't No Plaything b/w Maybe So, Maybe No - Westbound 157
Innocent Bystanders - Frantic Escape b/w Crime (Dosen't Pay) - Pameline 302 / Atlantic 2766
The Peoples Choice - Savin' My Lovin' For You b/w Easy To Be True - Palmer 5020
The Four Voices - Your Love Is Getting Stronger b/w With A Lonely Heart - Voice 1112
Larry Wright - Sweet Sweet Kisses b/w It's Okay With Me - A Go Go 345
Richard Popcorn Wylie - Rosemary, What Happened b/w Instrumental - Karen 1542
Sam Ward - Sister Lee b/w Stone Broke - Groove City 205
Stanley Mitchell - Get It Baby b/w Quit Twistin' My Arm - Dynamo 111
Margaret Little - Love Finds A Way b/w I Need Some Loving - Genebro 230
Laura Lee - I Need It Just As Bad As You b/w If I'm Good Enough To Love - Invictus 1264
Edwin Starr - Running Back And Forth b/w Time - Gordy 7097
Popcorn Wylie - Extrasensory Perception LP - ABC 834