Induction Date 01 November 2014 Category: Male Vocalist
Roy Hamilton, during his illustrious 15 year singing career, was known by many nicknames: Mr. Rock and Soul, The Gentle Giant, and, most notably, The Golden Boy of Song. But few of these nicknames fully encompass the majesty of his voice, the influence he had on the artists of his generation, or the legacy his music has left behind. He was idolized by Elvis Presley, emulated by Jackie Wilson and Brook Benton and covered by the Righteous Brothers. His voice and legacy have earned him a place in the annals of history for years to come, and also sees him honoured as an inaugural inductee in the Northern Soul Hall Of Fame.
Born on April 16th 1929 in Leesburg, Georgia, Roy began his musical journey like many of his peers by singing in his local church choir and began performing there at the tender age of six. He continued developing his singing within the church and, at age 14 when his family moved to Jersey City, New Jersey he became a featured soloist in the Central Baptist Church Choir. In high school, Roy was committed to becoming a singer and concentrated his school efforts towards the performing arts. He was a talented artist but also took up the sport of boxing, amassing six victories as an amateur heavyweight before leaving his pugilistic aspirations behind having become disillusioned by the violence in the sport.
In 1948, Roy's deep, rich baritone voice could be heard singing in a gospel quartet called the Searchlight Singers, however it was as a soloist that his real aspirations lay and the lure of a single spotlight led him to begin performing alone in the local clubs and lounges throughout New Jersey and New York, during which time he won a Wednesday amateur talent night at the Apollo Theatre, New York with his dramatic rendition of "You'll Never Walk Alone" from the musical "Carousel" which later became his signature theme tune. He continued singing in local clubs over the next few years and it looked like his career may have stalled when, in 1953 he met his future manager, Bill Cook, a DJ who hosted a live radio program at the Caravan Club in Newark, New Jersey. Bill took Roy under his wing, and Roy was signed to the Epic label, a subsidiary of Columbia Records in December of that year, as his voice wasn't thought R&B enough to join the ranks on the Okeh label. Within a month Roy Hamilton - "You'll Never Walk Alone b/w I'm Gonna Sit Right Down And Cry" Epic 9015 was released and became an instant smash, staying in the Pop Top Twenty for two months.
In January 1954 Roy topped the bill at the Trianon Ballroom in Chicago, with a big show that also featured Jimmy Reed, Big Maybelle, The Spaniels, Counts and Flamingos, the next month the same performers hit the stage at the Symphony Hall in Boston for weekend shows (LaVern Baker, Della Reese and the Erskine Hawkins band joined them in April for dates throughout the Midwest), also in February he returned to the Apollo Theatre where it all began, but this time as a headliner, along with Ruth Brown.
In March he appeared at Birdland in New York for a week, and by May his first record was number one in the R&B charts, the first number one for Epic records. In June Hamilton was performing in a big show at Soldier's Field, Chicago alongside Nat "King" Cole, Sarah Vaughn and The Orioles. He signed up for the big "Rhythm & Blues Show" with the Gale Agency in the same month, which also starred The Drifters, Counts, Spaniels, Faye Adams, LaVern Baker, King Pleasure, Rusty Bryant and Erskine Hawkins. He starred in the WNJR 4th July picnic with The Orioles, Big Maybelle, Larry Darnell, Joe Liggins, Nappy Brown, Varetta Dillard and Bull Moose Jackson. In September a show called "Kahl Music Presents" presents Roy Hamilton, Sarah Vaughn, Count Basie, Billie Holiday, Charlie Parker, Modern Jaz Quartet, Lester Young and The Drifters, this coincided with the release of Roy Hamilton - "Ebb Tide b/w Beware" Epic 9068 , a top five seller in the R&B charts and top 25 in the pop charts. Epic celebrated its first anniversary in November of 1954 and at their party was their biggest seller, Roy Hamilton. At the same time Roy Hamilton - "Hurt b/w Star Of Love" Epic 9086 was released, a song that would later be Timi Yuro's first big hit. His version of the title song from the film 'Unchained', Roy Hamilton - "Unchained Melody b/w From Here To Eternity" Epic 9102 went head to head with Al Hibbler's Decca version for top honours, selling more than a million copies and staying in the pop charts for over four months.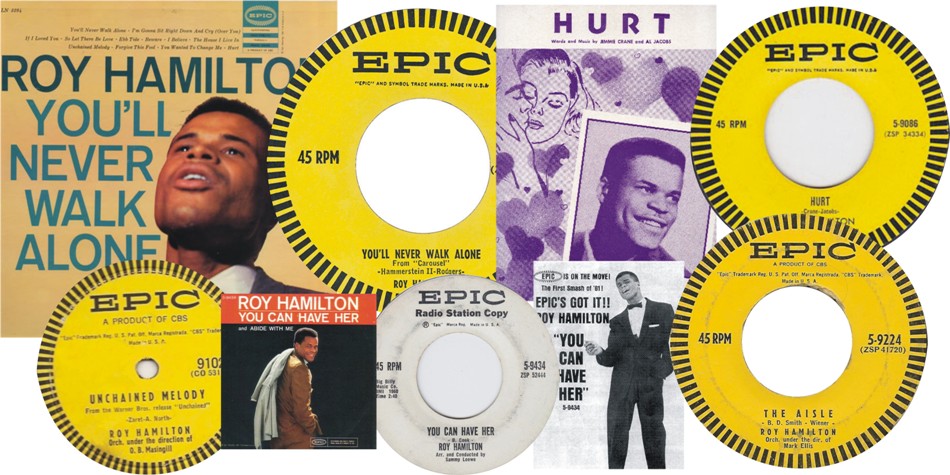 A measure of the way that the recording industry embraced Roy's dramatic vocal talent came when he was presented with the Downbeat Magazine's Top Male Vocalist Of The Year Award in June 1955, and he was also lauded when ABC television personality Joe Franklin presented him with the Memory Lane Award for Best New Male Singer, later that same year. In mid-January 1956 Roy Hamilton headlined at the Apollo Theatre again, along with Ruth Brown, Charlie and Ray, and the Five Keys, subsequently signing on for a big travelling R&B show that toured the South for a couple of months. The bill included Bill Haley and his Comets, The Platters, Shirley and Lee, LaVern Baker, Joe Turner, Bo Diddley, The Turbans, Drifters and Five Keys. In late April Roy Hamilton was forced to cancel a few dates when he fell ill, later to be diagnosed as suffering from pneumonia and tuberculosis. On June 2nd 1956 he stunned the music world by announcing his retirement due to his illness and total exhaustion.
A year after he announced his premature retirement he was back in the recording studio, he recorded Roy Hamilton - "The Aisle b/w That Old Feeling" Epic 9224, the same song that was recorded by The Five Satins and gained release as The Five Satins - "To The Aisle b/w Wish I Had My Baby" - Ember ( London# HL 8501). In July he makes his first public appearance since his return at an All Star Show in Atlanta. Helping to celebrate his return were LaVern Baker, Little Willie John, Nappy Brown, The Cardinals, and Burnie Peacock and his band. He soon followed this up with a short tour of Texas and Oklahoma with The Clovers, Buddy Johnson and his band with Ella Johnson, Johnny and Joe, Huey Smith, and The Spaniels. In October he appeared in a series of one-nighters in the South with The Clovers, Tune Weavers, Little Joe, Thurston Harris and Tally Ho Label owner Doc Bagby's Combo, many of them join him at the State Theatre in Hartford Connecticut for a big show in November, hosted by George "Hound Dog" Lorenz.
Roy's live appearances were extremely successful and his shows were nearly always sell outs. At the end of 1957 he broke the box office records at the famous Howard Theatre in Washington D.C. Epic meanwhile kept the momentum of his recording career going by releaseing his newest recording Roy Hamilton - "Don't Let Go b/w The Right To Love" Epic 9257, the first Rock and Roll record to be recorded in stereophonic sound which reached number 13 in the Hot 100 charts and stayed there for three months. He closed out the year appearing in DJ Paul Sherman's show in New York with Al Savage and his band, Thurston Harris, JoAnn Campbell, The Dubs, Shells, Five Satins, and Deltairs.
In January of 1958 Columbia Pictures releases "Let's Rock", a quickie film that featured many of the day's music stars, Roy Hamilton, Danny and The Juniors, The Royal Teens, Paul Anka, Della Reese, and Julia La Rosa were all in the cast. This was followed by an appearance on legendary Radio DJ "Jocko" Henderson's television show before the end of the month which led to a number of bookings throughout the country, including an appearance on the Dick Clark's Saturday Night Beechnut Show, a forerunner of his nationwide American Bandstand success.
In March, Roy signed on with Irwin Feld for 'The Greatest Show Of Stars' road tour which would last 80 days and starts with a tour of Canada. That same month he appears at the Paramount Theatre Los Angeles with Earl McDaniel. In November a Roy Hamilton Day benefit show at the Jersey City armoury is held to raise money for the Central Baptist Fund, Red Prysock, Joe Louis, Varetta Dillard and others appear in support.
1959 saw continued his hectic live show schedule appearing alongside such musical luminaries as Jerry Butler, The Spaniels, Pigmeat Markham, Maurie Leigh, The Madison Trio and The Rick Henderson Orchestra, Teddy Randazzo, The Poni-Tails, Connie Francis, Four Lads, and Clyde McPhatter.
He stayed with the Epic logo for a decade, releasing more than 30 singles and EP's on the imprint, but it's his later MGM and RCA Victor recordings that led to the Rare Northern soul fraternity taking him to their hearts. In February 1964, whilst signed to the MGM label he delivered one of the seminal beat ballads of all time with, Roy Hamilton - "The Panic Is On b/w There She Is" - MGM K13217. Roy's melodramatic vocal overtones could well have annulled the magnificent arrangement from Bert Keyes but right from the initial timpanic intro and following notes of a muted trumpet the song instantly becomes something special. When Roy's vocal opens up with its passionate ebbs and flos, it proves to be the perfect foil for a beautifully crafted song. Roy's clarity, his passionately strained, perfectly placed notes and his ability to make it all sound so seamless fit the song like a calf skin glove to a manicured hand. If you were to canvas fans and collectors alike as to what was their all time favourite beat ballad, there's an odds on chance that this magnificent mid sixties outing would be up there in the higher echelons of any compiled list for sure.
With "The Panic Is On" a hard act to follow Roy followed up six months later with, Roy Hamilton - "You Can Count On Me b/w She Make Me Wanna Dance" - MGM K13291, and whilst the song isn't quite as strong as its predecessor, Roy tells his mournful tale of always being there for his girl over a great mid-tempo track that encompasses a fantastic set of female backing singers.
A move to RCA Records in mid 1966, delivered a couple of 45s that would ensure that the musical legacy left by Mr Hamilton would be enshrined forever when he delivered up two 45s that went on to become iconic dance-floor fillers albeit 3000 miles from their place of birth in the RCA studios in New York. Sitting somewhat nonchalant on the flip side of the first one is the self penned classic, Roy Hamilton - "Walk Hand In Hand b/w Crackin' Up Over You" RCA Victor 47-8960, from October 1966 and is a song that would become permanently glued to the name of Roy Hamilton, such was its impact. It's a fantastic, almost operatic performance by Roy as he relays the intensity of his love for his girl.
The second of his RCA labelled stormers Roy Hamilton - "So High My Love b/w You Shook Me Up" RCA Victor 47-9171 from April 1967 is also a sleeping B Side and will probably need very little introduction to readers of this tribute with its powerful and vibrant backing track benefitting from an equally earthshaking vocal delivery from Mr Hamilton.
In 1966 whilst in the middle of his tenure with RCA Roy also recorded a fantastic version of the Bacharach and David classic, "Let the Music Play" that lay dormant until those erstwhile soul detectives at Ace Kent in UK unearthed it and placed it on their 1997 Rare Collectable And Soulful CD ( Kend 141). Roy's stirring performance once again fits the arrangement style of Bert Keyes with his use of a muted trumpet, timpani and this time embellished with subtle strings that add another tick in the musical box.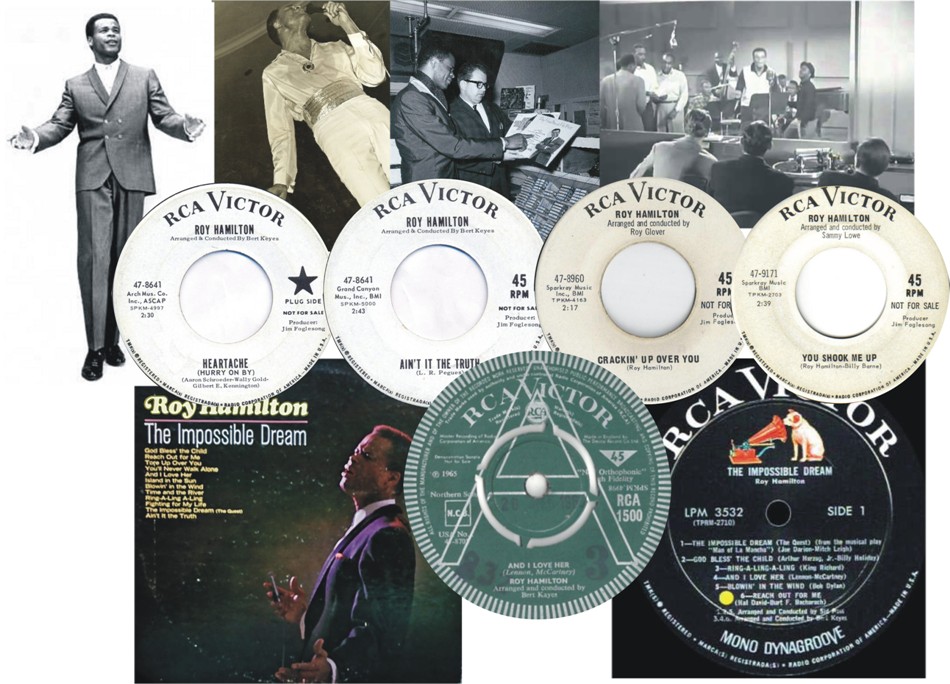 For fans of Mr Hamilton's dramatic RCA output there's also a couple of other songs that are worth investigating, one of them nestling quietly away on his LP Roy Hamilton - "The Impossible Dream" — RCA LP3532. It's a quality version of the Bacharach and David classic, "Reach Out For Me" which certainly rivals any other version of the song to have been committed to wax. The other one is a song that has adorned many a record room turntable over the years I'd wager and was actually his first outing on the RCA imprint, Roy Hamilton — "Heartache (Hurry On By) b/w Ain't It The Truth" - RCA 8641. Although his rendition of the classic song on the B Side is also a great performance it's the top side that really grabs you. A more soulful plaintive ballad would be hard to find and Roy's emotional interpretation of a fantastic Bert Keyes arrangement delivers one of the truly great deep soul beat ballads.
Unfortunately, Roy's star was tragically extinguished when he suffered a stroke in New Rochelle, New York. Despite surgery, he passed away soon after on July 20th 1969, months after his 40th birthday, leaving behind his wife Myrna, and his two son's Roy Hamilton Jnr. and Ray Hamilton. Roy Hamilton's body of musical work was and still is enjoyed and admired by his peers, by industry insiders and by fans alike. Although he has made the shortlist for the Rock N Roll Hall Of Fame in Cincinatti, Ohio, his home country have yet to fully recognise his talents His induction as an inaugural Inductee into our Hall Of Fame is nothing short of fitting for a performer known as a 'singers singer'.
David Hogenson & Dave Moore 01 Nov 2014
Notes and References:
1. Acknowledgement to the official Roy Hamilton website: www.royhamilton.net for assistance.
2. Acknowledgement to http://home.earthlin...r/hamilton.html for background info.
3. Dave Rimmers www.soulfulkindamusic.net for assistance with Discography.
DISCOGRAPHY
Epic Records:
Epic 9015 - You'll Never Walk Alone b/w I'm Gonna Sit Right Down And Cry (Over You)
Epic 9047 - So Let There Be Love bw If I Loved You
Epic 9068 - Ebb Tide b/w Beware
Epic 9086 - Hurt b/w Star Of Love
Epic 9092 - I Believe b/w If You Are But A Dream
Epic 9102 - Unchained Melody b/w From Here To Eternity
Epic 9111 - Forgive This Fool b/w You Wanted To Change Me
Epic ? - Fascination b/w Cacaquinho
Epic 9118 - A Little Voice b/w All This Is Mine
Epic 9125 - Without A Song b/w Cuban Love Song
Epic 9132 - Everybody's Got A Home b/w Take Me With You
Epic 9147 - There Goes My Heart b/w Walk Along With Kings
Epic 9160 - Somebody, Somewhere b/w Since I Fell For You
Epic 9180 - I Took My Grief To Him b/w Chained
Epic 9203 - The Simple Prayer b/w A Mother's Love
Epic 9212 - My Faith, My Hope, My Love b/w So Long
Epic 9224 - The Aisle b/w That Old Feeling
Epic 9232 - (All Of A Sudden) My Heart Sings b/w I'm Gonna Lock You In My Heart
Epic 9257 - Don't Let Go b/w The Night To Love
Epic 9268 - Crazy Feelin' b/w In A Dream
Epic 9274 - Lips b/w Jungle Fever
Epic 9282 - Wait For Me b/w Everything
Epic 9294 - Pledging My Love b/w My One And Only Love
Epic 9301 - It's Never Too Late b/w Somewhere Along The Way
Epic 9307 - I Need Your Lovin' b/w Blue Prelude
Epic 9323 - Time Marches On b/w Take It Easy, Joe
Epic 9342 - Great Romance b/w On My Way Back Home
Epic 9354 - The Ten Commandments b/w Nobody Knows The Trouble I've Seen
Epic 9354 - The Ten Commandments / Down By The Riverside
Epic 9372 - Nobody Knows The Trouble I've Seen b/w Down By The Riverside
Epic 9373 - I Let A Song Go Out Of My Heart b/w I Get The Blues When It Rains
Epic 9374 - My Story b/w Please Send Me Someone To Love
Epic 9375 - Something's Gotta Give b/w Cheek To Cheek (Unreleased as at Oct 2014))
Epic 9376 - Sing You Sinners b/w Blow, Gabriel, Blow
Epic 9386 - Having Myself A Ball b/w Slowly
Epic 9388 - Never Let Me Go b/w I Get The Blues When It Rains (Unreleased as at Oct 2014)
Epic 9390 - The Clock b/w I Get The Blues When It Rains
Epic 9398 - A Lover's Prayer b/w Never Let Me Go
Epic 9407 - Lonely Hands b/w Your Love
Epic 9434 - You Can Have Her b/w Abide With Me
Epic 9443 - You're Gonna Need Magic b/w To The One I Love
Epic 9449 - No Substitute For Love b/w Please Louise
Epic 9460 - Excerpts From - You Can Have Her
Epic 9461 - Excerpts From - You Can Have Her
Epic 9462 - Excerpts From - You Can Have Her
Epic 9463 - Excerpts From - You Can Have Her
Epic 9464 - Excerpts From - You Can Have Her
Epic 9466 - There We Were b/w If
Epic 9492 - Don't Come Cryin' To Me b/w If Only I Had Known
Epic 9520 - Climb Ev'ry Mountain b/w I'll Come Running Back To You
Epic 9538 - Earthquake b/w I Am
MGM Records
MGM 13138 - Let Go b/w You Still Love Him
MGM 13157 - Midnight Town - Daybreak City b/w Intermezzo
MGM 13175 - Theme From "The V.I.P.'S" ( The Willow ) b/w The Sinner (El Pecador)
MGM 13217 - The Panic Is On b/w There She Is
MGM 13247 - Answer Me, My Love b/w Unchained Melody
MGM 13291 - You Can Count On Me b/w She Makes Me Wanna Dance
MGM 13315 - Sweet Violets b/w A Thousand Years Ago
RCA Victor Records
RCA Victor 47 - 8641 - Heartache b/w Ain't It The Truth
RCA Victor 47 - 8705 - And I Love Her b/w Tore Up Over You
RCA Victor 47 - 8813 - The Impossible Dream b/w She's Got A Heart
RCA Victor 47 - 8960 - Crackin' Up Over You b/w Walk Hand In Hand
RCA Victor 47 - 9061 - I Taught Her Everything She Knows b/w Lament
RCA Victor 47 - 9171 - You Shook Me Up b/w So High My Love
RCA Victor - Let The Music Play — Recorded 02 November1966 but unreleasd until issued on the 1997 Kent Cd - Rare Collectable And Soulful (Cdkend 141)
Capitol Records
Capitol 2057 - Let This World Be Free b/w Wait Until Dark
AGP Records
AGP 113 - The Dark End Of The Street b/w 100 Years
AGP 116 - Angelica b/w Hang Ups
AGP 25 - It's Only Make Believe b/w It's Only Make Believe (Only released as a promo copy)
AGP 125 - It's Only Make Believe b/w 100 Years