Inducted: 01 November 2014 Category: Mixed Groups
Ask any northern soul fan about the Exciters and they probably won't mention their number 4 hit from 1962. They will however, tell you about the buzz they get from dancing to "Blowing Up My Mind" or their live performance at Wigan Casino, or even the record that launched Ian Levine's career as a record producer.
Although members of The Exciters had performed previously, (Herb Rooney had been a member of The BelTones and The Continentals in the late fifties and, whilst a member of the Masters in 1961, met Brenda Reid who was a member of that group's sister outfit The Masterettes. Formed in Queens New York City, The Exciters initially consisted of Herb Rooney, Brenda Reid, Lillian Walker and Carol Johnson and initially burst into onto the music scene via the song-writing and record producing talents of Broadway's Brill Building multi talented legend Bert Berns and record producing maestros, Jerry Leiber and Mike Stoller in November 1962, courtesy of their US No 4 hit The Exciters — "Tell Him b/w Hard Way To Go" — UA 544, a song later covered with some success by Billie Davis in the UK and Dean Parrish in the US albeit with a subtle change of title to "Tell Her". (1) Mr Rooney and Ms Reid were romantically linked and eventually married. Their next three releases the following year couldn't quite match the success of their inaugural release although the A side of one of them, The Exciters — "Do Wah Diddy b/w If Love Came Your Way" UA 662 would furnish a hit for 60s Brit pop group Manfred Mann on Ascot Records (#2157)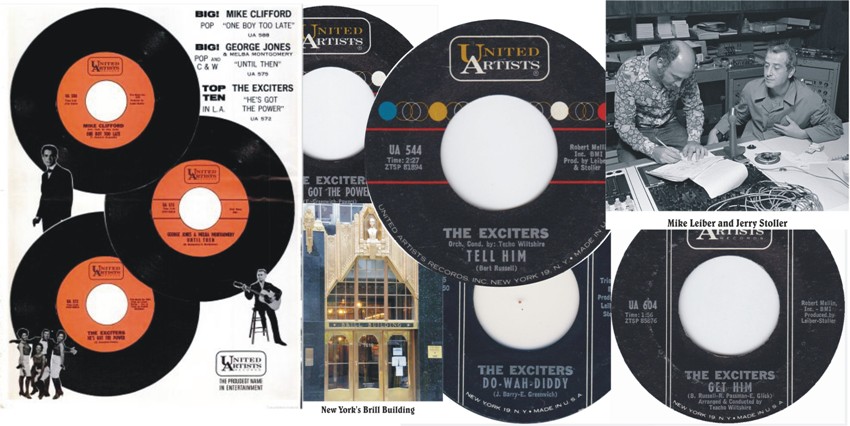 Signing with Morris Levy's Roulette Records in 1964 and despite coming under the production auspices of fellow Brill Building maestros Hugo Peretti and Luigi Creatore, the group struggled to gain any National Chart success although they enjoyed some local success with The Exciters — "I Want You To Be My Boy b/w Tonight Tonight" — Roulette 451 and the team produced a great atmospheric 'popcorn' styled outing that Herb Rooney had co written on the top side of, The Exciters — "Are You Satisfied b/w Just Not Ready" - Roulette 4594. The group's final outing on the logo is something quite special though. Written by yet another Brill Building legend Bert Berns, The Exciters — "There They Go b/w I Knew You Would" — Roulette 4632 delivers an uptempo, raucus dance performance so typical of the group's repertoire with that signature guitar 'chank', Brenda's impassioned vocals and an almost 'too fast' beat.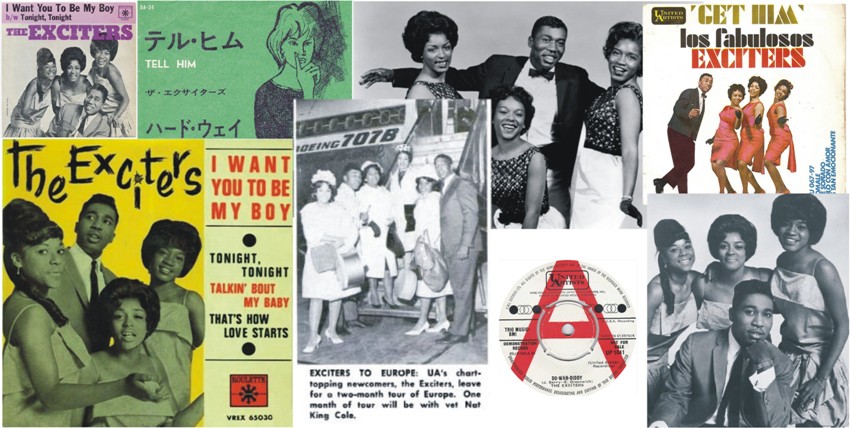 Bert Berns would flutter into the group's lives once again when they left Levy's operation but stayed local to New York by signing with his Bang Records. At the production helm of one the group's Popcorn Soul classics, The Exciters — "A Little Bit Of Soap b/w I'm Gonna Get Him Someday" — Bang 515, Mr Berns reworked the old Jarmels 45 (Laurie #3098), in fine fashion and Brenda pulls off a great interpretation. The very next 45 release saw the group gain favour a few years later albeit 3000 miles away when The Exciters — "Weddings Make Me Cry b/w You Better Come Home" — Bang 518 was picked up by DJs on the emerging Northern Soul scene in UK. With its infectious beat, chanking guitar, and once again Brenda leading the group vocally from the front with her tale of love's betrayal it was a founding 45 for a scene developing on mis-hit 45 imports and despite Mr Bern's involvement it sank without any real impact in the US.
Alhough recognition via the Billboard Hot 100 was sporadic for their 45s, they did however score some recognition when they featured on the soundtrack of a number of movies over the years including, "Bikini Beach" in 1964, The Big Chill" in 1983, "My Best Friend's Wedding" in 1997 and "Monsters Vs Aliens" 2009.
A move to Bang subsidiary Shout Records saw them release two 45s on the logo, both of which have gained plays over the years on the Northern Soul turntables. The Exciters — "Number One b/w You Got Love" — Shout 205 is great dancer co penned by Herb and the flip of The Exciters — "Soul Motion b/w You Know It Ain't Right" — Shout 214 is a superb outing full of atmospheric echo and of course Brenda dominates the vocal proceedings with a pitch perfect performance.
The sudden death of Mr Berns in 1967 affected The Exciters as it did many of his musical beneficiaries but they hooked up with producer Larry Banks at RCA the next year and it was whilst at the giant US record company that they recorded the ,"Caviar & Chitlins" — RCA 4211 album, which has long been held in high regard by soul fans, containing as it does the huge northern soul anthem 'Blowing Up My Mind' and the lesser-known and equally great dancer 'Movin' Too Slow'. Lifted off the album, The Exciters - "Blowing Up My Mind b/w You Don't Know What You're Missing — RCA 9723, was initially released in 1969 as a 45 on RCA and then again in 1972 as a legitimate re-issue with a different catalogue number due to the demand on the UK soul dance floors, where they had already latched on to the record.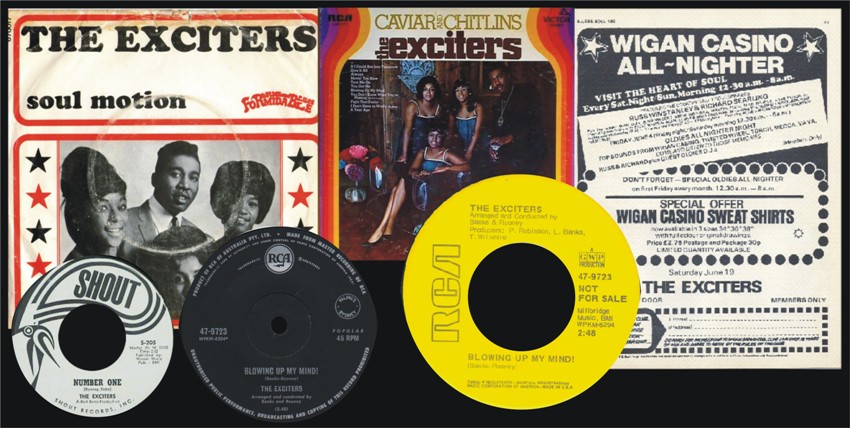 Post-RCA, the Exciters released one more LP and a 45, following which the supporting vocalists who had added so much to the group's sound, Lillian and Carol, retired. In 1975, looking for a record contract, they linked up with Ian Levine, where together, they came up with The Exciters - "Reaching For The Best b/w Keep On Reaching" — 20th Century 1005, which reached number 31 on the UK Pop Chart and is often held up as the controversial DJ's finest Northern Soul production outing and put the Ex Mecca DJ on the road to becoming a successful record producer. When the record was released in the Netherlands he must must have been apoplectic when he saw the rather strange picture sleeve it was issued in!
On June 19th 1976 The Exciters appeared live on stage at Wigan Casino where they took the roof off. Probably taken aback by the sight of 2000 fans before them Herb and Brenda responded in kind and the Allnighter went down in the annals of Northern Soul folklore. The Exciters furnished the Northern Soul scene with two iconic 45s, a legacy of great dance music and what is regarded by many as one of the best live performances ever by a soul act in UK. It's a pleasure to see them as inaugural Inductees into our Northern Soul Hall Of Fame.
Kevin Horsewood & Dave Moore 01 November 2014
Notes and References:
Many people think the Exciters' version of Tell Him is the original outing but it was in fact originally recorded by Gil Hamilton (aka Johnny Thunder) just prior and released on Capitol #4766
Acknowledgement to Dave Rimmer's website at www.soulfulkindamusic.net
Acknowledgement to There's That Beat! Archives www.theresthatbeat.com
Acknowledgment to www.cat45.com
Discography :
United Artists Records
Tell Him b/w Hard Way To Go - 544
He's Got The Power / Drama Of Love - 572
Get Him / It's So Exciting - 604
Do Wah Diddy Diddy / If Love Came Your Way - 662
We Were Lovers (When The Party Began) / Having My Fun - 721
We Were Lovers (When The Party Began) / Having My Fun - 830
Roulette Records
I Want You To Be My Boy / Tonight, Tonight - 4591
Are You Satisfied / Just Not Ready - 4594
My Father / Run Mascara - 4641
There They Go / I Knew You Would - 4632
Bang Records
A Little Bit Of Soap / I'm Gonna Get Him Someday - 515
Weddings Make Me Cry / You Better Come Home - 518
Shout Records
You Got Love / Number One - 205
You Know It Ain't Right / Soul Motion - 214
RCA Records
If You Want My Love / Take One Step (I'll Take Two) - 9633
Blowing Up My Mind / You Don't Know What You're Missing ('Til It's Gone!) - 9723
Blowing Up My Mind / You Don't Know What Your Missing ('Til It's Gone!) - 1035