Date Of Induction: 01 November 2014 Category : Male Vocal Group
The Masqueraders, have spanned a recording career of over 50 years and still enjoy the original line up of members from their beginnings half a century ago. Their story and history is one of musical struggle. Only their determination, sheer toil, perseverance and belief in what they were capable of held them together over these years. To have stayed together for such a length of time is almost unique. Groups like The Four Tops, The OJays, The Dells, etc have an equal claim to longevity but the major difference between these groups and The Masqueraders is that The Masqueraders achieved it without the commercial break out usually associated with a long successful career. They have written and released enough records to make collecting their output a whole hobby in itself. Most of their catalogue of records are guaranteed floor fillers, some of them forty years from their musical birth. A catalogue of 25 singles and 3 LP's, not too bad for a group that never really hit the big time in terms of commercial chart success.
Formed in their home town of Dallas, Texas whilst in the 8th grade at TC Haskell School during the late 50`s, school friends Robert Wrightsil and Charlie Moore got together with Johnny and Lawrence Davis to form a singing quartet. Charlie Moore was doing lead vocals with Robert, Johnny and Lawrence performing tenor support, a bass vocalist was needed and Charlie Gibson was recruited into the position. Little Charlie, as he was known, was so little he would regularly have to stand on a case of Coca Cola during their performances.
The Group decided on the name The Stairs and their ability to sing other groups material, some of which they could perform even better than the originals incorporating their tightly knit harmonies slowly but surely built them a reputation in and around their home town leading to a full diary of engagements at local clubs and lounges.
The Stairs first venture into the recording studio was late 1959, where they recorded their very first track for a local entrepreneur Alvin Howard for his Sound Town set up with a version of a song previously recorded by another group and released as, The Saucers — "Flossie Mae b/w Hi-Oom" — Kick100 . The subsequent tracks done for Mr Howard, "I Got A Girl And Her Name is Flossie Mae" and "The Caveman" failed to make it onto wax though.
At the dawn of the swingin' sixties the group underwent a drastic line-up change when first, after a minor disagreement, the brothers, Lawrence and Johnny left the group, then in 1961 Little Charles also left, having enlisted in the US Army.
The remaining members were now the two original members Robert and Charlie and whilst on the lookout for new members they came across Lee Westley Jones, who was then working as a car valet. Lee had a voice that would fit snugly into the position of lead or tenor and was under consideration as a member. By a stroke of luck though, the group's next member had recently returned back to Dallas from living out of town and Harold Larry Thomas (known as Sundance), stumbled upon the Stairs practicing their harmonies and recalls that they sounded so good, that initially he thought he was listening to a record!
That chance meeting later turned into an offer to join the group and the duo became a trio but were still actively searching for new members. David "Cowboy" Sanders Jr. who was, at the time, like many other black kids looking to get afoot on the musical ladder, was singing 'under the street lamps', with a small, similar group of guys to The Stairs. The groups met and sang together and it was this meeting that resulted in two member of Sanders`s group joining the newly renamed New Drifters as they had come to be known. It was also at this point Orberdean Deloney (AKA Deano) stepped in to replace Harold Thomas as he decided to join the US Marines Corps. Willie Charles Gray stepped in to Little Charles position when he left for the Army in 61 and David Sanders joined the group later that same year when the group began gigging as the New Drifters.
Willie Charles Gray soon left to join one of the hottest acts in the neighborhood — Les Watson and the Panthers. They recorded a very obscure album for Jarrett Boren which was purported to be a live concert from Dallas' Blackout Club and which contained the band's version of recent popular R&B tunes like, "Stand By Me", The Coasters "Young Blood" and "You're So Fine" by The Falcons. Les Watson and The Panthers also delivered a number of great 45s including the brilliant mid tempo outing — Les Watson — "Soul Man Blues b/w No Peace No Rest" — Pompeii 66689 and a raucus uptempo version of The 5 Royales hit with, - Charles Gray, Les Watson and The Panthers Don't Do It b/w I Found Love — Village 103 . Willie Charles Gray himself would also release a noteworthy solo 45, Willie Charles Gray — "I'm Gonna Be A Winner b/w Here I Go Again" — Mercury 72608, a great mid-tempo popcorn sounding outing that has received sporadic plays over the years.
At this time the group where touring local clubs and the group members were Robert Wrightsil, Charlie Moore, David Sanders and Deano Deloney, Lee Wesley Jones was also still around but only during rehearsals. The guys would often turn up at gigs under the guise of the latest group that was enjoying a hit, sing the current hit songs and the crowds were none the wiser. As this ruse was pretty successful, they changed their name to… The Masqueraders.
Early in 1964, the group went back in the studio for their second attempt at releasing a 45. The release was a cover of a Curtis Mayfield penned track, first recorded by Gene Chandler on Vee Jay which became a minor hit in Chicago area in late 1963. The track was released on Scotty McKays MK imprint and was credited to The Masqueraders. (1) but, probably due to Mr McKay's limited funds and distribution the 45, The Masqueraders — "Man's Temptations b/w Let's Dance" — MK 101, slipped by unnoticed by the record buying public.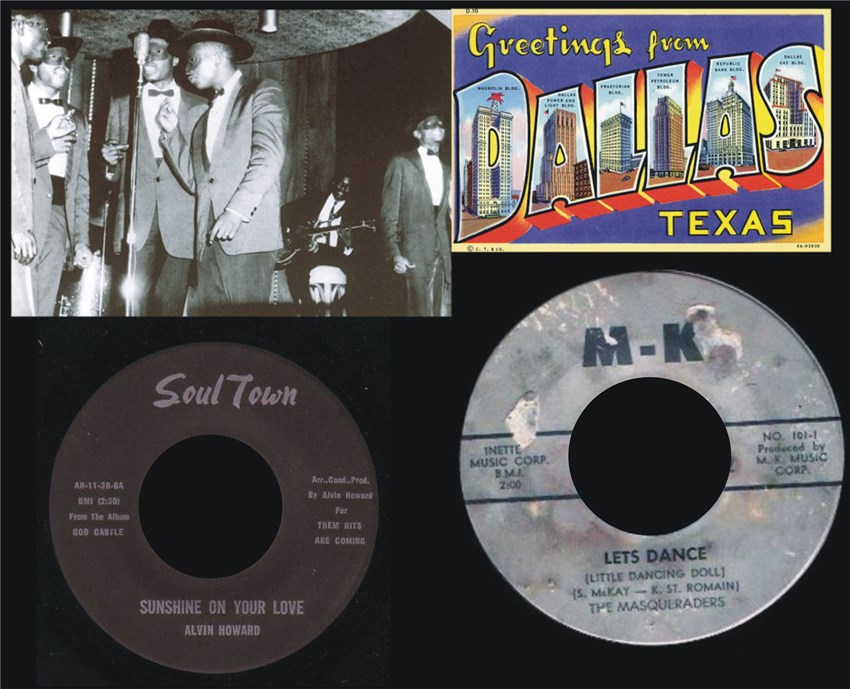 Their second visit to the studio`s in early 1965 would deliver their first Northern soul dance floor filler, this time for Alvin Howard and his newly formed label Soultown logo. The tracks were written by group members Jones, Moore and Thomas and the line-up that recorded them consisted of Lee Jones, Robert Wrightsil, Charlie Moore, Little Charlie Gibson (who by now had re-joined the group for a short spell) and Harold Thomas. With Howard mistakenly omitting The 'e' and 'r' from the group's name The Masquaders — "Talk About A Woman b/w That's The Same Thing" — Soultown 201, featuring Lee Jones' impassioned lead vocal highlights the groups forte which is a tight, harmonious gospel tinged sound and the 45 became a much sought after disc on the Northern soul circuit, due to the popularity of 'That's The Same Thing'.
Group member David Sanders was also singing at the time with other outfits around the Dallas area performing gospel, blues and RnB but didn't perform or record as a soloist.
With no commercial action on the horizon outside of Dallas, Alvin Howard had been up in Detroit and had included a visit to Motown where he arranged an audition for the group with Mickey Stevenson, Gordy's then 'go to' A&R guy. A now, more permanent lineup of Robert Wrightsil, Charlie Moore, Harold Thomas, David Sanders and Lee Jones, made their famous trip to Detroit in the spring of 1965, with just enough cash to pay for a one way flight. However, on arrival at Hitsville, the group members were left somewhat hanging when they were told that Stevenson had just moved out to the West Coast. (2) They did however, audition unsuccessfully for James Dean who advised them that Motown already had a full roster of male singing combos via The Temptations, Four Tops etc.
With no return flight tickets or any means of returning home the guys needed a place to stay and, with only $15 in their communal pockets made their way to the YMCA in order to form a plan of action. With two guys paying the accommodation fee and the other three sneaking into the room unnoticed. The Masqueraders spent their first night in the Motor City. A city that, unknown to them would, a decade later, ensure that their soulful recording legacy would be hunted down and treasured by fans a continent away. The group had heard of the famous 20 Grand Club at 14th and Warren and decided that they would make their way, try and get a singing opportunity and raise some much needed cash. I guess it seemed as good a plan as any. (3)
While making their way to the 20 Grand along 14th Street, they encountered a large two story house with a sign declaring "La Beat" and a microphone in the large from bay window. The building looked like it might be a recording studio and so they decided to try their luck as they had nothing to lose. Unfortunately the owner wasn't around so the guys sang for someone they remember being called Ted Wilson who was impressed enough to invite them back when the owner… Lou Beatty was around. They made a note of the buildings location and continued on to the 20 Grand where, after bad start to the day, their luck finally changed and they were given opportunity on stage. Their performance was greeted positively by the audience who turned that appreciation into hard cash by throwing money on stage for the guys. Maybe Detroit wasn't so bad after all, a successful gig, money for rooms and an audition booked at a recording studio at 6070-6076 14 St!
The group returned bright and early to be greeted by Lou Beatty himself who, suitably impressed by their performance signed them to his La Beat label with its fantastic bongo drum logos and allocated them an apartment in the basement of one of the motels he owned. (4) Their first single on La Beat in 1966 was penned and produced by the label owner himself and, The Masqueraders - A Family Pt 1 b/w A Family Pt 2" — La Beat 6605, has often been overshadowed by their later releases but is a more then noteworthy effort as the guys deliver their splendid harmonies over a maybe some-what dated soundtrack. The flip is a doo wop inspired version of the same song that extols the virtues of how a man has a responsibility to hold his family together. Beatty managed to licence the 45 to Capitol's Tower subsidiary and it gained a further release as Tower # 281 in October 1966 but this 45 also resulted in poor sales.
The following single couldn't have been more different and was written by a couple of people we currently know very little about, (guitarist Curtis Trusel and drummer Johnny Mills), who I presume are part of the LPTs as they also wrote Lester Tipton's "This Won't Change" (La Beat # 6607) and Nelson Sanders', "Love Is Here To Stay" (La Beat # 6608)) both of which are fantastic slices of 60s Detroit soul. The Masqueraders — "I'm Gonna Make It b/w How" — La Beat 6606 delivered a double sider of differing musical stylings but both have at the heart of them the lifeblood of sixties Detroit dance music, a strong beat and harmonies of stupendous quality. The top side is a mid tempo musical battering ram with the guys performing over a crashing backbeat augmented by chanking guitar riffs whilst the flip is more of the same but this time pitched up a little more and much smoother vocal inflections and a call and response technique that the guys employ with great aplomb. The Detroit signature 'pinging' percussion and guitar riffs present on so many mid-sixties 45s are a delight and the 45 has rightly stayed on DJs playlists over the years and as such is much sought after disc too.
The Masqueraders would go on to release a further six 45s for Lou Beatty's Detroit set up, but the numbering system of the 45s leaves a lot to be desired almost 50 years later as the catelogue includes two 45s that contained instrumental versions of the vocal sides of the 45s, The Masqueraders — "Be Happy For Me b/w Be Happy For Me (Instr)" — La Beat 6701 and The Masqueraders "Together That's The Only Way b/w Together That's The only Way (Instr)" — La Beat 6701 that shared the cat # with the slightly earlier release which combined the vocal versions back to back on The Masqueraders — "Together That's The Only Way b/w Be Happy For Me" — La Beat 6701. Confused? You should be. The final release on La Beat, The Masqueraders — "I Got The Power b/w Together That's The Only Way" — La Beat 6704/5 combines a powerhouse of a dancer on the topside written by two members of The Brothers Of Soul is a song full of up-tempo harmonies, drum fills, a fantastic horn break and some of the longest 'Ooohs and Aaahs' ever to grace a 45 with a Lou Beatty penned dancer! The Brothers Of Soul aka Fred Bridges, Richard Knight, (later replaced by Ben Knight) and Bobby Eaton wrote and recorded some of Detroit's most iconic soul songs and in 2011, Fred Bridges and Bobby Eaton appeared at the West Indian Club in Coventry in a live show organised by Rob Moss of UK's Hayley Records and delighted the audience with a repertoire of their musical legacy.
Lou Beatty himself could write, his interest in music went further than just a vehicle to generate revenue, it's a shame he couldn't quite achieve that break out hit he needed to put his efforts onto the national stage. In addition to their own releases The Masqueraders would also support the other artists within the production set up as backing singers and can be heard on 45s by Al Williams and James Shorter.
After twelve months in Detroit there was still no satisfactory commercial payback for their efforts and they felt that they weren't progressing as they should in their careers. It's a familiar story of great, well performed product, but lacking the marketing muscle of Gordy's empire and that little slice of luck it simply wasn't forthcoming. It was time for the guys to search out new musical pastures. This time they looked Southwards to a city that was by now, emerging as a powerhouse player in terms of soul music.
Memphis was a hip happening city in 1967 as far as music was concerned. Stax records were riding high with Booker T Jones and the MGs and The Mar Keys horns providing a musical platform for Isaac Hayes and David Porter's gritty, down home rough-hewn soul that provided a foil to the Motown sheen with its stylish use of rhythmic beats, Jones' innovative Hammond organ work and a tight well drilled rhythm section that included Steve Cropper, Donald 'Duck' Dunn and Al Jackson. In addition Willie Mitchell had established his Royal Recording Studio in an old renovated movie theater in South Memphis using the famed Hi Rhythm Section house-band and had been made a vice president of the city's Hi Records. He, along with Al Green, was shifting bucket loads of 45s as the label blossomed in the sixties. (5) If Memphis was where it was happening then Memphis was where The Masqueraders were headed.
The Stax company were indirectly responsible for the recording opportunity afforded the group on their arrival on the Mississippi. The studio the guys would end up recording in, was owned by Chips Moman who had financed the studio at 827 Thomas St, which he named American Sound Studio, with money he won in a lawsuit against Stax record owners Jim Stewart and Estelle Axton. The case arose from litigation instigated by Moman in connection with the Booker T and The MGs 'Green Onions' smash hit. (6) Lincoln Wayne 'Chips' Moman arrived in Memphis aged 14 from his native La Grange, Georgia and was already a seasoned guitarist. His initial entry into the music business came via Dorsey and Johnny Burnett for whom he was employed as a studio session player and he would also play on Aretha Franklin's early Atlantic sessions. In 1962 he established American Sound Studios with his first partner, Seymour Rosenberg and in 1964 he partnered up with Don Crews, a former farmer from Arkansas who became the business catalyst for the studio.
In similar fashion to Berry Gordy, STAX and Rick Hall (FAME), Moman surrounded himself with the some of the best musicians he could find and established a house band at American Sound nicknamed Americas New Rhythm Section aka The 827 St Band and, as their fame spread they would later become known as 'The Memphis Boys'. These young musicians, like other legendary groupings, would ply their trade predominantly in the studio, take the US Charts by storm and like the other house bands mentioned, go largely unnoticed by the general record buying public.
To compliment the American Sound Studio, Moman started his own label, AGP (American Group Productions), established his own publishing company, Pacemaker Music and would eventually gain legendary status after he produced Elvis' 1969 album "From Elvis In Memphis", and his 1970 LP release, "Elvis Back In Memphis".
After auditioning for Chips Moman, Moman gave The Masqueraders a contract, and signed the group with Penthouse, the predecessor to his AGP logo. Through the late '60s, whilst Moman was producing hit records for Atlantic on acts such as Wilson Pickett, The Masqueraders took their chance to rub shoulders with such musical luminaries as Elvis, Wilson Pickett, and Joe Simon to name a few. They also provided backing vocals on many more great records recorded at America Sound. One of their claims to fame was to sing backing for Arthur Conley's hit "Sweet Soul Music" A good proportion of their earnings at the time was made by singing background and writing songs for themselves and others. One track that members of the group wrote was Roosevelt Grier — "C'Mon Cupid b/w High Society Woman —Amy 11015, that delivers a great up-tempo organ driven dancer coupled with an out and out ballad, complete with a Southern styled twangy guitar that was also was produced by Moman and Cogbill. The Pama logo in UK picked up the rights and that particular Roosevelt Grier 45 gained a release on that label in UK. (Pama # 784). Of course Rosey Grier would become something of a Northern Soul hero in his own right with the ex American football star releasing 45s not just on the AGP label but also on Rik and Mike Hanks' Detroit based D Town imprint.
The Masqueraders next 45 to be placed before the public was penned by group members Harold Thomas and Lee Jones and recorded at American Studios having been produced by Chips Moman and comprised a sweet soul ballad with a grittier performance on the flip, The Masqueraders - "Let's Face Facts b/w I Don't Want Nobody to Lead Me On" — Wand 1168. Chips secured a lease to New York's Wand imprint when label owner Florence Greenberg was visiting the American Sound location with Ronnie Milsap who was signed to her label, Ronnie would record at the studio and it was during these meetings that Chips successfully punted The Masqueraders recordings to Florence.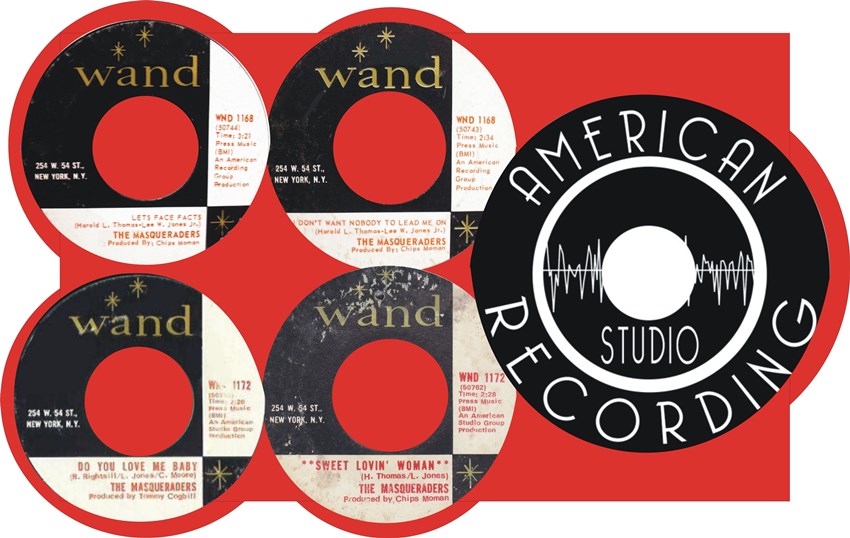 The follow up 45, also leased to Ms Greenberg's label, would go on to became a hugely successful dancer on the Northern soul scene a decade later coupling a slow, passionately delivered group penned (Thomas/Jones), ballad with one of the group's evergreen dancers, The Masqueraders — Sweet Lovin' Woman b/w Do You Love Me Baby — Wand 1172. The flip, written by group members Rightsil, Jones and Moore was produced by Tommy Cogbill, the same guy who played bass guitar on Elvis' fantastic "Suspicous Minds" outing and is, for many of their Northern soul fans, their finest hour with its undeniably American Sound signature drum and rhythm guitar combo providing a great platform for the guys vocal abilities.
Sandwiched in between the two Wand 45s the group also released a single for Larry Uttal's Amy label. Due to the contractual obligations in place with Wand the groups outing went under a pseudonym as, Lee Jones And The Sound Of Soul — "This Heart Is Haunted b/w On The Other Side" — Amy 11008. Both sides were written and produced by American Sound Studio staff that included Southern soul legends: Spooner Oldham and Dan Penn. The flip contains a desperately melancholy tale of abandonment, with a sparse production that leaves the vocals as the main effort. And it's an effort steeped in a heavy Gospel vibe that the guys pull off 100% .
Larry Utall, the head honcho at New York-based Amy/Bell/Mala family of labels, and previously of Madison Records, then later of Private Stock Records, offered to release more tracks on the group. And the group tried to get Moman to record a track they had written, but he wasn't overly impressed. Once again it was Tommy Cogbill who produced the track which in the end was part of a deal done with Uttal that saw the group's material released on Bell Records. The Masqueraders - "I Ain't Got To Love Nobody Else b/w I Got It" — Bell 733 delivered a sweet soul outing that ranks up with anything else within that particular genre and is choc full of the quality vocals the group so regularly delivered. Set at a high tenor, there's no gritty testifying being done here, it's a weeping, sensitive performance from all round. Soaring choruses, interspersing verses telling a tale of powerful love helped make this the most successful outing in the group's lengthy career in terms of sales pushing the 45 to # 7on the RnB Chart and #57 on the Billboard Pop equivalent. After almost a decade of quality singing…The Masqueraders were on the Charts!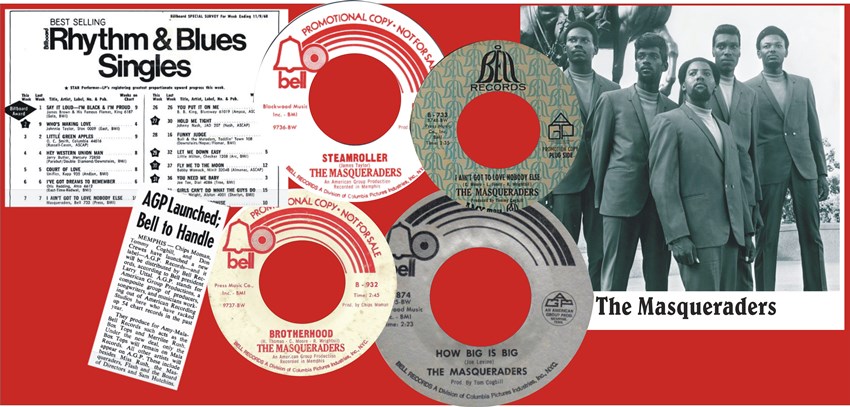 Their tenure at Bell would also deliver one of those great crossover 45s that, until the term was coined, sat in a kind of limbo as far as its musical pigeon hole was concerned. The Masqueraders — "How Big Is Big b/w Please Take Me Back" — Bell 847 is a differently styled recording to what Amerian Sound were producing at the time in 1968. Almost acoustic sounding, its sparse backing track relies on the quality vocals to instill the atmosphere to the song, which is a sweet ballad and that they manage to achieve this is a testament to The Masqueraders artistry. Lilting lead vocals supported by distant sounding voices that Tom Coghill got perfect over that acoustic guitar and a gentle, gossamer piece of drumming make this a quality piece that every collector should have filed under M.
Given that many of the staff at American Sound had Elvis connections it should come as no surprise that the group released an Elvis song. The Masqueraders — Steamroller b/w Brotherhood — Bell 932 isn't really suited to the talents of the group as this James Taylor penned song was actually composed as an out and out blues song and as both Taylor's and Elvis' version highlights it's best performed as such. The Masqueraders version attempts to create that down home, southern growl that conjures up the smell of fried chicken and collard greens but The Masqueraders vocal skills lie in a more sweetened sound. Fortunately they would return to their comfort zone with the next release.
Having charted with Bell #733 Chips, probably with an eye on a better payday released the next 45 from the group on his own AGP, (American Group Productions) and The Masqueraders — "I'm Just An Average Guy b/w I Ain't Gonna Stop" — AGP 108 was the first of two great sweet soul outings on Momar's logo who had secured Uttal's distribution via Bell despite a spat between the two over the group's releases (Uttal was trying to establish Bell as a major player in RnB market at the time and was probably miffed that the group were appearing on a different label). Lee Jones plaintive lead on "I'm Just An Average Guy" and the quality of the group's supporting efforts are performances that deserved much more success than they actually delivered having stalled at #34 on the RnB Chart in the early weeks of 1969. The 45 is another that nestles on every discerning soul music collectors shelves and is a fine example of what soul music is all about extracting a fantastic secular performance without displacing the voices that remain in steeped in a Gospel traditional sound. It's a fantastic 45!

Despite erratic chart placings the group saw an increase in live bookings, especially on the back of "I Ain't Got To Love Nobody Else" and their live gigs took in some of the iconic stages of the Chitlin' Circuit including New York's Apollo. One notable appearance on a Houston TV station the group appeared on a TV show promoting the OJays show, the groups performing at different clubs on the same night. The Masqueraders must have suitably impressed the TV audience as they broke the attendance record for their gig whilst the OJays suffered the ignomy of a poor audience.
In an attempt to placate Larry Uttal, Moman agreed to put the group back with Bell Records, but it was too little too late, Larry was already making plans to sell Bell Records making Bell the flagship label for Columbia Pictures and Screen Gems Television. Amy and Mala had been shut down and the company's main focus now, was a brand new PREFAB group, THE PARTRIDGE FAMILY.
Chips Moman and Don Crews, saw their partnership in American Group Productions hit the rocks when they suffered a major bust up. AGP ceased to exist as a label by early 1970, after only 26 releases. Bell had withdrawn for distributing the logo and by 1971, Atlantic was no longer a client, and Chips was becoming increasingly aggravated at what he saw as a lack of appreciation. After something the prestigious 'Memphis Music Awards' completely ignored, his studio and its unparalleled string of hit records two years in a row, he couldn't take it anymore, and he closed American Sound down for good in 1972.
In addition to these events, the Masqueraders suffered line-up changes as some members experienced personal problems, but waiting in the wings was a young singer the guys had met that would slot in and sometimes take the lead. The group incorporated him into their live shows as an added soloist but sometimes the group would also perform as a six man outfit. Sam Hutchins would eventually become a fully-fledged Masquerader often standing in for Lee Jones.
By this time the Masqueraders had long gone back to Dallas, and most had taken regular day jobs. But their hearts were still with the music, and releasing a number of tracks on their own label Stairways (after the original group name The Stairs.) the down side was the cash to promote the track which they didn't have. The first release was a ballad called "Let Me Show The World I Love You", which had as its backing track , "Masquerader's Theme" which was used on the flip. The next was an nice crossover style uptempo track "The Truth Is Free"(Pt.1 b/w Pt.2), again with contributions from all the group members in the songs composition. The third single was a combination of the first two. (A song known as "Wear My Ring" is actually "Let Me Show The World I Love You"). Though locally they did pretty well, the distribution/promotional side of the music industry was new to the group, hence the three releases flopped.
They still had their awesome harmonious sound intact though, in fact, if anything it had matured and developed even more, so in 1973 the group returned to Memphis, minus Lee who had a change of religion and name to Lee Hatim, that reflected his conversion to Islam. With Lee being replaced by Sam Hutchins they hooked up with Willie Mitchell to record two singles at Mitchell's Royal Studios for his Hi label. Robert 'Darryl' Carter, had met the group while he was previously working at American Sound and was instrumental in getting them back in the studio. One of Darryl Carter's claim to fame was that he had cut hits in all three major studio`s in Memphis, The Masqueraders first met up with Darryl At American Studio`s back in 68/69. A twist of fate had drawn them to Willie Mitchell's Hi Records as Darryl and Willie had been talking about new acts and The Masqueraders had been discussed. Willie passed the Masqueraders onto Darryl to produce and write some tracks on. The first single selected from the Royal Studio session offered a group penned outing, The Masqueraders - "Let The Love Bells Ring b/w Now That I've Found You" — Hi 2251, which paired up two ballads, one a result of the group's collaboration and one written by Daryl Carter himself.
The A side is really when the sound of the group changed slightly with Sam Hutchin's lilting lead tenor delivering a more gospel feel to the proceedings, now a prominent feature. The follow up single The Masqueraders - Wake Up Fool b/w Now That I've Found You — Hi 2264 kept the same flipside but this time paired it with a similar styled ballad. Once again, any noteworthy commercial success continued to elude the guys and by 1974 they were again looking for a fresh outlet for their work.
Lee Jones returned to the fold but Charlie Moore stepped down due to ill health, so in 1974 the line-up was Robert Wrightsil, Harold Thomas, David Sanders, Lee Hatim (Jones) and Sam Hutchins. In the mid 70s they hooked up with another Memphis based legend Isaac Hayes who had established Hot Buttered Soul, (HBS), with a distribution deal done with AB and they cut 2 LP's ("Everybody Wanna Live On" (ABC #921)and "Love Anonymous" (ABC #962) ) and released 3 singles. At the time Hayes was spending more time promoting himself to give the Masqueraders the promotion they deserved, but saying that this was more than likely the Masquerader's most successful time in the business. The first single in '75 was a newly arranged, unrecognizable cover of the 1962 Shirelles hit, (authored by Bacharach-Davis-Williams), "Baby It's You — Scepter1227 " (# 76 RnB). This soulful slowie was backed with an almost inspirational beater called "Listen", which was written by the group.
The groups album debut came in 1975 with "Everybody Wanna Live On" which benefitted from the subtle and innovative production values of Isaac Hayes recorded at Hot Buttered Soul recording studio in Memphis and orchestrated by Lester Snell. Rhythm and horns were provided by The Movement, strings and other horns by Memphis Symphony Orchestra and all the songs, except "Baby It's You", were written by The Masqueraders. The title track is a powerful dance track boasts Lee Hatim`s (Jones)' patented robust vocals. Although the group excelled at mid-tempo material, like the hooky "Please Don't Try (To Take Me Up to the Sky)," what typified the Masqueraders alliance with Hayes were the mature and thoughtful ballads. The stand out track on the album "(Call Me) The Traveling Man," boasting both a poignant arrangement and a perfect performance from Lee Hatim (Jones), and the rest of the group. "(My Love For You Is) Honest And True" and "Your Sweet Love Is a Blessing", also exhibit the group's strong harmonies and vocal commitment. "Everybody Wanna Live On" represents the sublime pairing of the right group with a sympathetic producer, and the results are highly skilled. The next single they picked was the classy ballad pairing once again entitled, The Masqueraders — "Sweet Sweetening b/w Call Me) The Traveling Man" — HBS 12157 which jostled around the lower regions of the US Charts, (# 32-soul / #101-pop), whilst the third single from Hayes production set up, was another quality sweet ballad, the Masqueraders - "Your Sweet Love Is A Blessing b/w "Please Don't Try (To Take Me Away To The Sky)", but it too slipped by unnoticed.
Two years later the second HBS album, "Love Anonymous" was recorded, but didn't produce any singles. Again produced by Hayes, arranged by Hayes and Lester Snell, recorded at HBS studio and backed by Movement and the Memphis Strings you'd have expected a better commercial showing but unfortunately that wasn't the case. No singles were culled from the album and the group were released by Hayes who was experiencing financial pressures with the production company.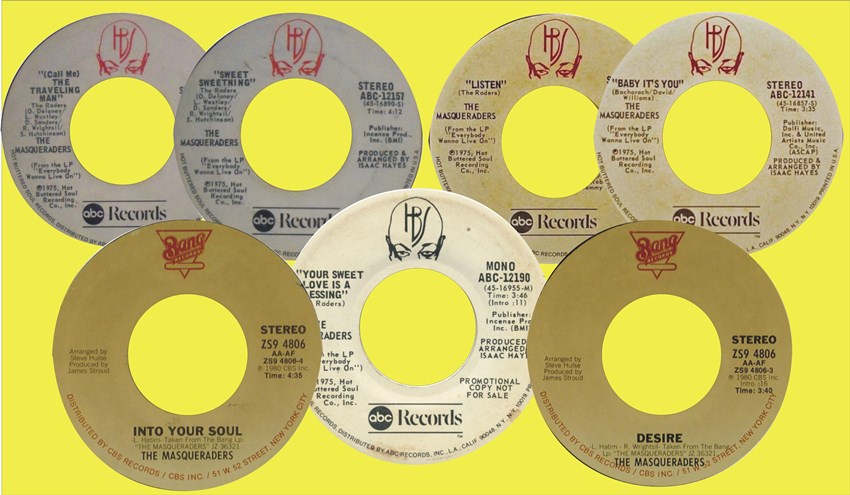 Whilst contracted to HBS, the group were still performing live gigs and at one such event in Philadelphia they encountered one of the city's leading musical architects, Mr Kenny Gamble who, in a conversation backstage invited them to record with his Philly International entourage at 309 Broad St. Unfortunately, when the guys approached Isaac Hayes with the idea, the Memphis based producer protected his interests and vetoed any collaboration. Shortly after this the group were left hanging with no recording contract to hold them back and Kenny Gamble and Leon Huff had moved onto other projects.
In the latter part of the 70s the group recorded a number of songs for the little known Pathfinder Records but no singles ever made it to a release stage and sadly remain firmly in the can. Finally, at the onset of the 80s, they secured a deal with Bang Records (7)
Their final album was produced by James Stroud and recorded in Atlanta, Georgia. All nine tracks were written by the group, most of them by Lee Hatim (Jones). There are two melodic, sweet soul sides nestled amongst the remaining disco and funk slanted material "Into Your Soul" and "The Sake Of Pride". The album itself never made the shelves but a couple of its tracks did
An uptempo disco outing, "Desire" that hit the charts (RnB # 38) in early 1980, but the follow-up, a gently bouncing disco dancer titled "Starry Love" then flopped, which also meant bye-bye to the company.
In the 80s, after almost 20 non-stop years of trying to 'make it' the group members looked towards obtaining 'day jobs', with Lee and Sam who started driving trucks, Harold took a job in the postal service and Robert had a beauty salon and a store, which currently operates as a club these days. David continued performing and kept the spirit of the group alive hoping someday that the slice of luck required to make it would eventually manifest itself and The Masqueraders time in the spotlight would at last materialise
In The 90`s Robert Harold and David released a few tracks on their own TNT (Texas N Tennesse) label.. the group still did backing for various act including James Carr. The Group have made a comeback in the way that there is no pressure to produce but to enjoy performing and those chances are coming regularly from all over the USA…with regular stints in Beale Street Memphis.
In 2006, the UK soul fraternity were treated to one of those special moments in time that occur very rarely in life. The Northern Soul heroes that are The Masqueraders appeared live on stage at The Prestatyn Weekender in North Wales. That sentence alone would be enough to deserve inscribing in stone but not only did they appear but they stole the show and stole it in a fashion that only true artists ever can. In front of 2000 devoted fans The Masqueraders performed their repertoire of lush, sweet, harmonic outings alongside their Northern soul iconic ones and received rapturous appreciation for their efforts. To have seen the guys up there, on stage, 'doin' their thing' live with such panache, after hearing their initial recordings almost 30 years earlier was a true highlight of the Prestatyn experience. WHODATHUNKIT?
The Masqueraders are a group whose 45s have given so much pleasure to so many fans but who, in their own backyard at least, never quite managed to achieve the success they truly deserved. True Northern Soul Heroes which is why we are honoured to see them inducted to our Northern Soul Hall Of Fame, especially as Inaugural Inductees.
Kev Spittle and Dave Moore
Thanks, Notes and References:
A. Many thanks to Greg Tormo for his permission to use snippets from his excellent piece on the group at his website at http://solidhitsoul.com/raders.html
1. Scotty McKay was Dallas born singer who managed to enjoy a musical career that encompassed a myriad of labels and genres. Born in 1937 as Max K Lipscomb he grew into a good looking confident guy and was one of the early matinee idols on Ace Records that Philadelphia's Bernie Lowe would corner the market in. Scotty also had a claim to fame in that he was for a while a member of Gene Vincent's backing group The Blue Caps. He passed away 17 March 1991.
2. Mickey Stevenson was the husband of Kim Weston and the husband and wife team would form Peoples Records, (not to be confused with James Brown's logo for the same name), and would eventually negotiate a deal that took Ms Weston to MGM for a reported fee of $1million. As part of that deal Stevenson would be tasked by MGM to try and establish their Venture subsidiary label as a soul imprint.
3. Anecdote from Greg Tormos interview with The Masqueraders at http://solidhitsoul.com/raders.html
4. Lou Beatty was something of an entrepreneur in Detroit having a finger in a number of business ventures including construction, real estate and motels in addition to the aspiration to be the next Berry Gordy. The Masqueraders would seem an ideal act to embrace by La Beat in an effort to create the labels version of The Temptations who at the time were arguably the biggest singing group in the country. The records made by Beatty not just on the La Beat logo but also on the Carrie label, a venture with another black entrepreneur James Hendrix and the Cool School imprint have all become sought after discs over the years.
5. Hi records was first established in 1957 by 4 partners all of whom had links to the areas rich rock n roll history, Ray Lewis was a rockabilly singer who had previously recorded for Sam Phillips' Sun Records, Joe Cuoghi was a record store owner, Bill Cantrell and Quinton Claunch had already been long time producers for Sun Records and Joe Cuoghi's lawyer was a silent partner in the venture. Lots of people associated with the hey-day of rock n roll would pass through the doors of the Royal Recording Studio including guys like Ace Cannon and Bill Black.
6. Chips Momar began his record producing career in Los Angeles' Gold Star Studios where he was a session guitarist. After playing in gene Vincent's backing group he gravitated to Memphis where he hooked up with the embryonic Satellite Records, the first incarnation of Stax. Grabbing the bull by the horns he established himself as the company's premier producer and contributed to a number of early hits for the company on William Bell, Carla Thomas, Booker T and The MGs and The May Keys. After the dispute with Stax, Momar went on to create a studio that at one stage could boast that in one particular week, 25% of the Billboard Top 20 45s were actually recorded at his studio! In the late 60s he became associated with Atlantic records and his studio pumped out 120 smash hits on Aretha Franklin, Wilson Pickett James Carr, Joe Tex, The Box Tops, Dusty Springfield etc. His greatest songwriting achievement is arguably the song he created with Dan Penn (Of FAME), for James Carr… the deep soul classic, "Dark End Of The Street".
7. Bang Records was the brainchild of Bert Berns, Armet Ertegun, Nesuhi Ertegun and Jerry Wexler (Gerald) The name of the label is taken from their first names B.A.N.G.
Discography:
The Stairs:
Brown Eyed Handsome Man — South Town
Cave-Man Love — South Town
Flossy Mae — South Town
The Masqueraders:
Man's Temptation b/w Dancing Doll — M-K 101
Talk About A Woman b/w That's The Same Thing — Soul Town 201
The Family (Part 1) b/w The Family (Part 2) — La Beat 6605
The Family (Part 1) b/w The Family (Part 2) — Tower 281
I'm Gonna Make It b/w How — La Beat 6606
Together That's The Only Way b/w Be Happy For Me — La Beat 6701
Be Happy For Me b/w Be Happy For Me (Instrumental) — La Beat 6701
The L. P. T.'s / The L. P. T. Orchestra — Together That's The Only Way (vocal) b/w That's The Only Way — La Beat 6701 (A Side vocal 'Be Happy For Me' by Masqueraders)
(Work) Together That's The Only Way b/w One More Chance — La Beat 6702
Together, That's The Only Way (Vocal) b/w Together, That's The Only Way (Instrumental) - La Beat 6702 (mislabelled as Be Happy For Me (Both sides)
I Got The Power b/w (Work) Together That's The Only Way — La Beat 6704/5
I Don't Want Nobody To Lead Me On b/w Let's Face Facts — Wand 1168
Lee Jones & The Sounds Of Soul
This Heart Is Haunted / On The Other Side — Amy 11008
The Masqueraders:
Do You Love Me Baby b/w Sweet Loving Woman — Wand 1172
I Ain't Got To Love Nobody Else / I Got It — Bell 733
How Big Is Big b/w Please Take Me Back — Bell 874
Steamroller b/w Brotherhood — Bell 932
I'm Just An Average Guy b/w I Ain't Gonna Stop — AGP 108
The Grass Was Green b/w Say It — AGP 114
Love Peace And Understanding b/w Tell Me You Love Me — AGP 122
Let Me Show The World I Love You b/w Masquerader's Theme — Stairway71A
Let Me Show The World I Love You b/w The Truth Is Here — Stairway 72A
The Truth Is Free b/w The Truth Is Free (Part 2) — Stairway 72B
Let The Love Bells Ring b/w Now That I've Found You — Hi 2251
Wake Up Fool b/w Now That I've Found You — Hi 2264
Baby It's You b/w Listen — HBS 12141
Sweet Sweetening b/w (Call Me) The Traveling Man — HBS 12157
Please Don't Try b/w Your Love Is A Sweet Blessing — HBS 12190
Desire b/w Into Your Soul — Bang 4806
Starry Love b/w It's So Nice — Bang 4812
Merry Christmas b/w (Instrumental) — TNT
When Old Man Trouble Calls b/w (Instrumental) TNT
---
Related Soul Source Articles