Date Of Induction: 01 November 2014 Category : Pre Production
When the name of Van McCoy is uttered in record bars of soul clubs around the world it's in revered tones. That's hardly surprising given that Mr McCoy could lay claim to being the most prolific independent record producer as far as Northern Soul productions are concerned. Not only a producer but a songwriter, arranger and sometimes artist himself the world acclaimed him for the international smash dance hit "The Hustle" but for those in the know, his contribution to music was a mountain of songs spanning 3 decades and to see him honoured as an inaugural inductee into our Northern Soul Hall Of Fame highlights the special relationship that fans have with his musical legacy.
Born Van Allen Clinton McCoy on January 6th 1940 in Washington DC, the second of two sons to Norman and Lillian (Ray) McCoy, young Van would quickly become immersed in music via his families' commitment to the local Metropolitan Baptist Church and his attendance at both Monroe Elementary and later at Dunbar High School. As Washington desegregated its school system, Van found himself graduating from Roosevelt High School where he was an honor student before enrolling at the city's Howard University in order to major in psychology. It was while a High School student that Van, along with his brother became a member of his first group The Starlighters who gained enough exposure to appear at some of the prestigious stages of the day including the Howard Theatre in his home town, the Apollo Theatre in Harlem and Philly's Royal Theatre. A proficient pianist from an early age, he and his elder brother Norman Jr, (a violinist), had attended music classes conducted by Howard University's Dr H Johnson where they were taught the intricacies of music and excelled at understanding and translating it from idea to paper. Singing in choirs, performing in church and building his repertoire of skills at summer visits to his Grandmother's home, (who also played piano and taught music) and success with The Starlighters all led to Van's decision to forfeit college after two years and seek out a life of music in a professional capacity.
On moving to Philadelphia in 1961 he furnished a song on Tally Ho Records for legendary label owner Doc Bagby before establishing his first record label company Rock'n Records, where he delivered three singles including Van McCoy — "Never Trust A Friend b/w Mr DJ" — Rock'n 101, the flip side of which highlights Van's penmanship. He also collaborated with Philly's Jerry Ragavoy on a song paced with Imperial Records by local group The Silhouettes, a collaboration that would shortly lead to the two emerging song-writing icons working together on a number of other artists including Irma Thomas. Having struck a distribution deal for his Rock'n label with Scepter, this liaison led to him being employed as an independent staff writer for Florence Greenberg's Wand/Scepter company in New York and later, having taken up a similar position with Columbia's April Blackwood set up, Van became a sought after songwriter and producer creating successful outings for a number of artists that included the high flying Shirelles and led to great exposure for Van and his talents.
Over the next few years the musical maestro would write, arrange and produce a veritable treasure chest of soul records for a who's who of soul music on labels as far apart as Tuff in New York to Imperial in LA and just about every musical stopping off point in between. Most fans would probably have become aware of his work when his name appeared on two iconic 45s of the mid sixties, the first one was a 1964 release that gained recognition in UK Betty Everett — "Getting Mighty Crowded b/w Chained To A Memory" — Fontana 520 (US Vee Jay 628) whilst the second, released six months later in April 1965 was Barbara Lewis — "Baby I'm Yours b/w I Say Love" — Atlantic 2283. Van had now laid the foundations for a run of soul songs that could quite possibly allow him to compete with a couple of others for the title of most prolific Northern Soulster.
During his early sixties period he also wrote songs for a young lady he'd met named Kendra Spotswood who Van would release a couple of Van McCoy penned outings on the Philips logo as Kenni Woods and she and Van would soon become engaged. They stayed engaged for five years before deciding to go their own ways romantically. Of course during their relationship Van would pen one of the most enduring songs of our genre for his girlfriend, albeit she released it under yet another pseudonym Sandi Sheldon — "You're Gonna Make Me Love You b/w Baby You're Mine" — Okeh 7277. One NY label that would also see a series of songs from Van McCoy was Tuff and Van and Kendra would also release a record as a duet on that imprint, The Fantastic Vantastics - Oh Happy Day b/w Gee What A Boy" - Tuff 406, the flip side of which is a great 'Spectorish' sounding girlie shuffler. There's also a McCoy family connection with Tuff as Van's brother Norman would also release a 45 on the label under a pseudonym Ray Raymond - "It Breaks My Heart In Two b/w She's Alright" - Tuff 409. Van both wrote and produced the disc which delivers up a similar sound to the Righteous Brothers signature sound which was popular at the time.
Space just simply won't permit me to highlight all of Van McCoy's output but I've chosen a few that I feel will vindicate his induction to our Hall Of Fame. First up, The Sweet Things — "I'm In A World Of Trouble b/w Baby's Blue" — Date 1522, the second of two Date outings that Van wrote and produced on the female trio, it's a full blown stormer with an instantly recognisable intro, combining vibes, a crashing drum beat and a echo-ing horn riff. The girls pull off a fantastic vocal performance as they tell the story of how life has fallen apart since the departure of their beau. Despite the somewhat sugary lyrics and the lamentable tale, the song is a perfect slice of upbeat, uptempo Northern Soul. Detroit had no shortage of talented songwriters during its soulful heyday but even The Motor City couldn't resist a Van McCoy song, Theresa Lindsay — "It's Love b/w Good Idea" — Correctone 1053 delivers a heavily string laden mid tempo dancer, that Theresa makes her own as she relays her impassioned tale of love at first sight.
Van's name would adorn many labels often in collaboration with a whose who of Northern Soul stars. His work with The Spellbinders produced some stone classic sides as did his association with Chris Bartley and two of his songs that that he also produced and were released on Bobby Reed would become sought after 45s by both Northern Soul and Cross Over soul collectors on both sides of The Atlantic. Erma Franklin, Ex Supreme original Florence Ballard and De Dee Warwick all benefited from the maestros touch a sages of their careers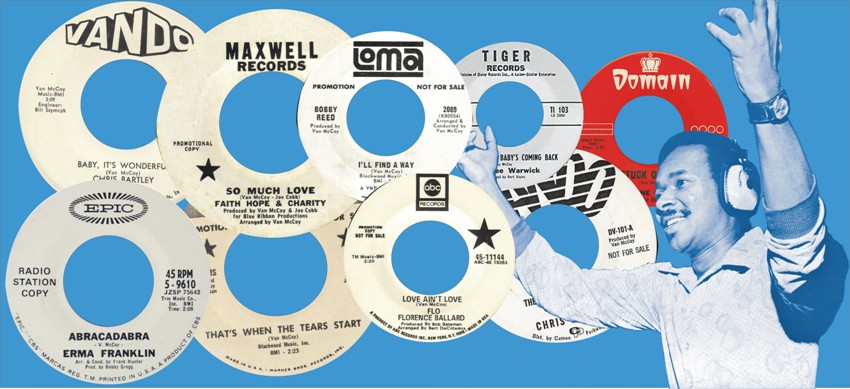 Philadelphia and Van McCoy will always be entwined and I've chosen a record that encapsulates his work there and with people that were integral to the city's musical landscape. Written by Van and his song-writing partner Joe Cobb, recorded on the label owned by Gilda Woods, the wife of legendary DJ Georgie Woods, recorded at Sigma Sound Studios as the seventies dawned and probably recorded by the emerging MFSB ensemble Brenda And The Tabulations — "Why Didn't I Think Of That b/w A Love You Can Depend On" — Top And Bottom 411 is a wonderful, bounce-along dancer that once again places Van's sugary love bound poetry over an up-tempo dance track. Van must have liked the musical half of the song as he released it as an instrumental in its own right as Van McCoy Strings — "Sweet And Easy b/w If I Could Make You Mine" — Share 102. From a 45 that probably sits on most collectors shelves to one that most certainly doesn't and for most probably never will, Billy Woods — "Let Me Make You Happy b/w That Was The Love That Was" - Sussex 213. When discovered by famed record dealer UK John Anderson in the mid seventies only a handful of copies made the Transatlantic journey. Since those heady days at least half of those few copies have since deteriorated due to DJ play. I only know of four still clean copies. The outing is a perfect vehicle for Van's immense talents. From the opening subdued guitar licks and drum beats, through to the eventual full orchestral instrumentation and arrangement combining lush, almost angelic strings, a metronome like backbeat, all interspersed with pitch perfect backing singers and an on-point Billy Woods, it's a Van McCoy masterpiece. Who else could get away with lyrics as simple as "Wipe Those Teardrops From Your Eyes, 'Cos Everything Is Gonna Be Alright" or "La La, La La La La La La"? The final 45 I've selected to highlight individually, is something of an indulgence for your author. When we embark on our musical journeys as youngsters there are certain records that hook themselves into you and never let go, records that we revisit every now and then and grow to appreciate as old friends that evoke magical memories. Jackie Wilson — "I Get The Sweetest Feeling b/w Nothing But Blue Skies" — Brunswick 78028, is one such record for me and sure enough there, on the 45 that evokes so many memories, amongst the legendary Chicago icons, sits the name of the maestro himself, front and centre.
Philadelphia would again feature in his legacy when he returned there and hooked up with famed WDAS Radio DJ Jocko Henderson and together they formed Vando Records, a label that would primarily be the vehicle that produced such fantastic records by Chris Bartlett, but that also includes sought after 45s by Tony Talent and Art Robins.
Of course the general public would come to acknowledge Van McCoy during the mid seventies via the disco boom and many people on the Northern Scene tend to dismiss this era of his work as too 'flimsy'. His 1976, worldwide smash Van McCoy and The Soul City Symphony — "The Hustle b/w Hey Girl Come And Get It" — Avco 4653 put his name in lights selling over eight million copies and won a coveted Grammy Award, ensuring that the name of Van McCoy was enshrined in music forever. For soulfans his seventies work with David Ruffin is hard to beat and their1975 collaboration on David Ruffin — "Walk Away From Love b/w Love Can Be Hazardous To Your Health" — Motown 1376 continued a relationship with Berry Gordy's artists that stretched back to The Marvelettes rendition of Van's "When You're Young And In Love", almost a decade earlier.
Van McCoy, musician, song-writer, arranger, record producer, label owner and publishing company owner, always the innovator, a setter of musical trends and never a follower, tragically had his life cut short at only 39 years old, when he passed away from a heart attack at his home in Englewood NJ on 6 July 1979. One can only imagine the beautiful music he took with him. I've listed a discography below but due to space have had to limit it to Northern Soul outings but I'm pretty sure he'd forgive me for that as we proudly induct Mr Van Allen Clinton McCoy into our Northern Soul Hall Of Fame as an inaugural inductee.
Dave Moore 01 Nov 2014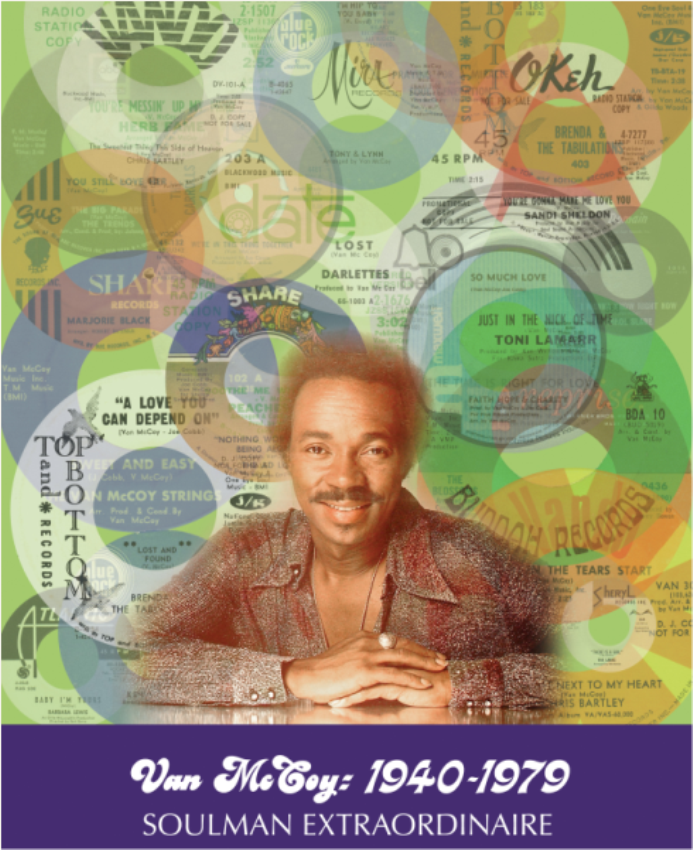 Notes and References:
Record scans from There's That Beat! Archive.
Sheet music from Dave Moore collection.
Acknowledgment to Dave Rimmer's www.soulfulkindamusic.net website for assistance.
Acknowledgment to Chris Lalor's article "The Sweet Soul Sounds Of Van McCoy — There's That Beat! : Issue #2 Dec 2006
Final collage courtesy of Jason H Thornton
Discography: Van McCoy's discography would take up pages and pages of our forum and therefore I have only included specific records that represent his contribution to our music. I'm sure Mr McCoy would approve.
ABC Records
Florance Ballard - Love Ain't Love - 11144
Atlantic Records
Barbara Lewis - Baby I'm Yours - 2283
Avco Records
Soul City Orch. - The Hustle - 4653
Brunswick Records
Jackie Wilson - I Get The Sweetest Feeling -
Jackie Wilson I've Lost You - 55321
Buddah Records
Toni Lamarr - Just In The Nick Of Time - 10
Capitol Records
The Jades - Ain't It Funny What Love Can Do - 2281
Cobblestone Records
Vonnettes - Touch My Heart - 703
Constellation Records
Gene Chandler - I Can Take Care Of Myself - 169
Date Records
Sweet Things - I'm In A World Of Trouble - 1522
Domain Records
Yvonne Carroll - Stuck On You - 1018
Golden World Records
Barbara Mercer - Doing Things Together With You - 28
Imperial Records
Irma Thomas - Some Things You Never Get Used To -
Jamie Records
Mark Jackson - I'll Never Forget You - 1357
Kapp Records
Ruby & The Romanics - When You're Young And In Love - 615
Loma Records
Bobby Reed - I'll Find A Way - 2089
Maxx Records
Kenny Shepard - What Difference Does It Make - 322
Gladys Knight & The Pips - Stop And Get A Hold Of Myself - 334
Maxwell Records
Faith Hope And Charity - So Much Love - 805
Minute Records
Clydie King - I'll Never Stop Loving You - 32032
Mira Records
The Darletts - Lost - 203
Modern Records
The Marvellos - In The Sunshine - 1054
Motown Records
David Ruffin - Walk Away From Love - 1376
Okeh Records
Sandi Sheldon - You're Gonna Make Me Love You - 7277
Philips Records
Kenni Woods - Can't He Take A Hint - 40112
Sylvia Shamwell - He'll Come Back - 40149
Lonzine Cannon - You Still Love Her - 40190
Lonzine Cannon - Quit While I'm Ahead - 40240
RCA Records
Faith Hope & Charity - To Each His Own - 10343
Reprise Records
The Blossoms - That's When The Tears Start - 0436
Share Records
Ad Libs - Nothing Worse Than Being Alone - 106
Sussex Records
Billy Woods - Let Me Make You Happy - 213
Tiger Records
Dee Dee Warwick - Don't Think My Baby's Coming Back - 103
Top And Bottom Records
Brenda And The Tabulations - A Love You Can Depend On - 411
Vando Records
Chris Bartley - Sweetest Thing This Side Of Heaven - 101
Tony Talent - Gotta Tell Some About About My Baby - 3001
VeeJay Records
Betty Everett - Getting Mighty Crowded - 628
Jerry Butler - I Can't Stand To See You Cry - 696
Wingate Records
Juanita Williams - Some Things You Never Get Used To - 008
2