Most record diggers will have at least a few of what became known over the years as simply 'Little LPs'. The traditional soul fraternity are fortunate enough to have had a number of larger, better distributed labels show interest in producing these interesting discs including Atlantic, ABC, Okeh, King and of course Motown. But what on Earth was it that made the Stereo, 33 rpm, multi track, single 7inch disc, seem an attractive prospect?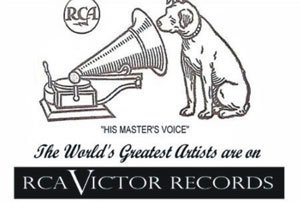 To appreciate the history of the 'Little LP', it's probably best to revisit the historical timeline of the record industry and highlight its major developments and its relationship with its customers. The format for the 7 inch vinyl single was unveiled to the public and music industry as a whole, as far back as the first RCA industry wide bulletins on March 31st 1949 and would be consolidated by the major companies, led by RCA in the 1950s.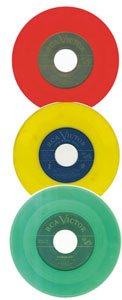 Small, compact and more robust than previous discs, it became an immediate success and would remain the recognised, most popular format for music buyers for the next 50 years almost. The first RCA 45rpm singles were manufactured on fantastic, colour coded vinyl that allowed buyers to categorise their purchases by genres via the actual colour of the disc. (1) The early discs were manufactured and categorised as follows: Country and Western... (Green), Popular... (Black), Classical... (Red), Popular Classical... (Midnight Blue), Children's... (Yellow), Blues and Rhythm... (Cerise), International... (Sky Blue). Coloured wax/vinyl has been around since the very first 45s were issued. The innovative 7inch disc that had been under development for almost a decade, revolutionised the way record dealers could promote and sell the wares as well as providing the record buying public with a much better way of storing their music. The new discs weighed only 10% of what the previous shellac 12inch discs weighed, so distribution costs were slashed, mail order boomed and shelves were filled with much more product than in earlier times. Perfect for the post war booming, teenage record buying public.
So how come, with the 45 rpm single being the dominant market format did the 7 inch, 33 Little LP come to fruition? Well, by the end of the fifties (from 1958 onwards), the stereo mix had been developed by a number of companies including Bell and Decca but had been perfected by Audio Fidelity, and RCA's rival Columbia Records were stubbornly maintaining their 33 rpm format. Many labels were jumping on the new Stereo format and started releasing their 7inch single discs as such. Columbia especially fought the corner of the existing 33 1/3rd rpm format rather than adopt their rivals much vaunted 'new system' 45 format. But in 1958, stereo records were more expensive to produce and required updated, expensive equipment for them to be heard as intended. The record buying public weren't quite ready at the time for these expensive changes and the format slinked back into semi-obscurity for a couple years leaving the Mono 45rpm single as king of the formats.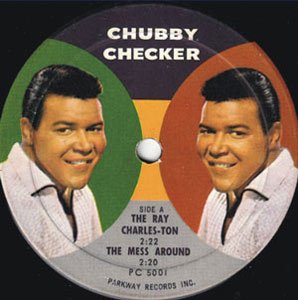 The 33 Stereo single was still manufactured by some labels but it wasn't looking too healthy for its future. However, Bernie Lowe's Cameo Parkway record company, Philadelphia's industry leading label decided to test the idea of the 33 single once again, but this time with a twist. They released Chubby Checker — PC 5001 but put 2 songs on each side. The addition of 2 extra songs couldn't muster any record buyers enthusiasm though and the disc bombed. Both RCA and Columbia again tried with the format but they too struggled to make any worthwhile sales.
It would appear that the 33 Single/EP was doomed. Not quite though. Archie Bleyer, owner of Cadence Records announced in 1961 that his company was releasing a series of six 7 inch 33 rpm discs with 3 songs on each side. They were called 'Little LPs'. Unfortunately for Bleyer, his discs suffered the same fate as the previous 33 ones. You'd have thought that that was the demise of the 33rpm 7inch disc but once again...it wasn't quite the dead duck many industry insiders thought it had become.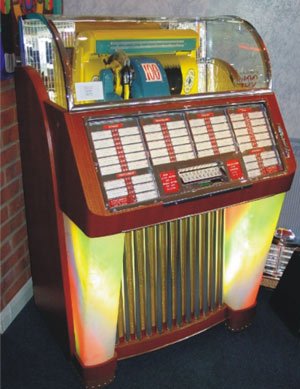 The people who were paying particular attention to the amalgamation of multi tracked 7inch stereo records were the Seeburg jukebox company. (2) During the latter part of the '50s the 33 stereo single had been slowly gaining status with the jukebox companies who often issued them in packages of btwen 5 and 7 discs on one single artist, specifically for jukebox use and, by the autumn of 1962, Seeburg were close to unveiling what they claimed was a revolutionary new product and the 33 Little LP, if produced in stereo, would be a perfect match for the new stereo jukebox they were about to unleash. (3) Seeburg also felt that adult listeners bought albums and as such would respond to segments of those same albums being available at diners and entertainment spots. (4) The resulting promotion opportunities for their original LPs weren't lost on the record companies either and by the time of the jukebox's launch in 1963 Seeburg could boast an impressive roster of labels producing the Little LPs for their outlets including ABC Paramount, Decca, Mercury, RCA, et al. Seeburg not only saved the 33 Stereo Little LP, it drove the record industry to re-evaluate it, develop it and led to other Jukebox operators incorporating it into their business. By 1965 both Wurlitzer and ATI, the other 2 main operators were also utilising the format. With a purchase price of $1.49 per disc and the offer of 3 songs for 25c, jukeboxes were doing a roaring trade and at the same time promoting the full size LPs that they were predominantly culled from. (5) Despite being aimed solely at jukebox operators much of the distribution for the discs was conducted through the usual outlets and so many of the discs could also be found in retail outlets.
As far as soul music on the Little LP format is concerned, most majors released their material in the format and the artists signed to the likes of ABC, Capitol, Okeh, Atlantic and of course Motown were well represented on the jukeboxes of the day. There's even a good smattering of Northern Soul available in stereo at 33rpm on 7 inch. Barbara Lewis — Baby I'm Yours — Atlantic SD 8110 being a great example. Of course Motown became the most collectable of the soul label releases. Utilising the same artwork used on the full LPs from which the tracks are drawn the company benefitted from a promotional aspect as well as direct sales and some of them have become sought after items now. I've highlighted here the most popular ones and the only ones I can ascertain being a different cover to the original LPs are the Greatest Hits ones and the The Motown Sound: A Collection of 16 Original Big Hits Vol 6 which only show the six titles included as opposed to a full track listing which appears on the original LPs. The height of popularity for the Little LPs was undoubtably the mid 60s when Motown also hit its zenith so no surprise that their LP product features heavily.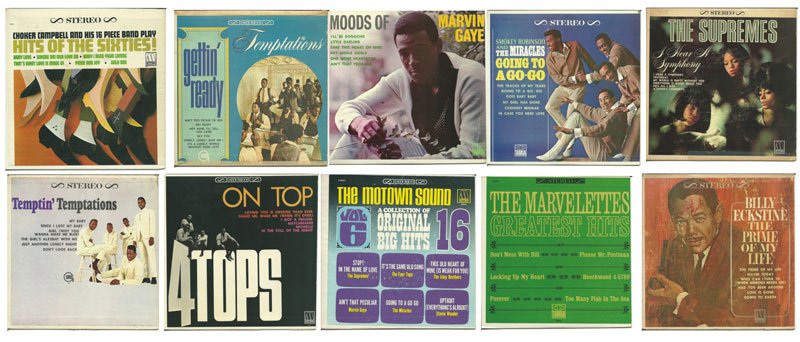 By the close of 1967, Seeburg had sold their Little LP operation, (Manufacturing and Inventory and Distribution) to Robert Garmisa's Garmisa Distributing based in Chicago but Garmisa's plan to release the Little LP versions in tandem with the full LP release hit a brick wall with record companies, distributors and jukebox operators alike and after only a year the company sold off its remaining inventory and called it a day and for a while no Little LPs were being produced.

The Little LP would still have a couple of last breaths though when it was revived in 1970 by a couple of companies, Gold-Mor distributing Co, based in Englewood, NJ and owned by Bernie Yudkofsky would reduce the previous output by only releasing limited numbers of LPs every year and in the three years the company operated released a total of 57 titles. A little more productive was the second company that took on the task of issuing Little LPs, the Robert Prutting owned, Little LPs Unlimited which operated out of Northfield Illinois. Prutting was the son of a clarinet player and musical conductor who also worked for the Seeburg company, which was based in Chicago. During his work with his company he decided to reduce costs by issuing monochrome paper covers, (they were in fact envelopes) and as such the later ones don't have the same sturdy vintage feel of the Seeburg manufactured ones. He did however keep the releases going until 1975 with a total of over 250 releases which included Motown's Supremes and Four Tops - The Magnificent 7 and LPs by Diana Ross and The Jackson Five.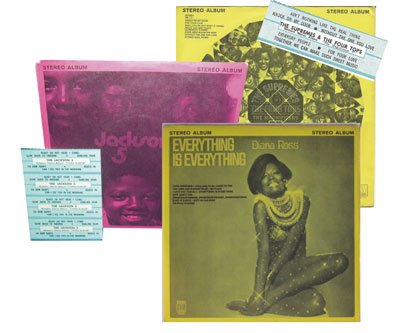 With the records issued with great artwork, jukebox title strips and even small copies of the artwork to insert on the jukebox panels, the records relate a time and place in music that has now disappeared and as such it's no surprise that collectors feel a certain affinity with them and their associated peripherals. Most of the soul LPs can be found with a little determined digging although a few can be difficult to locate but hey.....if it was too easy...it wouldn't be worth doin' eh?
Dave Moore
May 2014.
Notes And References
The first recognised commercial 45rpm single was a Country and Western song issued by RCA Victor as a green wax disc:

Eddy Arnold The Tennessee Plowboy and His Guitar — Texarkarna Baby b/w Bouquet Of Roses — RCA Victor 48-0001

The origins of the word jukebox are shrouded in half truths, rumour and unsubstansive claims. The word is thought to have developed from the African word Joot (Dance) or Jook, (another African word meaning Wicked or Disorderly). Jook Houses or Juke Joints were shacks that black field hands frequented in the Southern United States to hear music and dance at. There's no denying its origins lay in black musical culture. During the 30s and 40s as jukeboxes boomed, it was sometimes the only way many black artists could have their music in the 'public domain' as mainstream radio was pretty much a white medium only.

As the development of Jukeboxes occurred, the small hole found on 33 Singles and Little LPs was used to trigger a mechanism that dictated the actual speed of the platter/rotation device on the machines. Most jukeboxes could play both 45 and 33rpm records within the same cabinet set up using this method of selecting the correct sped for the correct disc.

Billboard Magazine Article dated 2 April 1962:

Seeburg Concept Shakes Up Ops Approach To Buying Discs.

In 1965 Capitol Records committed to the 33 Little LP when they made an announcement in Billboard Magazine that they were going to work stop releasing them through Seeburg's program and would manufacture and distribute their own versions of the company's LPs. Billboard Magazine Article:

Capitol Coming With Little LPs

dated 25 September 1965.
site note:
For those who prefer reading in a higher quality format or via other means a pdf version of the above article has been added below
Link:  Little LPs Feature In PDF.pdf
Past Comments
Barry Jun 26 2014 01:22 PM
Loved it. Cheers
-------------------------------------------------
sludge7 Jun 26 2014 06:48 PM
Great article! I had a whole bunch of records when I was a kid that were yellow and never realised there was any historical significance to that...!
-------------------------------------------------
El Corol Jun 26 2014 11:21 PM
Nice article Dave.
-------------------------------------------------
turntableterra Jun 27 2014 03:27 PM
always a good read mr moore.
-------------------------------------------------
Flynny Jun 27 2014 04:54 PM
Enjoyed that...would be great to see a similar feature on UK released EP's featuring Soul...anyone?!
I'll chip in for the ones released in Japan where x47 were released by Motown alone
-------------------------------------------------
wilxy Jun 27 2014 09:31 PM
Interesting article Dave.
-------------------------------------------------
1