DEBBIE TAYLOR
LOST AND FOUND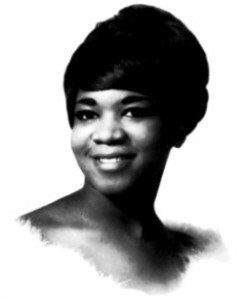 DEBBIE TAYLOR is a highly acclaimed but relatively obscure soul singer who released nine singles and an album during an eight-year period from 1967 to 1975, during the 'golden days' of soul music. Three of her 45s reached the R&B charts but, despite her obvious talent, she failed to make a significant impact in commercial terms and her name was soon forgotten by most.
THE MARKET WAS CROWDED in the golden days and dozens of new releases competed for precious exposure each week. Many fine records were overshadowed or completely overlooked and many gifted singers were restricted to regional success or even total obscurity.
Only one of Debbie's 45s was released internationally and although it was championed by soul fans it was doomed to fail at a time when the focus of most people was on the emerging disco sounds which were beginning to dominate the airwaves.
Despite the odds, her records were cherished by loyal and passionate soul fans in many parts of the world, particularly in the UK, Europe and Japan where she acquired a cult 'underground' status with a level of admiration usually reserved for more prolific and successful artists such as Aretha Franklin or Gladys Knight. And the notion that Debbie Taylor was 'lost' just added to the mystique.
But Debbie wasn't lost at all. She hadn't slipped into obscurity in 1976, she had intentionally put her 'Debbie Taylor' identity on the shelf and had returned to 'real' life as Maydie Myles. No wonder so many music journalists and fans had been unable to find her.
GOSPEL ROOTS
MAYDIE MYLES was born Maddie Bell Galvin on 23 June, 1947, in Norfolk, Virginia. Maddie is pronounced as Maydie so that's how she spells her name today. She was the youngest of four children born to Janie Galvin and the Reverend James Galvin, a pastor in the Pentecostal church. Her upbringing was typical of many who went on to be soul singers: she played piano at home from the age of five and with her older sister was singing in church ahead of her father's sermons by the time she was a teenager. They travelled from church to church in one state after another, singing gospel music. That was Maydie's introduction to performing in public.
Reginald Walker, her high school choir teacher, had a jazz trio and he invited Maydie to sing with the trio when she was age 11. She worked with Walker's group for two years, gaining more musical knowledge and valuable experience of performing in front of an audience. As a teenager she also toured with several gospel groups, one of which also featured Barbara Stant, and even performed at the 1965 World Fair.
Because her parents were so religious, Maydie adopted the name 'Debbie Taylor' for secular music and hung out at sessions on Church Street which was Norfolk's centre of activity for R&B and home to a record store owned by Noah Biggs who also operated an independent label called Shiptown.
Maydie's friend Barbara Stant would later record for Shiptown Records but Maydie got a bigger break when in 1967 she was spotted performing at Bob's Lounge by Joe Medlin, a regional promoter and talent scout for MCA's Decca Records subsidiary.
TEENAGE SUCCESS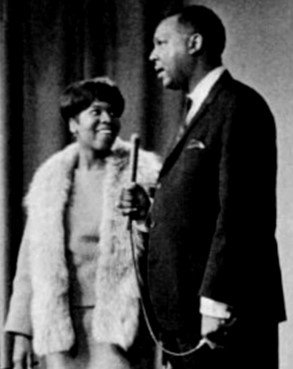 Maydie was still a teenager so her mother co-signed the contract which enabled her to record for Decca using her 'Debbie Taylor' pseudonym. She had crossed from gospel and jazz into soul music; she had become Debbie Taylor.
The first Debbie Taylor sessions were held at Willie Mitchell's Royal studio in Memphis and yielded four masters which were essentially produced by Stax hitmakers Isaac Hayes and David Porter, although credited to Joe Medlin, and featured members of Mitchell's in-house rhythm section with The Memphis Horns.
Her first single, 'The Last Laugh Is On The Blues', was penned by Buddy Scott and Jimmy Radcliffe and was issued on Decca 32090 in 1967 (not 1968 as is often reported). Coupled with the Don Bryant song 'I Get The Blues', it was an impressive debut which showed the world that Debbie had a natural soul ability and it hinted at a promising future.
The follow-up was even stronger. Written by Willie Dean Parker and Henderson Thigpen, 'Wait Until I'm Gone' (Decca 32259) is a moody slow-beat song with a tearful lyric and a soulful delivery. It got enough airplay to reach the top 40 R&B chart in early 1968 and was a well-deserved success.
Anyone who bought that 45 would have been delighted to find that the slower flip, 'Check Yourself', offered an even more deep and soulful demonstration of Debbie Taylor at her most intense.
'Check Yourself' is a haunting blues-flavoured ballad written by Isaac Hayes and David Porter who also recorded the song as 'I'd Better Check On Myself' with Stax/Volt artist Ruby Johnson during the same period but her version was unreleased at the time. 'Check Yourself' showed that the teenage Debbie Taylor could convincing play the role of a woman hurt by a lover who had eyes for someone else. An emotive performance any soul singer would be proud of.
If she had never made another record, Debbie would have been eternally admired for her four Decca sides. Little would she have thought that her youthful performances would have such a profound and lasting impression on so many strangers in distant places. I was just a 9-year-old kid when those singles were released but thankfully I stumbled on them a few years later when I developed a heavy thirst for soul music as a teenager. And ever since then I kept a sharp eye out for Debbie Taylor or whoever she really was.
NEW YORK CITY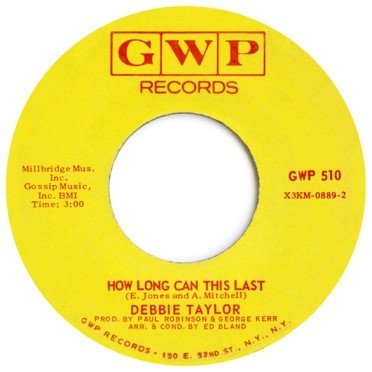 In March 1969 Debbie launched Gerard Purcell's GWP label and the dreamy midtempo 'Never Gonna Let Him Know' (GWP 501) gave her a second R&B chart entry, this time reaching the top 20.
Once again she sounded even more in control on the dramatic B side, 'Let's Prove Them Wrong', written by Eddie Jones with George Kerr who also produced these sessions with Paul Robinson who was GWP's vice president.
Later that year came the brassy uptempo 'Don't Let It End' (GWP 510) which was paired with the ballad 'How Long Can This Last', another song co-written by Eddie Jones and another opportunity for Debbie to really express herself as a soul singer with strong conviction.
Less commercial was her third GWP single, issued in late 1969 and featuring Debbie on only one side. Credited to Debbie Taylor & The Hesitations, 'Momma, Look Sharp' (512) was a Sherman Edwards song from a Broadway musical called '1776'. Produced by Paul Robinson, it was a piano-led duet between Debbie and an uncredited member of The Hesitations. Curiously, the flip side was a Hesitations track called 'No Brag, Just Fact'.
Debbie's next single was released in early 1970 on the Grapevine label, a short-lived GWP subsidiary, and both sides were penned and produced by Ray Dahrouge and Billy Terrell, the team who had written 'Never Gonna Let Him Know'. 'Don't Nobody Mess With My Baby' (202) was an obvious attempt to replicate the classic Motown sound, as was the even more uptempo 'Stop' on the other side. Debbie sounded comfortable and in control but these sides sounded a little more dated and less distinct than her earlier GWP sides.
As with all of her GWP tracks, these sessions were arranged by Ed Bland.
Whilst at GWP Paul Robinson also cut Debbie on a Larry Saunders song called 'All That I Have', recorded circa 1969 and supported by The Hesitations, but it remained on the shelf until 2005 when it was featured by Ace Records on a Kent compilation album of material from the GWP archives.
ALBUM DEAL
In 1972 Gerard Purcell hooked Debbie up with Terry Phillips and Boo Frazier at Perception Records and she recorded an album at New York's Blue Rock studio which was released on Perception's Today label subsidiary. Comin' Down On You (Today 1007) is a nine-track LP produced by David Jordan with Patrick Adams who also served as arranger.
The highlight of the album was the sparse and dreamy ballad 'Leaving Him Tomorrow', which had previously been recorded for Today Records by The Exciters on their 1971 album Black Beauty, but the song was perfect for Debbie and its theme was sorrow; once again, her man was running around with other women. She said she was gonna leave him tomorrow and I hope she did.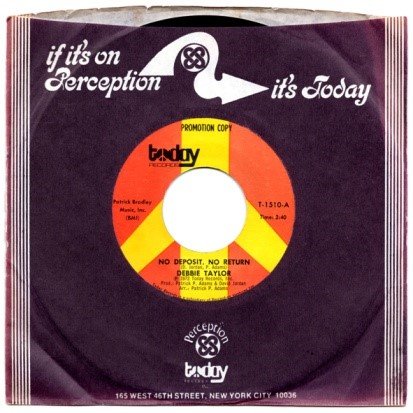 Only one 45 was lifted from the album, the infectious and uplifting 'No Deposit, No Return' (Today 1510) which was written by Jordan and Adams and is similar in style and spirit to some of Freda Payne's Invictus hits.
The single deserved more success and should have been issued in the UK where its commercial potential would have been quite strong at the time. On the flip was 'Too Sad To Tell' which was also taken from the LP.
Other high points from the album include the ballads 'Second To None' and 'Touchin' You' (which Jordan and Adams also cut with JJ Barnes for his Perception LP Born Again in 1973) and the uptempo tracks 'Romance Without Finance' and 'No Ifs, Ands Or Buts' which was also recorded for Today Records by Black Ivory in 1972.
THE PHILADELPHIA SESSIONS
David Jordan took Debbie to Sigma Sound Studios in Philadelphia for a session with MFSB and arranger Richard Rome which sadly only resulted in one single.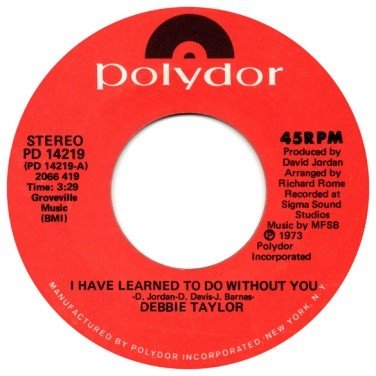 The excellent 'I Have Learned To Do Without You' / 'Cheaper In The Long Run' was issued on Polydor 14219 in late 1973. Jordan had penned 'I Have Learned To Do Without You' with JJ Barnes and Don Davis, producer of the original Mavis Staples version which had been issued on Volt in the summer of 1970.
Few singers can compete with Mavis Staples but Debbie's version is equally worthy and it deserved more support than it received.
A follow-up single was scheduled for release on Polydor 14252 in 1974 but for some reason it never surfaced. 'Superstar', a version of the oft-recorded Leon Russell and Bonnie Bramlett song, was to have been backed with 'A Good Woman Don't Grow On Trees' which Jordan had previously cut on JJ Barnes as 'Good Men Don't Grow On Trees'.
More than a year would pass before the release of her next single and, sadly, it would turn out to be her last record as Debbie Taylor. It's also considered by many to be her very best...
I DON'T WANNA LEAVE YOU
The tearful ballad 'I Don't Wanna Leave You' was produced by David Jordan at an ambitious live session at Broadway Sound in New York in 1975. With a full band and orchestra, featuring Motown veteran Earl Van Dyke on keyboards, the result was a stunning slow-build arrangement of an anguished love song co-written by Jordan with drummer and arranger Andrew Smith.
The dramatic musical setting was perfect for Debbie's intensely soulful performance. Yet again she played the convincing role of an emotionally tortured woman who loved her man but could no longer trust him.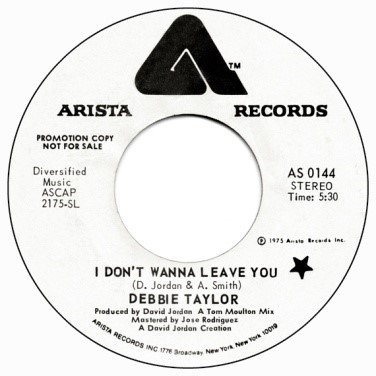 Jordan hired Tom Moulton for the final mixdown at Sigma Sound's New York studio and leased the master to Arista Records who had the confidence to release 'I Don't Wanna Leave You' (Arista 0144) in its entirety — with a duration of 5:30 — but radio DJs were also serviced with an edited version. It was playlisted on many stations and rode the R&B charts for three months which was impressive for such a slow and soulful ballad at a time when the black music scene was dominated by disco and funk sounds.
Much of its success may have been due to independent promotions man 'Rocky G' who was hired by Arista to work the record on east coast stations. His methods may have involved payola because in August 1975 Rocky G (Ellsworth Groce) admitted to a grand jury in Newark, New Jersey, that he'd paid more than $10,000 in cash to influential radio DJs such as Frankie Crocker who ruled the airwaves at WBLS, the most popular New York station for black music.
'I Don't Wanna Leave You' was the first Debbie Taylor single to gain international release but when Arista's UK office issued the single via EMI in early 1976 they disappointed soul fans by using a short edit which was also sonically inferior. The uptempo flip side 'Just Don't Pay' was also edited, losing over a minute, and lacked the vibrancy of the original Tom Moulton mix. The single was also released by Arista licensees in Japan and Brazil.
'Just Don't Pay' eventually found popularity in underground UK soul clubs and in 1989 it was briefly reissued on a 12" single.
THE LOST YEARS
Nothing more was heard from Debbie Taylor after 1975 and it was a mystery that such a talent could have just disappeared into obscurity without any explanation. It later transpired that she had declined an opportunity to sign a direct deal with Arista because it would have meant cutting David Jordan and Andrew Smith out of the picture. Loyalty is quite rare in the music business and few artists would have refused such an offer.
Disillusioned with the business, she put her 'Debbie Taylor' persona in the closet and became Maydie Myles once again. She left Virginia in the early 1980s and moved north to Stamford, Connecticut, before relocating to the nearby city of Norwalk in 2003.
Maydie didn't leave the music business but kept a lower profile. She was featured vocalist on six 12" singles issued by indie dance label K4B Records between 1994 and 1998 and continued to perform with her band in soul and jazz clubs. More recently she has done many vocal sessions for TV and radio adverts and jingles.
REDISCOVERY
Early in 2011 Maydie Myles self-released a jazz-flavoured CD album titled The Ones I Love and casually revealed that she had previously recorded under the name of 'Debbie Taylor', not really expecting anyone to be very interested. And that's when her phone started going crazy...
The word was out: 'Debbie Taylor' had been found at last, even though she had never been lost. Understandably, Maydie was completely overwhelmed.
In November 2011 Selrec issued an extended mix of 'Just Don't Pay' on their Shotgun label in the UK, intended to coincide with a scheduled live performance of 'Debbie Taylor' at a weekend soul festival.
Sadly she was unable to appear at that event but it has now been confirmed that she will visit the UK in November 2013 to perform on stage with a full band for her most loyal fans, some of whom have waited more than thirty years for the opportunity.
PAUL MOONEY

NOTES: Numerous attempts have been made to locate David Jordan over the past thirty years. He seems to have 'disappeared' in the 1980s and is now assumed to be deceased. Sadly, Andrew Smith passed away in East Brunswick, New Jersey, in 2000
Copyright © 2013
DISCOGRAPHY
Debbie Taylor
Decca 32090 - The Last Laugh Is On The Blues / I Get The Blues - 1967
Decca 32259 - Check Yourself / Wait Until I'm Gone - 1968
GWP 501- Never Gonna Let Him Know / Let's Prove Them Wrong - 1969
GWP 510 - Don't Let It End / How Long Can This Last - 1969
Debbie Taylor & The Hesitations
GWP - Momma, Look Sharp - 1969 (unissued at the time. Alternate lead group vocalist to version released on GWP 512. This version was released in the UK on a 2009 Kent CD GWP : NYC : TLC Volume 2 CDKEND 326)
GWP 512 - No Brag Just Fact / Momma, Look Sharp - 1969
GWP - All That I Have - 1969 (Unissued at the time. This track was released in the UK on a 2005 Kent CD "GWP NYC . TCB" CDKEND 249)
Debbie Taylor
GWP's Grapevine 202 - Don't Nobody Mess With My Baby / Stop - 1970
Today T-1510 - No Deposit, No Return / Too Sad To Tell - 1972
Polydor PD14219 - I Have Learned To Do Without You / Cheaper In The Long Run - 1973
Polydor 14252 - Superstar / A Good Woman Don't Grow On Trees - 1973 (Unreleased)
Arista 0144 - I Don't Wanna Leave You (3:58) / I Don't Wanna Leave You (5:30) - 1975 (Promo release only -label miss-press on (5:30) version)
Arista 0144 - I Don't Wanna Leave You (3:58) / I Don't Wanna Leave You (5:30) - 1975 (Promo release only)
Arista 0144 - Just Don't Pay / I Don't Wanna Leave You (5.30) - 1975
Arista 50 - I Don't Wanna Leave You (3:58) / Just Don't Pay - 1976
Old Gold OG 4509 — Just Don't Pay — 1989 (12" single with B side by Jeff Perry)
Shotgun 110 - Just Don't Pay (Long version 4.40) / Just Don't Pay - 2011 (UK)
LPs
Today TLP 1007 - Comin' Down On You - 1972. Track listing: No If's, And's Or But's / (I Can't Believe I'm) Touchin' You / Too Sad To Tell / Second To None / Romance Without Finance / Leaving Him Tomorrow / No Deposit, No Return / Eye Doctor / Jeremiah.
CDs
UK Releases:
Debbie Taylor
Sequel 50232240941 - Still Comin' Down On Ya! - 1997. Track listing: No If's, And's Or But's / (I Can't Believe I'm) Touchin' You / Too Sad To Tell / Second To None / Romance Without Finance / Leaving Him Tomorrow / No Deposit, No Return / Eye Doctor / Jeremiah.
J J Barnes / Debbie Taylor
Sanctuary 5050749415011 - Soul Twins - Volume 1 - 2007. Track listing: J J Barnes - Can't See Me Leaving You / Time Is Love / Good Men Don't Grow On Trees / You Are Just A Living Doll / Wishful Thinking / You Owe It To Yourself (Part 1) / You Owe It To Yourself (Part 2) / No If's And's Or But's / I Just Make Believe (I'm Touching You). Debbie Taylor - No If's And's Or But's / (I Just Can't Believe I'm) Touching You / Too Sad To Tell / Second To None / Romance Without Finance / Leaving Him Tomorrow / No Deposit, No Return / Eye Doctor / Jeremiah / Time Is Love / No If's And's Or But's / Wishful Thinking.
THE DEBBIE TAYLOR UK CONCERT - Saturday 9th November 2013
Debbie Taylor will be making her debut performance in the UK at the New Wheatsheaf Conference & Banqueting, Altofts Lane, Whitwood, Castleford, WF10 5QB.
This venue has been the home of the legendary Wilton Allnighter for almost 20 years. Although the allnigher sadly closed last year, the promoters continue with their Soulful Sessions Nights which include occasional live acts from the US.
Last year Darrow Fletcher, direct from the Windy City, performed an amazing set that will be remembered for a very long time by the capacity crowd who attended.
Saturday 9th November 2013 features a very special debut performance in the UK from the fabulous Debbie Taylor (Maydie Myles) supported by PUSH, an incredible full eight piece band including background vocalist
Band leader and bass player Ernie McKone has secured a very special keyboard player for the night, no other than Mick Talbot.
Mick is the former keyboard player for the Style Council; he played with them for over 6 years until they split. Prior to joining them he was with Dexys Midnight Runners and then went on to work with Paul Weller.
The night will run from 9.00pm through till 3.00am.
Debbie's performances will commence around 11.30pm.
Please note there will be no admission after 11.00pm.
Dj's on the night will be Arthur Fenn - Mike Charlton - Boxy - Mouse
A few of the songs Debbie will be performing at this special night at the Wilton:
" Just Don't Pay" / "I Don't Wanna Leave You" / "Don't Let It End" / " I Have Learned To Do Without You" / "Kiss Of Life" / "No Deposit, No Return" plus other classics she recorded in the 60/70's
Get your tickets early to avoid missing this fantastic night.
Tickets now available at: http://www.wheatsheaf.com/allnighter by Paypal or Credit Card.
Admission: Advance Tickets £15 + Paypal and Postal charges or £18 OTD if not sold out.
NOTES. Michael 'Mick' Talbot (born 11 September 1958, Wimbledon, London) is a British keyboardist famous for playing with the 1980s outfit The Style Council. He attended Rutlish School in Merton, south London.
Talbot played with the late 1970s mod revivalists The Merton Parkas, Dexys Midnight Runners and The Bureau and can be seen in the latter's music video for their song "Only For Sheep". In 1982 he started working with Paul Weller to form The Style Council which released their first records early in 1983. Since the break-up of the Style Council in March 1990,Talbot has continued to play with Weller on his solo material. He is a member of the current lineup of Dexys (formerly Dexys Midnight Runners).
He has also released albums with fellow former Style Council member Steve White, under the name Talbot/White. He has since begun playing alongside White and former Ocean Colour Scene bass guitar player Damon Minchella, in the jazz/funk band, The Players. Talbot played keyboards in Galliano, on tour with Gene, and on the 1991 Young Disciples album, Road to Freedom. Talbot toured the UK in 2009 with Candi Staton
Soul Source Event Guide Entry Link
Debbie Taylor biography courtesy of Paul Mooney — Selrec
Discography/additional text by Dave Box. August 2013