PAUL RISER - MBA (Motown's Brilliant Arranger)
The importance of the arranger in the musical process, whatever the genre, cannot be overstated …or underestimated. The arranger translates the basic structure of a song, or piece of music, into a format that musicians can play, while improvising and embellishing the original concept into a completed creation. The American Federation of Musicians defines musical arrangement as " …the art of preparing and adapting an already written composition for presentation in other than its original form. An arrangement may include re harmonization, paraphrasing and/or the development of a composition so that it fully represents the melodic, harmonic and rhythmic structure."
As Berry Gordy's fledgling Motown company became more and more successful into the early 1960s, the need for accomplished, classically-trained virtuosos, capable of transforming basic musical ideas into polished, commercially viable product, became essential. As Gordy himself put it, "Many songwriters and producers, myself included, lacked a lot of formal music education. When it came time to merge all these different elements we looked for help from the arrangers we had brought into the company." One of the first to scale this mantle was Dale Warren, who had been recruited by his aunt (Gordy's second wife) Raynoma to arrange strings, from a local music conservatory where he had been classically trained as a violinist. Like any professional organisation, Motown relied on its own network of contacts to identify and attract talented personnel, and when the pool of session musicians required a second trombone, Warren suggested a precocious teenage protégé he knew from his days as a member of the Cass Technical High School Symphony Orchestra — Paul Riser.
The significance of Riser's recruitment to the Motown staff would eventually have considerable, and far-reaching, consequences for the company specifically, and for popular music, in general. In a career that spanned the decades, Paul Riser has, almost single handedly, elevated an art form struggling to gain respectability, from the inane to the immortal. Raynoma Gordy described him as " …gifted beyond belief, he emerged as the man most responsible for the gorgeous arrangements that were born in the classic Motown days." And Berry Gordy recognised him as " …one of Motown's all time great arrangers, who was best known for his string and horn arrangements that merged classical traditions into Motown funk." Performers, players and production staff paid homage too … yet it all could have been so different.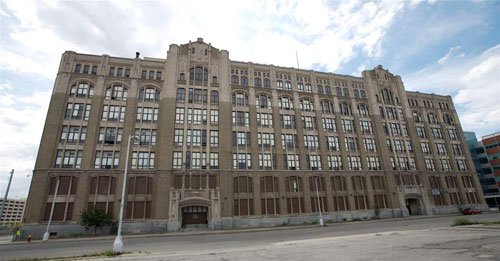 The entry requirements at Cass Technical High School, Detroit, in all disciplines, were so high, as to only admit the very best students. It was known as a 'magnet' school. Cass graduates were not required to complete College Admission Tests at Michigan universities, such was the high academic esteem in which the school was held, and in most departments, new entrants were hand-picked. Paul Riser had reached such a high standard of musical competence, discipline and understanding by the time he left junior high school, at age 15, that his attendance in the music department at Cass was inevitable. As he recalls those times, the happy memories return, "I dedicated myself to music throughout elementary and high school and I had some harsh taskmasters teaching me in both places, namely Dr. Harold Arnoldi, Dr. Harry Begian and Dr. Michael Bistritzky. I practiced incessantly on the trombone, though I loved the trumpet and cello too. The cello is probably my favourite instrument. All my learning centred on classical music and the incredible discipline required mastering its many aspects. My goal was to play in the Detroit Symphony Orchestra as First Chair." By the age of 13, Riser experienced his own epiphany. " It was such an incredible experience to realise that I could finally, not only play music properly, but read it and transcribe musical scores for other musicians to read. I got to play with the high school concert band and orchestra too as first trombone. That band was so good that it is still the only high school concert band to ever be inducted into the Smithsonian Institution! I also loved jazz and played in a few different local bands." Although everything in his life looked as if it was on course to realize his dream, the fickle finger of fate (and financial necessity) intervened. " I knew Dale Warren from Cass and one day, right out of the blue, he called to tell me that there was a paid position playing trombone at Motown and that I should come down. I knew nothing about Motown. I hated R&B and most other forms of pop music, with the exception of some of the Atlantic stuff that I'd heard my brother and sister played, people like Ruth Brown and Ray Charles, but I reluctantly agreed."
A seminal moment in music history had taken place as Riser took his place in the cramped confines of Studio A. "It was something of a shock for me to see the way the other musicians behaved. I thought a lot of them were dangerous 'cause they would drink, get high, fight sometimes and just generally behave badly. I wasn't used to music being performed this way, coming from the highly disciplined background I knew. They were like a brotherhood though. I sat next to George Bohanon who also played trombone, and there was Marcus Belgrave, John Trudell and Herbie Williams playing trumpet too. I found it difficult at first to assimilate. I had no 'street smarts' and they did. I guess they thought I was a 'long hair', kinda snobby and a bit stuck up. I was religious and they were gun toters! It was a real shock for me …but I must say though, I respected how dedicated they were and the fact that they all could play."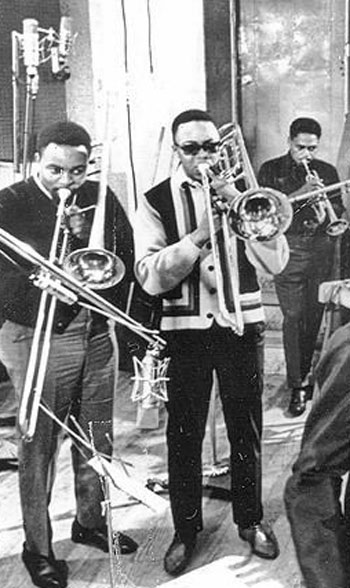 George Bohannon, Paul Riser and Herbie Williams
Riser's tenure as a full time 'Funk Brother' lasted just over a year. Wiser heads, including Berry Gordy himself, recognized his abilities in other areas and began to utilize him in a somewhat different role; " I'd learned music theory at Cass so I knew how to arrange and orchestrate music into charts for different instruments. Clarence Paul is the producer of the first recording session I played on as a trombonist, which was for Little Stevie Wonder, and Norman Whitfield was the first producer I worked with as an arranger -- then it all just followed from there. I started writing rhythm charts, then horn charts and then strings. I realized it was much easier work and much more fulfilling to write than play, so I began to wean myself off the trombone and dedicate myself to being a copyist / arranger. I found writing for strings easier than anything else". It wasn't long before his talent as an arranger was put to the test and the pivotal point came on a Berry Gordy string session for which he had written the arrangements. " I was really disciplined and I knew exactly what I wanted and how it should sound. Berry and the other people around Motown had faith in me so I was pretty confident. When we got to running the song down I had failed to recongize something critical to all music: accidentals! There were a lot of corrections and I knew Berry Gordy wasn't pleased! At this point, writer / producer Holland-Dozier-Holland called Berry down and told him to get rid of me, but Berry just told them all to cool off and allow me to resume things the following day. When we got back, the session went fine and, career-wise things began to roll successfully from then on. It shows what great vision Berry Gordy had to keep me around."
Ultimately, Riser's talent ensured that musicians and producers alike trusted him and relations improved greatly, especially when he produced hits. As much as he contributed to sessions, the experience he gained, in return, was invaluable. "Yes, I learned a lot about the recording process at Motown, especially what it took to make a hit record. Berry always wanted us to capture the listener in the first few seconds for instance. That's why I came up with that hook at the start of 'Dancing in the Street'; and we did that all the time. We used to 'double' instruments too — maybe strings and the piano, or the piano and vibes. It depended on the song and what the producer wanted. In the early 60's, Motown wasn't a union company and we were paid less than the Union rate; we got $2.50 per song! But we didn't mind because we were enjoying it. It was a labour of love. Money wasn't that important back then. There was no time limit on a song either — we would go to 20 or 30 takes on some occasions with no pressure. On average we would finish a song in 8 to 10 takes. I realised how good the Funks were too, especially how they picked new things up so quickly. I only realised this when I went to other studios in different cities. Many of the musicians and producers in those places found my arrangements too difficult, or would take a long time to learn their parts, but the Funks never complained about them. They liked the challenge I think. We were all kinda anonymous at that time too. There were very few credits given out on records or albums and the Funks were kept close to the studio. If Berry hadn't have done that we would have had other companies coming in to try and convince us to leave — he was smart that way."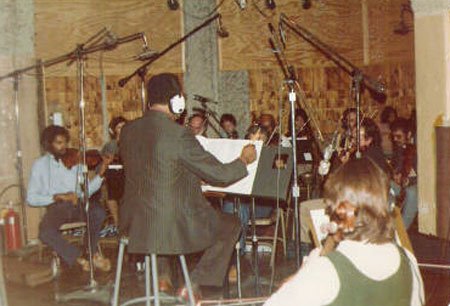 As Motown productions became more sophisticated, the complexity of Riser's creativity developed in tandem. He was given more and more intricate song material by producers and given the opportunity to work on full orchestrations with the Detroit Symphony Orchestra. "I loved doing orchestrations, particularly with strings. String players are usually better disciplined than horn players and certainly more than rhythm guys - and that suited me. The producers didn't put any pressure on me. They would give me something to work on and just say 'Go and do your thing' which I appreciated because it gave me a lot more confidence. A lot of the time I got to add 'sweetening', as they called it, onto songs. Many times the rhythm, and sometimes horns, had already been recorded and I would put strings on top — that's what 'sweetening' was, strings. A good example of that was 'My Girl' for the Temptations. Smokey had given it to them without strings but they thought it was 'square' and they didn't want to do it. In fact they hated it! I put the strings on and everything changed. The producer usually decided whether to add strings or not and that depended how they interpreted the song. I really got into sweetening when Norman Whitfield and Barrett Strong started stretching out with their material (i.e. "Papa Was A Rolling Stone" & "Masterpiece").
Same with Stevie Wonder and Smokey. They would usually give me a piano demo and a scratch vocal or maybe a bass and drum track with piano as a demo and I would go away and come up with the rest. I would usually write an arrangement as close to the recording session start time as possible so that it was fresh in my mind. The musicians would be expected to 'sight' read my arrangements, that is, play them on the spot, not take them home to learn them, but pick it up right there in the studio, on the session! That's why I've got so much respect for studio musicians. I've always liked to use 17 string pieces in the studio — nine violins, four violas, three cellos and a harp. Most of the time I wouldn't hear the lyrics or vocals at all. I tended to arrange the parts around the rhythm chord structure. One exception was 'Baby I'm For Real' which I really love. On that one I tried to arrange the music to converse with the lyrics, like the instruments are talking to each other."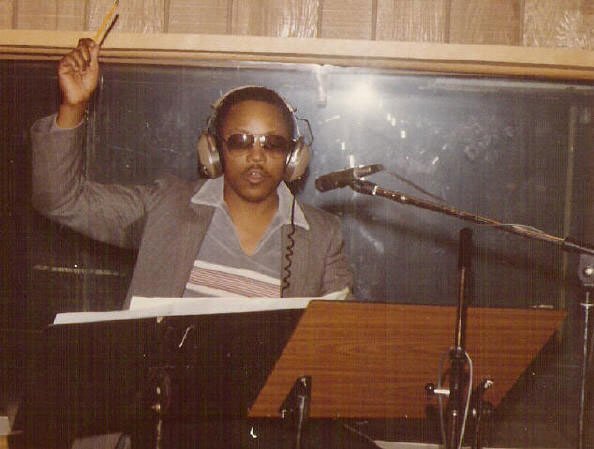 The arrival of Valerie Simpson and Nick Ashford at Motown in 1966, to, almost exclusively, write for Marvin Gaye and Tammi Terrell, elevated the standard of musical technique and complexity even higher, which Riser readily admits. " They introduced Motown to a symphonic component which elevated the output above a lot of other companies, and they were two of the greatest songwriters in the business. Not only did they elevate Motown, but they elevated me. It allowed me to open up musically as my training had dictated. Their material created challenges for all of us and made us all more creative. In fact, it was one of their songs that remains one of my favourites to this day — 'Ain't No Mountain High Enough'. We'd done it on Marvin and Tammi but then I got the chance to completely revitalise it on Diana Ross in 1970. When Valerie first played her concept of it on the acoustic piano I realized it would be a challenging piece, especially with the dynamic changes and the sudden key change at the end, but when we had finished it everyone seemed to like it, so that was very satisfying. The Funks laid down the rhythm tracks in Detroit but all the horns, strings and the vocals were done in New York." Although many critics, at the time, thought Riser's arrangement on the song merited more formal recognition, it was only nominated for a Grammy in 1971 in the 'Best Female R&B Vocal Performance' category and didn't win, which was particularly ironic, considering the arrangement was written in the absence of vocals! He would have to wait another two years before finally winning that prestigious award, with Norman Whitfield, for 'Papa Was a Rolling Stone' in the 'Best R&B Instrumental Performance' category.
Although Paul Riser is best known for his arrangements, he boasts a considerable portfolio of song writing credits. Best known is probably 'What Becomes of the Brokenhearted', which became a major success for Jimmy Ruffin in 1966 and went on to become one of the most 'covered' songs in the Motown catalogue. His memory of the song's conception is interesting, "Most arrangers will use a piano when writing arrangements, but I never do. I use a piano only to compose. I had this series of chords I'd written and I would carry them around with me not really knowing what to do with them. One day I had a session for the Spinners with two producers, William Weatherspoon and James Dean. It was a three-hour session, which was usually enough time to do three songs. Spoon and Dean had two songs, which the Funks completed in two hours, but we still had an hour left so I asked them if they wanted to hear these chords I had. Motown was like a Research and Development department all the time — people were always trying new things and experimenting. So they agreed and the Funks played Spoon and Dean the chords. No title or lyrics, just the chords as I had written it. Weatherspoon and Dean came up with the melody and the lyrics and I did all the music. Jimmy Ruffin put the vocals on. He was one of the quickest guys to pick up a song, that's why producers used to use him to demonstrate songs for other artists. "What Becomes of the Brokenhearted" became one of Motown's biggest songs."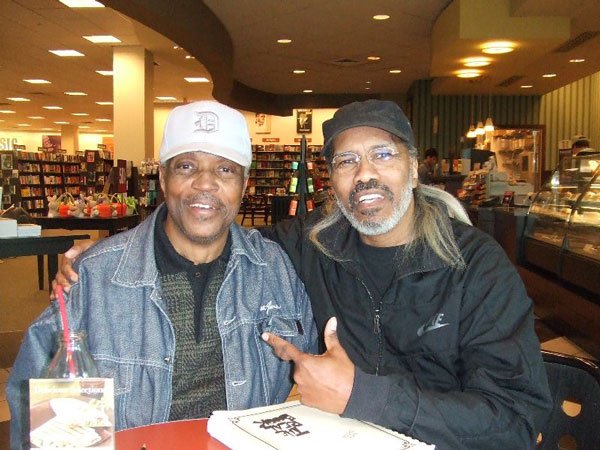 Paul Riser and McKinley Jackson
Paul Riser was contracted to Motown between 1965 and 1973, in which time he provided arrangements for, literally, thousands of songs and musical works, including hits for artists like Marvin Gaye, Stevie Wonder, the Temptations, the Supremes, Gladys Knight and the Pips and scores more. His classical foundation and the experience gathered at Motown catapulted his reputation around the world which resulted in him providing arrangements and musical direction for a list of artists as diverse as the Carpenters, Phil Collins, Doobie Brothers, Tom Jones, Aretha Franklin, Natalie Cole, Quincy Jones, Luther Vandross, Carly Simon plus many more. In more recent times he was instrumental in creating hit albums for artists like Raphael Saadiq and R.Kelly, and continues to work and teach in a variety of settings around America and Europe. His musical legacy to the world may never be eclipsed.
Rob Moss Oct 2012
---
Related Soul Source Articles