HARTLEYS PRESTON: MOTOWN 50
HARTLEYS PRESTON: MOTOWN 50 on
Event Information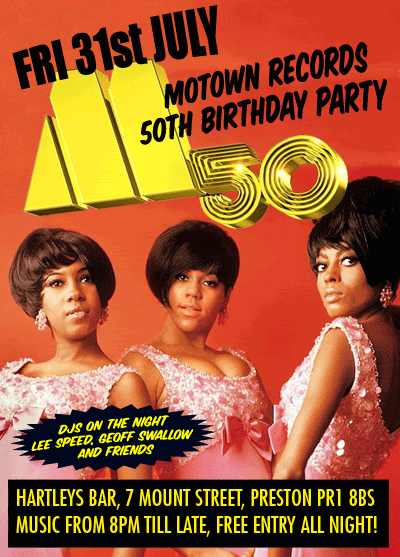 Celebrating 50 years of the iconic Motown Record label Hartleys Bar in Preston hosts a night of pure Motown and Northern Soul classics. From the Supremes to Stevie Wonder, Jnr Walker to Temptations.
Party starts at 8pm till late with DJs Lee Speed (Longton Soul night) and Geoff Swallow (Bolton Soul club) and friends.
Hartleys is on Mount Street in the centre of Preston just off Fishergate and 5mins for Preston train station.
HARTLEYS
7-13 Mount Street
Preston, PR1 8BS, United Kingdom
01772 204 789
Venue Details
Contact the venue
Please check with the venue/promoter to confirm details before travelling
Welcome to the HARTLEYS PRESTON: MOTOWN 50 Event Review Section
---
There are no reviews to display.
---
---
Related Soul Music Event Links