LONGTON SOUL & MOTOWN NIGHT RETURNS, PRESTON LANCS
LONGTON SOUL & MOTOWN NIGHT RETURNS, PRESTON LANCS on
Event Information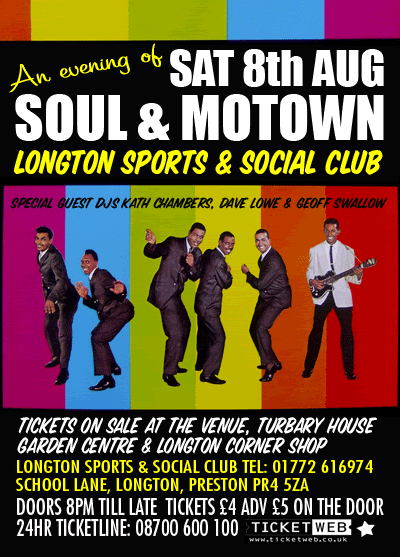 An evening of Soul & Motown
Back after the last great night in May we welcome back to the decks Dave Lowe of Rambottom Cricket clubs popular soul night along with Geoff Swallow & Kath Chambers for our next outing at Longton Sports & Social Club. Sure to be another great night get those tickets early before they go!
New Soul event for Lancashire at a great little venue, Longton Sports & Social club Selling Real and wooden dancfloor too.
www.longtonssc.co.uk
SATURDAY 8th MAY 2009
LONGTON SPORTS & SOCIAL CLUB SCHOOL LANE, LONGTON, PRESTON PR4 5ZA
DOORS 8PM TILL LATE
DJs on the night will be Kath Chambers (Ad lib club), Geoff Swallow (Bolton Soul Club) & Dave Lowe (Ramsbottom Cricket Club)
Click the link below to go to ticketwebs page for tickets:
http://www.ticketweb.co.uk/user/?region=gb_northwest&query=detail&event=334632
Venue Details
Contact the venue
Please check with the venue/promoter to confirm details before travelling
Welcome to the LONGTON SOUL & MOTOWN NIGHT RETURNS, PRESTON LANCS Event Review Section
---
There are no reviews to display.
---
---
Related Soul Music Event Links