Soul Source Site Information

Can now get personal event reminders sent to you via the event guide ....click to read more
OUT OF THE BLUE, NEW RARE R&B NIGHT MANCHESTER
OUT OF THE BLUE, NEW RARE R&B NIGHT MANCHESTER on
Event Information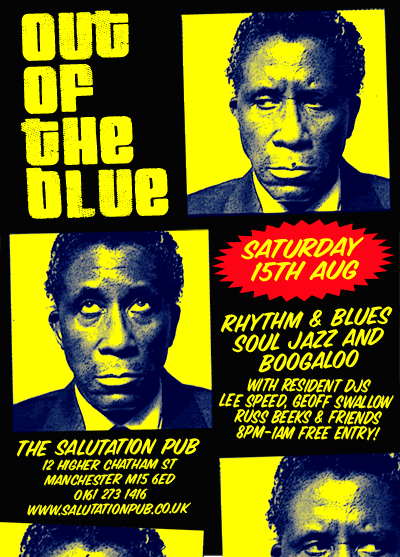 Last time we descended on the Salutation we had a ball at Soulshake so this time we will be inviting even more friends down for another monster R&B session.
Kicking off at 8pm on Saturday 15th August at our favourite old fashioned Manchester boozer The Salutation, DJs Geoff Swallow, Lee Speed, Russ Beeks and friends will be digging out their biggest R&B, Boogaloo, Blues and Soul 45s for heady night of ace grooves.
Entry is Free all night for this late night session.
The Salutation Pub is located just off Oxford Rd not far from the BBC, tucked away behind the All Saints University area.
OUT OF THE BLUE
SATURDAY 15th AUG
@ THE SALUTATION PUB
12 HIGHER CHATHAM ST
MANCHESTER
M15 6ED
TEL: 0161 273 1416
INFO: 07748325490
Venue Details
Contact the venue
Please check with the venue/promoter to confirm details before travelling
Welcome to the OUT OF THE BLUE, NEW RARE R&B NIGHT MANCHESTER Event Review Section
---
There are no reviews to display.
---
---
Related Soul Music Event Links