FUNCTION in Malmoe, Sweden w/Oslo Soul Experience
FUNCTION in Malmoe, Sweden w/Oslo Soul Experience on
Event Information
FUNCTION are proud to present
the entire Oslo Soul Experience gang
as our guest DJ's for April 17th!
Venue: Babel
Address: Spangatan 38, Malmoe, SWEDEN
Easiest way to travel is to catch a plane to Copenhagen, Denmark which is just a 35-minute train ride from Malmoe. Cheap flights can be had from all over Europe.
For a sneak preview of what to expect, check out these links:
http://www.oslosoul.com/sounds4.html
http://www.clubfunction.com/#category1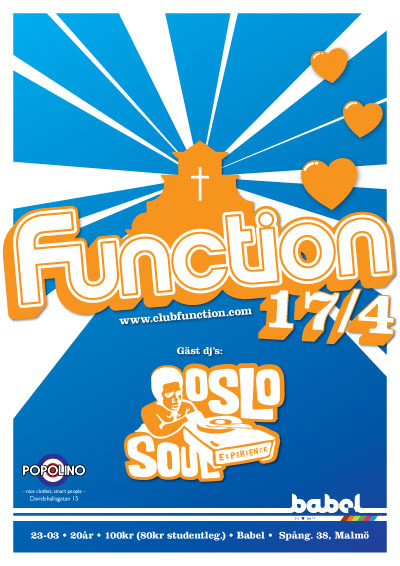 Venue Details
Contact the venue
Please check with the venue/promoter to confirm details before travelling
Welcome to the FUNCTION in Malmoe, Sweden w/Oslo Soul Experience Event Review Section
---
There are no reviews to display.
---
---
Related Soul Music Event Links