OUT OF THE BLUE, RARE R&B NIGHT MANCHESTER
OUT OF THE BLUE, RARE R&B NIGHT MANCHESTER on
Event Information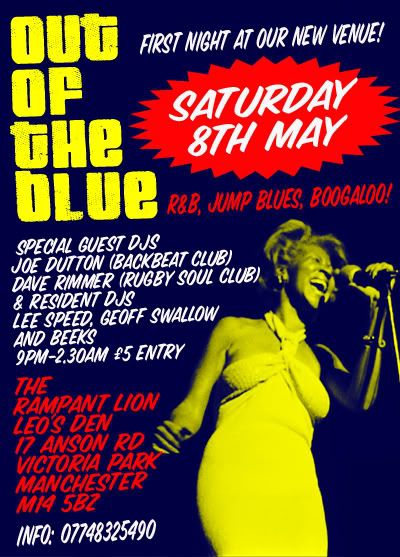 First night at our new venue!
After a great year at the Salutation OUT OF THE BLUE is on the move.
Saturday 8th May
Movin' on up to the Rampant Lion with a larger dancefloor, improved soundsystem and fantastic beer garden, resident DJs Geoff, Lee & Russ will bring you more gritty Rhythm & Blues, Boogaloo and jump blues sounds.
Joining the residents on the opening night we welcome special guests
Joe Dutton(Backbeat Club)
Dave Rimmer(Rugby Soul Club)
Doors 9.00pm-2.30am £5.00 OTD Ample free parking
OUT OF THE BLUE
@ Rampant Lion
17 Ansons Road, Victoria Park, Rusholme, M14 5BZ
Venue Details
Contact the venue
Please check with the venue/promoter to confirm details before travelling
Welcome to the OUT OF THE BLUE, RARE R&B NIGHT MANCHESTER Event Review Section
---
There are no reviews to display.
---
---
Related Soul Music Event Links