1970 Reggae Soul Revival Weekender & Niter
no location added yet
1970 Reggae Soul Revival Weekender & Niter on     
Event Information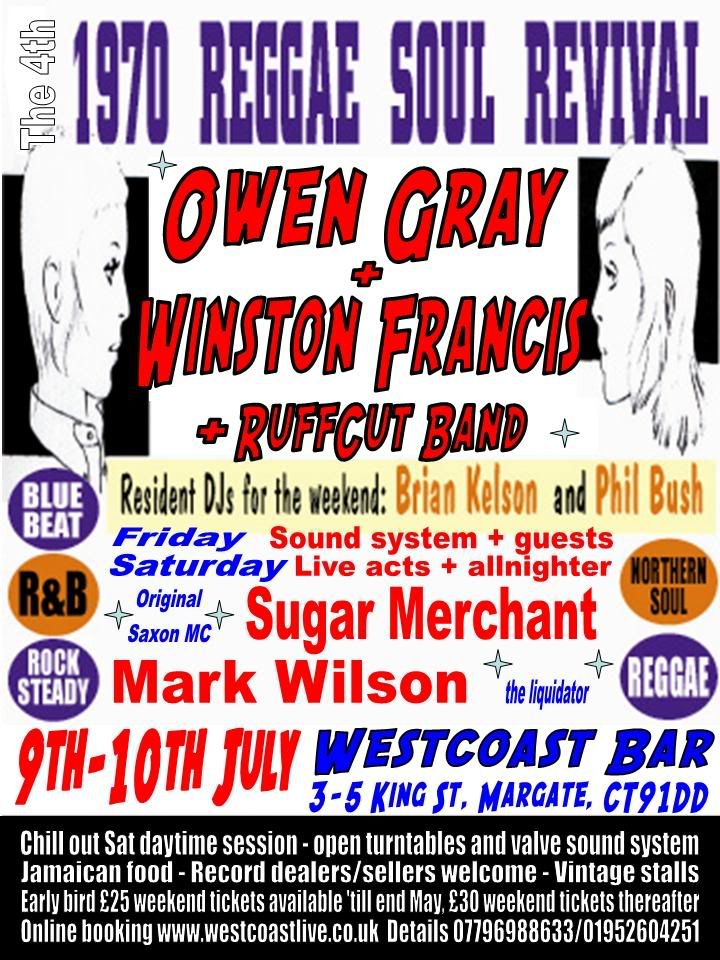 Fri 9th to Sat 10th July - Sounds and Pressure Sound System, Scorcher Reggae & Soul Club and The Westcoast Bar present reggae legends Owen Gray and Winston Francis live and direct at the 4th 1970 Reggae Soul Revival weekend, held at the Westcoast Bar, Margate. A unmissable double header for vintage reggae and soul fans!
-Owen Gray and Winston Francis with the Ruffcut Band live on Saturday night!
-Friday 'till 3am minimum, Saturday Allnighter!
-Finest vintage selection from special guests the mighty Sugar Merchant (ex Saxon Sound MC and frontman of Audioweb), Mark "liquidator" Wilson and usual suspects Phil Sounds and Pressure and Brian "Scorcher" Kelson!
-Sounds and Pressure Lo-Fi heavyweight sound!
-Vintage record, clothes and memorabilia stalls!
-Chill-out daytime session with open turntables and vintage all-valve system!
-Eli's legendary Jamaican food!
Early bird tickets are available now at a cost of £25 for the full weekend. Tickets will revert to £30 in June. Fantastic value for money to see artists of this stature in an intimate venue, plus all the other stuff going on. Online booking at:
http://www.westcoastlive.co.uk
Go to the calender page and book from there. Or direct link to purchase tickets is:
http://www.wegottick...com/event/79807
All the weekends events are taking place at the Westcoast Bar , 3-5 King St, Margate, CT9 1DD.
For further info contact Phil/Val (hardmod1969@hotmail.co.uk ) 07796 988633 & Brian/Jill (brian.kelson@btinternet.com ) 01952 604251
For videos and photos of previous year's great weekends, take a look at
http://www.youtube.c...?v=5SdT6NZpe5I:
A few words about this and other events:
1970 Reggae Soul Revival, Sounds & Pressure and Scorcher events do not compromise on anything in order to achieve the best possible vintage music night. The tunes are authentic, the sound system is authentic and the style is authentic. They are run by and for vintage music fans on a minimum/no-profit basis.
This year we bring you two of the great names of Jamaican music in this wonderfully atmospheric basement club venue: Owen Gray is one of a handful of the original foundation artists still performing and recording. From R&B back in the 50s, into the embryonic ska sound, through the rocksteady era and into the reggae, he's seen and done it all. A hugely influential and talented artist who has worked with most of the great names in Jamaican music - Coxsone Dodd, Duke Reid, Prince Buster, Leslie Kong, the list could go on for ever. His back catalogue of hits is truly enormous.... This is a great coup for 1970 Reggae Soul Revival!
Winston Francis is a consummate performer and a singer of extraordinary talent. As many artists back in the day did, he completed his apprenticeship by entering (and winning) talent contests and working the travelling shows. As a teenager he formed The Sheridans, a four piece vocal outfit that included another legend - Pat Kelly, and so this marked the start of his professional career. For those fans of 1970 Reggae Soul Revival events though, it's his late 60's/early 70's material under the wing of Coxsone Dodd at Studio 1 that we crave the most! Look forward to a fantastic show.
Spinning the crucial cuts we have a couple of very special guests: Sugar Merchant has a fine sound system pedigree and is probably most well known for his time with the legendary Saxon Sound, who dominated the reggae dancehall for many years, and as the frontman with Audioweb. Since then he has established himself as an in-demand ska and rocksteady selecta, and generally laying down the musical law - expect fireworks!
Mark Wilson is well known on both the Soul Allnighter and Reggae scenes and hosts the excellent Liquidator nights in Leicester, established as one of the best vintage reggae/soul events around. He's been around a long time (sorry Mark!) and can drop the tunes to back it up. Hosting the night of course will be the usual suspects Phil Sounds and Pressure and Brian "Scorcher" Kelson.
So look forward to two fantastic nights with a great live show and Allnighter on Saturday night. Sounds and Pressure Lo-Fi Sound providing the bass to shake up the place both nights, vintage record, clothes and memorabilia stalls, chill-out daytime session with open turntables and vintage valve sound system, plus Eli's legendary Jamaican food. This is the 4th year running and every year is getting better and better. Miss at your peril.
Venue Details
Contact the venue
Please check with the venue/promoter to confirm details before travelling
Related Soul Music Event Links