OUT OF THE BLUE CHRISTMAS SPECIAL, Manchester
OUT OF THE BLUE CHRISTMAS SPECIAL, Manchester on
Event Information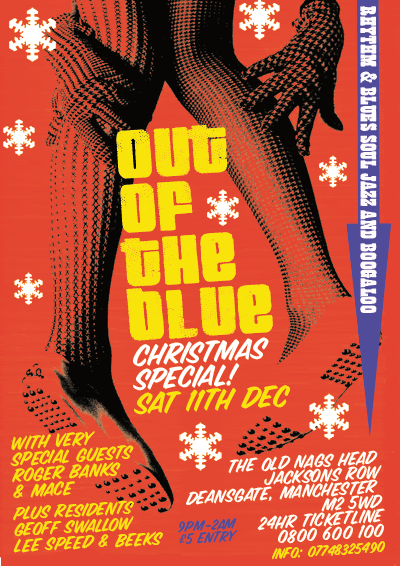 Our last event for 2010, join us along with special guest DJs Roger Banks and Mace for the Out of the Blue Christmas special.
Fantastic city centre intimate venue, rooms available for overnight stop from £39.00, rooftop smokers terrace.
Non stop vintage R&B, Popcorn, boogaloo cuts with residents Geoff Swallow, Lee Speed & Beeks.
Doors open 9pm-2am
£5 entry
advance tickets available through Ticketweb 0800 600 100
http://www.ticketweb...il&event=417349
Facebook event page:
Venue Details
Contact the venue
Please check with the venue/promoter to confirm details before travelling
Welcome to the OUT OF THE BLUE CHRISTMAS SPECIAL, Manchester Event Review Section
---
There are no reviews to display.
---
---
Related Soul Music Event Links