whitchurch soul club >> jim smirk's 65th <<
no location added yet
Whitchurch Soul Club >> JIM SMIRK's 65th <<
Event Information
Whitchurch Soul Club (Shropshire)
Presents
JIM SMIRK's 65 Birthday Bash !!
at Archibald Worthington Club
Castle Hill, Whitchurch, Shrops.
on Friday 30th October 2015
This months Guest DJ's:
Jim Smirk
Tony Ollier
Craig Adkins
Col Kidson
Kev John
Stevie P
Spook
Plus your usual culprits !
Errol Green
Keith (Soulsearcher) Williams
Pete Best
Always a Packer ! 20:00 - 02:00
FYI: As usual this is an Original Vinyl Only venue
If you are looking for that elusive 45 to buy there are always
plenty of local dealers and private record boxes to look through !
If you have any 45's for sale stick em in a box and bring them along (No table charge
CCTV and large car park opposite (free parking)
MOST IMPORTANTLY:
Advanced tickets will soon be available
Contact
Errol 07805 890428
Or Keith - keith@soulsearcherrecords.co.uk
or Pester them when you see them out and about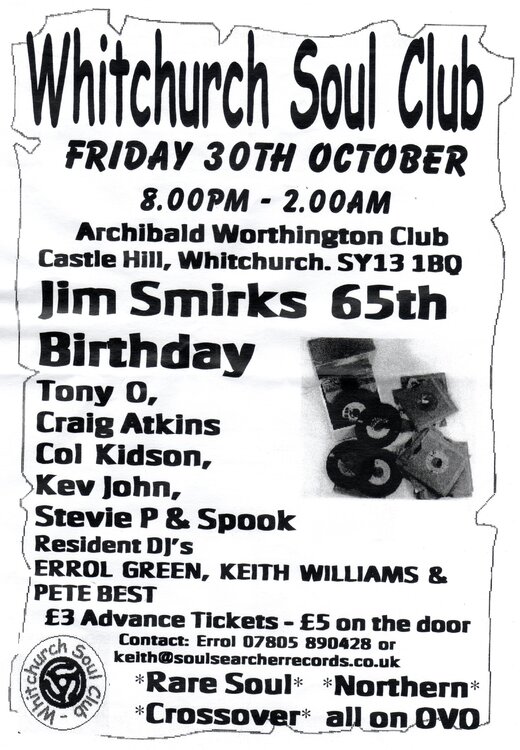 Contact the venue
Please contact the venue to confirm event and admission details before travelling
Members Comments
Hit the down arrow below to switch 2 reviews / 17 comments
Related Soul Music Links
Recently Browsing

0 members

No registered users viewing this page.