Gettin' To The Point 19th March 2016 - Leeds
Leeds
Gettin' To The Point 19th March 2016 on
Event Information
Gettin' To The Point
Leeds premier modernist event playing the best in
R&B, Soul, Ska, Jazz, British Beat, Latin & Mod Club Classics 
Guest DJs:
Paul 'Smiler' Anderson (Kings Tavern)
Soup & Bread (La Vie)
Nick Wain (3 Keys)
Resident DJs:
Mark Thomas 
Neil Lee
Saturday 19th March 2016
1pm – 9pm (Afternoon Session) 
6pm - 7pm Live set from Joe James and the Pariahs (Fuzz fuelled RnB, Freakbeat)
9pm – 4am (Evening Session)
The White Rabbit (both sessions),
11 York Place,
Leeds,
LS1 2DS.
£7 (all day ticket)
During the afternoon there will be stalls, an open deck session and a band. 
Please contact us for stall details or afternoon open deck session slots.
There is limited capacity so it is a PRE TICKET event. Please PM or email us for details on how to purchase tickets.
Smart Mod/ 60's /Skin /Suede dress for the evening event.
Local Hotels:
http://www.expressleeds.co.uk/
http://www.premierinn.com/en/hotels/leeds
http://www.ibis.com/gb/hotel-3652-ibis-leeds-centre/index.shtml
Neil – 07753283048 
email - gettintothepoint@gmail.com
https://www.facebook.com/events/778408338971846/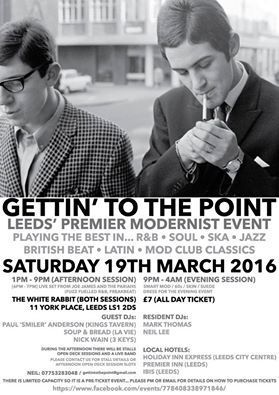 Venue Details
Event Address
Leeds, West Yorkshire
Contact the venue
Please check with the venue/promoter to confirm details before travelling
Map
Sorry but the feature needs a detailed address to be given to display the site event map
Event Reviews and Comments
Welcome to the Gettin' To The Point 19th March 2016 Event Review Section
---
There are no reviews to display.
---
---
Related Soul Music Event Links