Crigg Soul Club Crigglestone Wmc Wakefield
Wakefield
Crigg Soul Club Crigglestone Wmc Wakefield
Event Information
Event Type: Soul Night
Event Date & Time:
Venue Name: Crigglestone Wmc
Event Location:
 Wakefield
  WF4 3EB
Event Description
A Northern Soul and Motown Event at Crigglestone WMC, 19 High Street, Crigglestone, Wakefield.  WF4 3EB.
7:30pm to Midnight on the First Friday of the Month.   Plenty on site parking.
£4 pay on door entry
A fabulous 300 capacity venue, plenty of seating.
Playing the best of Northern Soul and Tamla soul on original vinyl.
Resident DJ's
Stuart Arber
Jim Hirst
Phil
Guest DJ's
Derek Greenhoff
Keith Barna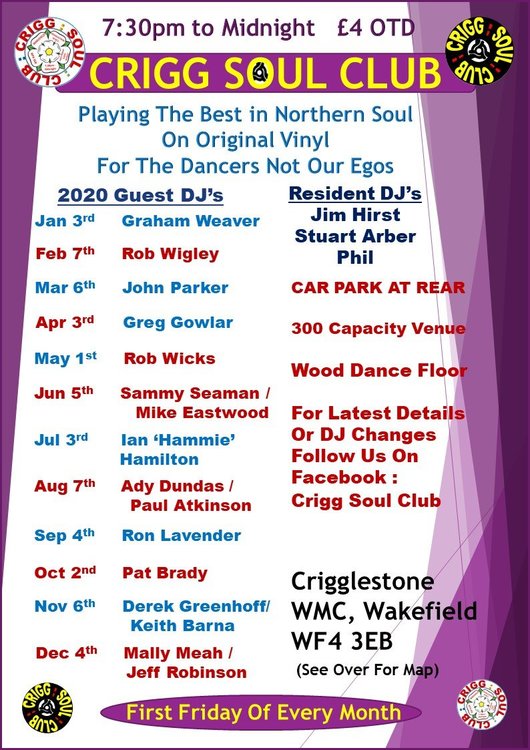 Crigglestone Wmc - Wakefield Event Map
Wakefield Venue Address:
Crigglestone Wmc
19 High Street, Wakefield, WF4 3EB, United Kingdom
Contact the venue / club
Please contact the venue / club to confirm address and event admission details before travelling
More Events from Baldsoulie
Crigg Soul Club, Crigglestone Wmc, Wakefield Event Comments & Reviews
Hit the down arrow below to switch 0 reviews / 0 comments
0 comments
Related Soul Music Links