Soul Source - A Northern Soul Music and Beyond Online Affair
Welcome to a long running online rare and northern soul music affair.
All About Soul Source
Soul Source is a stand up, straight up and independent soul music site that is simply all about the soul. Taking in all styles and eras of soul music such as rare, northern soul, funk, modern,  r&b, motown and beyond. Now in its 24th year (online August 1997) the journey carries on.
Features are set up and run to get maximum enjoyment out of this great music. They include an active soul music forum, a busy and dynamic northern soul and beyond event guide, a vinyl record sales forum based store plus a large and informative soul music news magazine feature. Other features can also be found such as a large music video gallery, an even larger photo gallery with well over 140k soul music and event related images. A soul website resource directory. A dynamic members and event soul map, email newsletters, a faq help guide and much more.
All offering the best and the latest in online soul music related entertainment and information. Covering all soul stops from Northern Soul to Motown and beyond
A stand up source for soul music that's free and easy!
History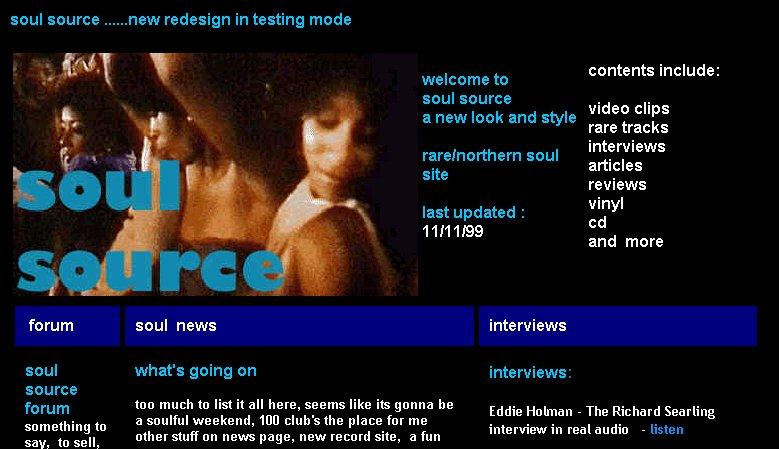 Soul Source Front Page circa 1999
Soul Source started up in the summer of 1997. The very first issue of the site featured a photo of the Wigan Casino fire as the front page cover, complete with a fire engine.
Soul Source at this time was one of a small number of northern soul and motown related websites online, sites such as 'Soul A Go Go', 'The Soul Net ', 'The Night Owl' along with a few more made up the online soul music element way back then.
Please note that this article is an ongoing affair, as they say the best is yet to ...
Seek And You Shall Find · Marvin Gaye