Date Of Induction: 01 November 2014 Category : Mixed Group
The Sapphires were a trio consisting of a girl and two guys. Their outings on Swan would consolidate a production team that would become legendary and whose names would transcend the Philadelphia city limits and indeed the borders of their home country and be regularly heard from the lips of rare Northern soul fans as far away as other continents. Discovered by fellow Philadelphian Jerry Ross, the group line-up of Carol Jackson, Joe Livingston and George Garner, when matched up with songs penned by Jerry Ross, Kenny Gamble and Joe Renzetti, arranged by the hand of Renzetti and under the production steering of Ross and Gamble, had everything that a brand new shiny 45 should need. In the case of The Sapphires they even had the advantage of having the musical tracks they were singing to played by Leon Huff, Thom Bell, Bobby Eli and Bobby Martin! Now that's what you call a band!
Their first outing on wax was the 1963 release of The Sapphires — "Where Is Johnny Now b/w Your True Love" — Swan 4143 which was recorded at Frank Virtue's Studios on Broad Street (1) and coupled an A side, skip along dancer with Carol Jackson, the songs author, lamenting the fact that her man doesn't contact her, with a romantic ballad and the whole record creates a sound that certainly belies the fact that it's the groups first outing and sounds ahead of its time insofar as it combines the future use of bass and drum and echo that would become so familiar in later productions. Although the 45didn't manage a break out and only sold locally despite its obvious quality, the 45 did establish the group and its sound. Undeterred, Ross Associates and the group climbed the stairs of Virtue Studios again and this time exited with a little more success. The Sapphires — "Who Do You Love b/w Oh So Soon" — Swan 4162 would probably define the group outside of Northern soul circles as it delivered a chart position of #25 on Billboard's Hot 100 in 1964 with its double dose of synchopated soul dance music written by Ross and Gamble. The same songs would also see a release a while later on the Philly based Itzy label (#5).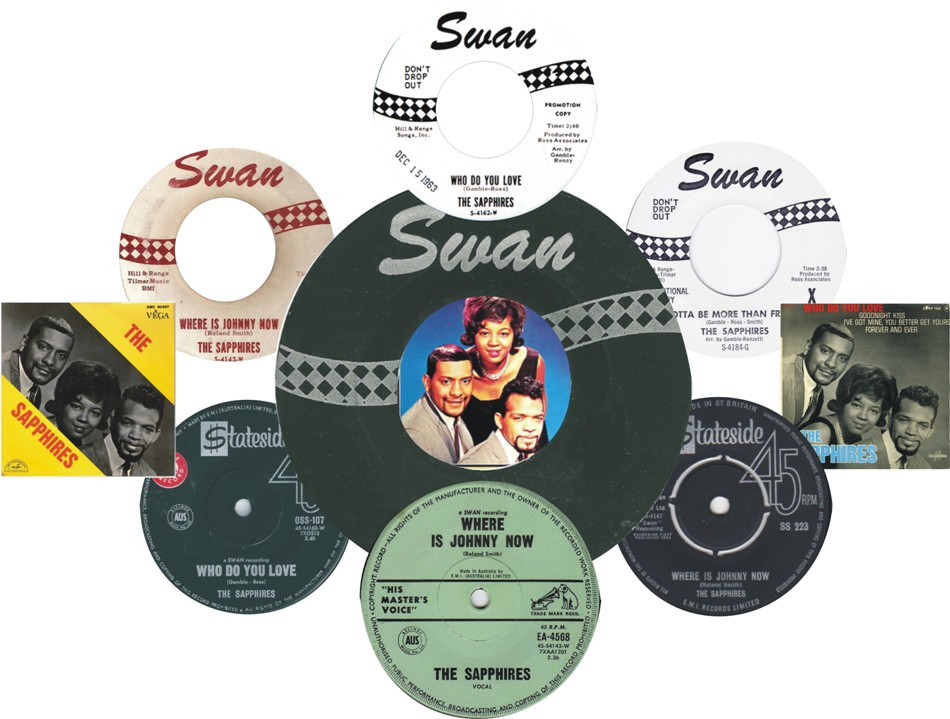 With a top 30 hit under their belts the team enlisted that seminal early sixties group that seems to pepper many of that labels' repertoires The Swans (2) and released the 1964 classic The Sapphires — "I Found Out Too Late b/w I've Got Mine" — Swan 4177. The 45 is a wonderful effort by all involved, from the pens once again of Gamble and Ross and arranged by Gamble and Renzetti who was surely guiding the young future record mogul, the A side is a floaty laid back dancer utilizing the extra female vocal input by The Swans to perfection. Ms Jackson is still front and centre and her voice is still the star of the show but this time supported by a light steely sounding guitar, a gossamer input from a Hammond B3 and even an almost hidden salvo from of all things…a trumpet. The sound of both The Sapphires and the production team was developing and I think this 45 was best from the group so far. It certainly provided an appetiser to the entrée that was to come. The final outing from the group on the Swan logo was The Sapphires - Gotta Be More Than Friends b/w Moulin Rouge — Swan 4184 which put the group in the studio alone having lost the Swans input. By now (1964), the group was in full flight with its songwriting team of Gamble and Ross creating their songs based on a deft touch of soul placed around quality, laid back sounding, backing tracks and this outing was no different. At this stage the group warranted an album release which was duly complied, consisting of all their 45s both A and B Sides but sadly, it would prove to be the only LP of their career.
Jerry Ross, ever with an ear for a hit and an eye on the future decided to move with the times and, realizing the talent that was at the heart of The Sapphires, he secured a deal, in June of that very same year that would create some of the Northern soul scene's most enduring group sounds of all time. This move meant a move to New York's Bell Sound Studios for recording purposes but the writing and productions still seeped pure Philly. With the likes of the yet little known, Nick Ashford, Valerie Simpson and Melba Moore brought in to enhance the sound with backing voices (3) and Kenny Gamble and Thom Bell also contributing to the vocal mix, the team's first release for the major label which was also penned by Gamble and Ross, The Sapphires — "Let's Break Up For a While b/w Hearts Are Made To Be Broken" — ABC — Paramount 10559 delivers an exceptionally haunting beat ballad that evokes the atmosphere of a late night walk in a deserted city, whilst the flip is a samba orientated slice of middle of the road dance music written by former member of Kenny Gambles group The Romeos and Cameo's then session guitarist, Roland Chambers and, on which the angelic backing voices of the aforementioned luminaries can be clearly distinguished.
Their follow up 45, The Sapphires — "Thank You For Loving Me b/w Our Love Is Everywhere" - ABC Paramount 10590 featured a song on the A Side written by that prolific songwriting team of Boyce-Hart-Farrell it's a finger-clicking and guitar led mid paced outing that uses interspersed chimes to add a certain charm but it's also the flip that grabs the listeners attention. Written by Gamble-Ross and Renzetti the style of the Sapphires music is beginning to develop strongly by now with Renzetti arranging the laid back backing track that uses sweetening vibes to great effect alongside the soaring almost angelic backing voices that support Ms Jacksons clearly top quality, singing voice. Neither of the group's first two outings for ABC Paramount yielded a chart position of note. The association with the label did yield however the exposure of appearances at the Paramount Theatre in New York's Times Square, where the group played to packed houses at the Easter 'Good Guys Show" in April 1964 alongside Sam Cooke, Jackie Wilson and Rufus Thomas amongst others. The next quartet of releases from the group, starting with a trio in 1965, are the ones that would elevate their status in terms of affection with rare Northern soul circles and create a legacy that would not only be part of Jerry Ross' but would also exalt both the group's and Joe Renzetti's name into the bargain.
The group's sound was now full of that effortless vibrancy that Carl Jackson had always radiated but now it was symbiotic with arranger of this 45, Jimmy Wisner's visionary arrangements and Ross' deft hands, which controlled the mixing board. The end result was a masterpiece of sixties femme soul that still draws crowds of dancers to the dance-floors despite its 40 year tenure on DJs playlists. The opening middle ranged piano and vibraphone introduction to The Sapphires — "Gotta Have Your Love b/w Gee I'm Sorry Baby" — ABC — Paramount 10639 is nothing short of genius. In the age old tradition of sometimes "less is more" this short and simple portion of music has acted like an irresistible magnet the dancers of UK's soul scene for over 4 decades. Carol Jackson's sultry but equally sounding innocence as she lets her beau know how she feels in no uncertain terms, is a pure joy and the, now customary, groups angelic backing singers add just the right amount of atmosphere to the proceedings. With Wisner's added horn riff midway preceding a short break before Carol and the other voices finish with a fade and repeating 'Gotta Have Your Love" leaves the listener almost wishing to replace the needle back at the run in groove in order to enjoy that experience one more time. When describing music in a written form it's difficult not over use descriptive terminology, especially when that music is the music you feel passionate about. But in the case of this particular 45 I'm going to use a word that you'll rarely see drip from my musical quill as I save it for the very highest of accolades and in the case of this 45, for me at least, it's use is wholly appropriate. This record is simply…magnificent.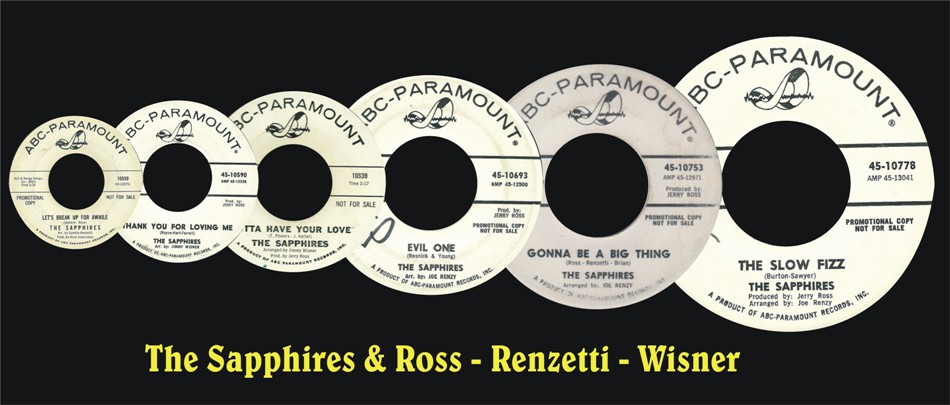 The next 45 from the group to grace the logo is another that has remained a firm favourite of both Northern soul fans and girl group sounds alike, written by another prolific and successful writing duo of Arthur Resnick and Kenny Young, (4) The Sapphires — "Evil One b/w How Can I Say Goodbye" — ABC Paramount 10693 is a little more uptempo than the previous outing but once again the use 'echoey' percussion and a layer of vibes create a perfect foil for singers to play against as Carol leads them in a tale of betrayal and hurt that's resulted in her deciding that her 'evil one' must stay away. Another horn bridges midway this time arranged by Joe Renzetti, and a light tinkling piano as the sing fades highlights just how happy the team wee with the previous outing. Often described as Motownesque, the Sapphires ABC Paramount 45s are much more than that. They contain subtle but entirely different components that when all stitched together skillfully, create a big, all embracing almost Phil Spectorish sounding effect. Much of that was a team effort I'd wager as Renzetti and Ross guided different components together and literally built the sound they were after. Also, the use of Thom Bell and Kenny Gamble in the role of backing singers shouldn't be understated. Although not the greatest solo singers in the world, both these future legends were accomplished tunesmiths and could hold a note.
The third 45 of the year from the team brought us a version of a song that would also prove to be a hugely popular song by The Yum Yums, on the same label. The Sapphires — "Gonna be a Big Thing b/w You'll Never Stop Me From Loving You" — ABC Paramount 10753 is a much pacier version than the Yum Yums outing though it starts off with a walking paced intro of bass guitar and tambourine which, shortly after the beginning, features a staccato baritone sax before a wild drum fill explodes and signifies that this certainly ain't no pedestrian, lounge music affair. It fair motors along apace as Carol leads the group on a 100mph story of how hers and her man's new love really is "gonna be a big thing' against a breathless backing that seems like it contains just about every piece of an orchestra including a brilliant horn section.
The Sapphires last vintage 45 delivered a sound that the group had nurtured and evolved but without much commercial success, The Sapphires — "The Slow Fizz b/w Our Love Is Everywhere" — ABC Paramount 10778. It's once again full of the signature sound of Ross and Renzetti on this Pam Sawyer and Lori Burton penned classic. This 45 would see the end of The Sapphires as a recording group (although heir most popular Northern tracks saw a re-release on UK Probe label due to hat specific demand), but there was however, a track rediscovered when the vaults of record companies became targets for the collectable and oldies reissues market and "Baby You've Got Me" which proved to be a reworking of "The Slow Fizz" song gained a modern day release in the mid 90s on the UK Soul Series logo. It's a slightly different guitar arrangement with a more prominent saxophone part but it still retains the signature sound of Ross, Renzetti and the Group with its upbeat, "echoey" big horn sound, stuffed full of vibrant beats and vocals.
The Sapphires 45s are pure Philly musical gems that sparkle as brightly as anything the City Of Brotherly Love produced. A quick listen to the you tube videos attached lower in this tribute will no doubt testify as to why Joe, George and Carol worked their way into the hearts of soul fans and it's a real pleasure to have them as inaugural Inductees in our Northern Soul Hall Of Fame.
Kevin Horsewood & Dave Moore November 2014
Notes and References:
There is a record by a group called the Sapphires on RCA from 1957 but his is a completely unconnected group.
The Swans were utilized by many groups and artists for Swan Records but hey also released a number of their own outings on the label.
Nick Ashford, Valerie Simpson and Melba Moore were first put together by Jerry Ross and would become his 'go to' backing singers on a number of projects before making their names as solo artists and songwriters.
Artie Resnick and Kenny Young are probably most famous for writing the classic "Under The Boardwalk".
Discography:
Swan Records
Where Is Johnny Now b/wYour True Love - 4143
Who Do You Love b/w Oh So Soon - Swan 4162
I Found Out Too Late b/w I've Got Mine You Better Get Yours - Swan 4177
Where Is Your Heart b/w Gotta Be More Than Friends - Swan 4184
ABC Records
Let's Break Up For A While b/wHearts Are Meant To Be Broken - 10559
Thank You For Loving Me b/w Our Love is Everywhere - 10590
Gotta Have Your Love b/w Gee I'm Sorry Baby - ABC 10639
Evil One b/w How Could I Say Goodbye - ABC 10693
Gonna Be A Big Thing b/w You'll Never Stop Me From Loving You - ABC 10753
The Slow Fizz b/w Our Love Is Everywhere - ABC 10778