L to R Don Davis, Bob Babbitt and Dennis Coffey at Theme Productions c 1966
(Courtesy of Edward and Sue Wolfrum 2014 All rights reserved)
Sadly, 2014 will probably be best remembered for the release of a film rather than the passing of two of the soul scene's most revered icons. Don Davis contributed as much as anyone to the Detroit recording scene during his lifetime, as a session musician, producer, songwriter, arranger and all round 'mover' and 'shaker', as well as making crucial contributions to the fortunes of Stax Records, in Memphis, at a time when the label's future looked bleak. Sound engineer extraordinaire Dr. Ed Wolfrum clearly recalls the rescue plan Davis put into action "Stax had just found out that their back catalogue all belonged to Atlantic and things were pretty chaotic down there. So Jim Stewart hired Al Bell to run things and he brought Don in. Don worked with Johnnie Taylor, Carla Thomas and others from the label and brought in Darrell Banks, Barbara Lewis and the Dramatics from Detroit plus others. Don brought some of their people up here too, that's how we got to do 'Hot buttered soul' at United Sound and Pat and Diane (Lewis) got with Isaac (Hayes). He saved that company." Throughout the 1960s Davis' involvement with a myriad of local Detroit labels such as Correctone, Thelma, Golden World, plus many others, as a writer and producer, was augmented by his contribution as a session guitarist on literally hundreds of recordings at most of the local studios. He schooled and developed scores of artists to successful, and not so successful, careers and his business acumen resulted in the creation of his own banking network as well as the eventual ownership of United Sound Systems in the early 1970s. His work at United with artists like the Dells, Jeanie Reynolds, Johnnie Taylor, the Dramatics, and many others, resulted in national and international recognition and fame.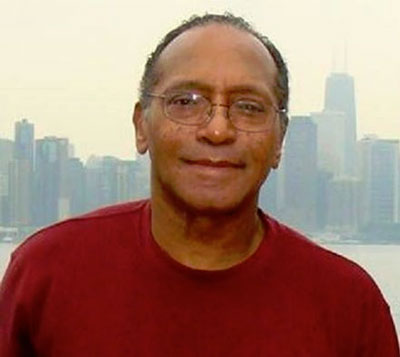 Deon Jackson
One of the most revered singers to emerge from the soulful surfeit of the early 1960s in Detroit was Ann Arbor's own Deon Jackson. His passing, this year, came as a sad shock to the legions of fans and admirers, around the world, who loved his music and respected his huge contribution to the rare soul milieu. I was fortunate to meet with him in the summer of 2013, at his home in Chicago, and discuss various aspects of his life, career and personal experiences. He began by recalling his very first experience of performing. "I was thirteen years of age attending junior high school. A guy called Maurice Williams and I entered a talent contest at the school. We sang 'Tears on my pillow' and 'Money' and we won it. I kinda liked the feeling and when I was a bit older joined with some other guys, Donald, Sam and Richard, in a group where we sang doo-wop things and I guess Ollie McLaughlin, a local DJ, must have heard about us and came to see us perform at one of his record hops. He kinda invented that kind of show where he set a stage up at one of the local schools and played the latest records and would broadcast 'live' on the radio station, but he would also get local artists to appear and mime to their records. Other groups would sing acapella. I remember David Ruffin came to our school one time and mimed to 'Mr. Bus driver'. We all liked that. Anyway, Ollie must've liked us 'cause he set up an audition at a basement studio for us. I had a couple of songs I'd written. One was 'Do I love you' and I had 'Hush little baby' and 'You said you loved me' too. After the audition Ollie said he only wanted me, not the rest of the guys. I was devastated 'cause I didn't wanna go on my own but when I spoke to them they just said 'Go for it, it's the chance of a lifetime'. My family already knew Ollie 'cause he had dated my eldest sister Doris but my mother signed my first contract 'cause I wasn't old enough."
Jackson's career took off in 1965 with a song he had written a year earlier. "Yeah, I wrote 'Love makes the world go round' in 1964 but just sat on it. I played it for a good friend of mine, Sharon McMahan, around that time. She worked for Ollie as his secretary but was a songwriter too. She bugged me for almost a year before I took it to Ollie. I'd been working in a gas station before that. When he heard it he flipped over it. It was like a whirlwind after that. We went to Chicago to Universal Studios to record it with the Riley Hampton Orchestra and had the Ronettes singing background. I was only a kid and it was daunting. As we were leaving I saw Ray Charles coming in and I was amazed. Ollie said 'Hi Ray, what's up' and Ray said 'Hey Ollie, how's it going?' We went to the Executive House for lunch and sat with Oscar Peterson and Ray Charles. I was wide eyed man."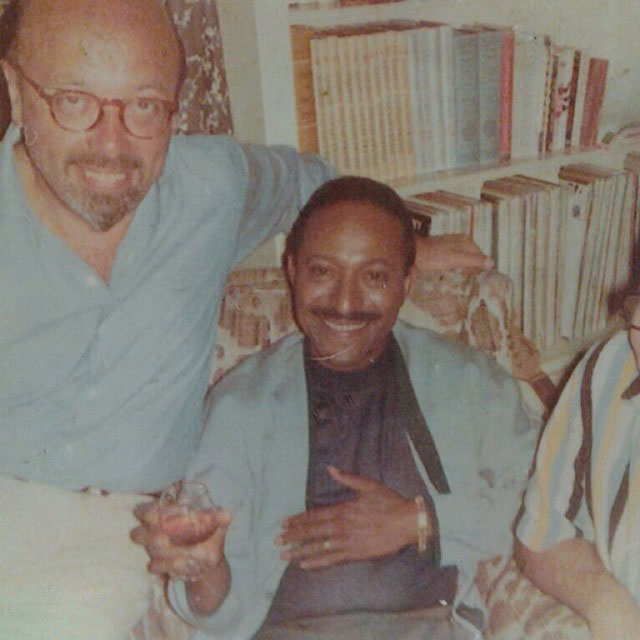 Ahmet Ertegun and Ollie McLaughlin at Atlantic c 1966
Ollie McLaughlin's experience as a radio dee jay certainly came to the fore when it came to promoting the record. "Once we'd recorded it everything happened so quick. It seemed to take off as soon as Ollie put it out. I performed it on Robin Seymour's 'Swinging time' out of Windsor, Canada. Ollie gave him a watch and some money for that. Then I went on tour with just four days rehearsal. I wore a tuxedo and only performed three songs — 'My girl' 'It's not unusual' and ' Love makes the world go round' but the girls in the crowds just went crazy. Within two weeks of its release I was playing the Apollo in New York. Everywhere I went I heard the song and a lot of artists covered it, including Kenny Rogers, which was good for me 'cause I got song writing royalties on it. Then Ollie did a deal with Atlantic/Atco for an album that did quite well too. He was in tight with Atlantic with Ahmet Ertegun and Jerry Wexler. We were riding high!" The song chosen to follow up to 'Love makes the world go round' still rankles Deon Jackson to this day. "I was out on the road performing our songs, 'cause we'd done a lot of recording and I knew which songs were the most popular. I had 'When your love has gone' which I knew was real popular with audiences but Ollie went with 'Love takes a long time growing' and it didn't do as well as we'd hoped which was frustrating and kinda meant I lost momentum. Dionne Warwicke wanted to record 'When your love has gone' but Ollie wouldn't do it." Jackson's sometimes fractious relationship with Ollie McLaughlin resulted in several other key decisions that would affect his career. "Don't get me wrong 'cause I loved Ollie, but every time I had any input into what we were gonna do, it seemed like he would do the opposite! I'm naturally very shy so I didn't assert myself as much as I should. Like one time I got word that Stevie (Wonder) wanted to write with me but Ollie wouldn't allow it." Ironically, when a potential career changing proposition came to him it was Jackson himself who turned it down. "Ollie used to hang out with Berry Gordy quite a bit, once he started having big hits and had big money, 'cause they used to like going to the track together. Ollie came to me one day and said 'Berry wants you man. Motown wanna sign you.' but I said 'no' because I was contractually obligated to Carla Records and I didn't wanna go. I figured I'd probably get lost over there, with all the performers they had 'cause I'd seen it happen to other artists. Plus, we were making some great records over at United with Mike Terry arranging, Ollie producing and the great musicians they had over there. Ollie brought Telma Hopkins, Jackie Hicks and Joyce Vincent to sing on my tunes too." Although the subsequent releases didn't achieve the desired impact, the release of 'Ooh baby' in 1967 hurtled him back into the spotlight. "By the time 'Ooh baby' came out I'd been on the road touring across the country for almost three years. Ollie was really confident about that song and gave it a huge push. It reached 19 on the Billboard chart but, once again, we couldn't come up with a strong enough follow up to keep the momentum going. I continued to tour after that, right up 'til the end of the sixties but by 1970 the bookings started to drop off and I looked for a new direction."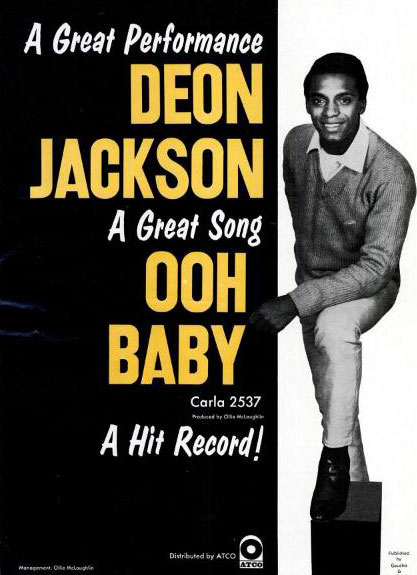 Deon Jackson moved approximately 350 miles west, to Chicago, in 1970 with the intention of exploring pastures new. An opportunity arose within a relatively short time of him arriving in the 'Windy City'. "I hooked up with Leroy Hutson through Eddie Thomas, who had been in the business a while and had a lot of interests in Chicago. He had mentioned me to Curtis Mayfield who got me in touch with Leroy. Leroy had some great songs. I recorded five of his songs but only two got released ( 'I'll always love you' b/w 'Life can be that way') We all had high hopes for that tune but Eddie had financial problems and couldn't promote it like he wanted so it kinda withered away! I was really disappointed about that." Another bitter disappointment occurred around the same time. "I'd been approached by RCA to do some writing for them but there was a deadline and my aunt, who was my agent, missed the deadline with the contracts and other paperwork so the opportunity was lost." Unperturbed, he embarked on a less stressful career performing in some of Chicago's top restaurants as a singer pianist. "Yeah I really loved doing that 'cause it meant I could still sing and play but didn't have any added pressure on me. I played at the Pump Room downtown for a while. That was the place where they wouldn't let Phil Collins in 'cause he didn't have a jacket on. I also played at a couple of places where some of the top 'Wise guys' would come. On a couple of occasions I was interviewed by the FBI who had them under surveillance. They asked me whether I had heard any of them say anything but I didn't. I wouldn't have told them if I did! Then there was the time when I sang a song that made one of the Mob bosses' mother cry. This real tough looking guy comes up to me afterwards and says 'That song you just sung made my momma cry and it's the first time its ever happened' then he pushes this envelope in my top pocket. When he'd gone I opened it and there was $10,000 in it! I was only getting a few hundred dollars a week back then!" Jackson continued to perform around the city throughout 1980s and 1990s until an opportunity arose in a completely different field of endeavour. "My brother in law worked at a city high school, Weaton Warrenville South, as a School Resource Officer and he told me about a position they had coming up as a Student Supervisor. He recommended me for it and I got the job. I love working with young people." He continued in the role until his untimely death in April 2014 at just 68 years. Among scores of tributes is one from the Principal of the school, David Claypool "I remember Mr. Jackson breaking out in song on a moment's notice. He was someone who was always positive and developed great relationships with our students, whether supervising our cafeteria or going into our music room and accompanying some of our students on the piano."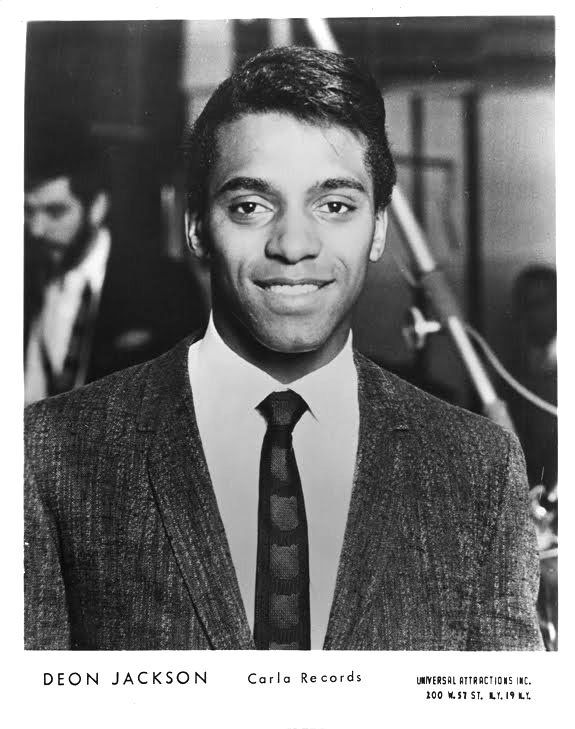 My own conversations with him included many anecdotes and stories not suitable or appropriate for this tribute. The time he met Sammy Davis Junior and other members of the 'Rat Pack' in New York and the lascivious party he excused himself from, springs to mind ...or the time he stood between Ollie McLaughlin and members of the Capitols to prevent serious injury! He had an incredible, and quite uncanny, ability to reproduce character voices — everyone from Daffy Duck to Foghorn Leghorn and hundreds in between. This skill was known to many of the musicians and technicians who knew him, and always contributed to a fantastic working atmosphere in the studio. He was a quiet, shy, self effacing person who always exuded a confident air of cultivated refinement and urbanity who is sadly missed.
Deon Jackson - I got so much love and Deon Jackson - Pain in my heart
Although Deon Jackson's output for Carla Records and Shout Records is well known, Hayley Records (UK) has gained access to two previously unreleased Deon Jackson songs from his time with Ollie McLaughlin at Carla. 'I've got so much love' and 'Pain in my heart' are both typical up tempo examples of his craft and feature arrangements, and baritone sax. accompaniment, from Mike Terry, production by Ollie McLaughlin and stellar contributions from the Funk Brothers. Expect a commercial release in 2015.
Rob Moss Dec 2014
http://www.hayleyrecords.co.uk
---
Related Soul Source Articles