Date Of Induction : 01 November 2014 Category : Female Vocalist
Maxine Brown was born in Kingstree South Carolina on 18 August 1939 and first started singing during the long, balmy summer days alongside her sister and an upstairs neighbour. The product of a turbulent marriage The girls became quite accomplished as a three part harmony outfit but Maxine's sister wasn't as interested in spending the summer singing so the girls sought out a couple of other neighbours and before long the newly formed quartet were performing Gospel standards in the local area churches as The Angeleers. Due to their father's violent outbursts Maxine and her sister were removed from the family home and fled to New York with their mother where they settled. Sadly Maxine's mother passed away at the tender age of 34 but she stayed in NY and continued her education. On graduating High School, Maxine, now living in Queens, enrolled at the Central Needle Traders which was then affiliated to the Fashion Institute of Technology (1) As Maxine moved into her mid teenage years the church influences solidified when Maxine was asked to join another Gospel group The Royaltones which led to a move to Brooklyn, where the group spent the late 50s performing their Gospel repertoire.
Professor Charles Taylor was a newly ordained Gospel singing minister who also played piano and was booked to play the famed Harlem Apollo Theatre and needed a female group for backing vocal duties. He selected The Royaltones and he girls found themselves on the bill alongside The Ward Singers and The Soul Stirrers, (a group that included Sam Cooke and Lou Rawls). When working in New York Maxine bumped into a fellow singer and friend Fred Johnson, who was looking for a female voice to join his male trio to make up a quartet singing secular music and, as The Royaltones had just folded and Maxine was between jobs, she took him up on his offer. Maxine was now a member of The Manhattans. (2)
The Manhattans were also destined to be short lived as the military draft called upon the young man of the US to serve and the group became a trio named The Treys. It was whilst a member of The Treys that Maxine discovered her song writing talents when she was pressurised by Fred Johnson to contribute on that front and she laid down the foundation for a song that would lay dormant for the next two years but once resurrected, would give her her first 'hit'. Whilst employed as a Medical Stenographer at Kings County Hopsital in Brooklyn, Ms Brown was invited to sing at a club on Linden Boulvard in Jamaica, Queens and it was here that she met future husband Mal Williams. Mr Williams, a somewhat jack of all trades as a budding booking agent and aspiring record producer, had just relinquished managership of Inez and Charlie Foxx and as a result, had an empty pre booked session in the Allegro Sound Studio basement studio of the legendary Brill Building at 1650 Broadway which he offered to Maxine. She duly arrived at the studio and cut the song she'd first drafted when a Manhattan. The song was a sultry bluesy ballad that flew in the face of the current bobby sox sound or Italian Matinee idol sound so prevalent at the time. Maxine's Gospel grounding gave her an edge that, when coupled with her raw natural talent, made her vocal delivery a tour de force certainly to be reckoned with.
In one of those defining moments that pepper peoples' lives, on leaving the building Mal and Maxine bumped into Tony Bruno, the front man for NoMar records which was a business set up to front a 'mob' run bookie operation (3). Mal and Tony knew each other in a 'nodding' capacity and on hearing that Mal was trying to get Maxine started on a recording career, invited them to call into his office next day with the demo. The demo was of course picked up for release by Bruno and Maxine Brown - "All In My Mind b/w Harry Let's Marry" — Nomar 103 was released in 1960. A few months later it was at #19 Pop and #2 RnB! Maxine was soon back at The Apollo Theatre but this time backed by the Rueben Phillips Band as a solo artist on a New Year's Day Show hosted by Radio DJ: Jocko Henderson. (4) Whether the notorious Joe Ramano, the mob affiliated bookie and owner of the NoMar set up, was as pleased as Maxine at the success of his label I wouldn't like to hazard a guess. After all, I doubt he wanted his fronting business in the spotlight! In fact, Maxine's start as a recording artist was steeped in peripheral connections to 'The Mob'. Her husband Mal, who she married on 27th December 1960 just as the 'All In My Mind' release was gaining recognition, owed a few favours around town to a number of unsavoury characters and on arriving to pick up the first check from the distributors for his wife's hit, was ushered out of the door at gunpoint. The publishing company that the song was registered with belonged to none other than Alan Freed and when Maxine later tried to buy back the rights to her song the company had passed into the hands of Morris Levy! (5)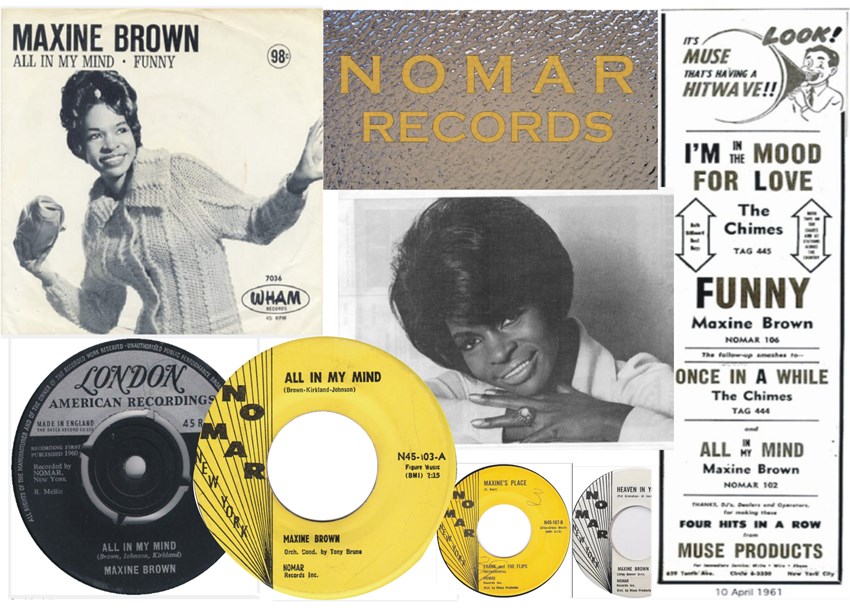 Undeterred by the dramatics surrounding her recording she undertook another session (her guitarist being none other than Sam Taylor, the son of Professor Charles Taylor) and the team released Maxine Brown — "Funny b/w Now That You're Gone" — Nomar 106, a song penned by Taylor. Although the song gave Maxine the pleasure of reaching #25 Pop and #3 RnB, unfortunately any financial benefit once again eluded her, possibly through Muse Products the company credited on the 45, (Muse was a Broadway musical playing at the time and I have failed to discover any musical production or record distributing company based in NY or New Jersey for the time period. Despite no money from the actual 45s Maxine at least made her name and kept the wolf from the door with the live appearances the success of the 45s had generated. Maxine was on the books of Shaw Booking Agency who were one of the prime Agency's booking acts on the Chitlin Circuit and Maxine found herself on the road, often criss-crossing the country to fulfil engagements and played all the major theatres of the day including, The Baltimore Royal, Chicago's Regal Theatre and The Uptown in Philadelphia.
After a final recording session for the Nomar label which produced, Maxine Brown — "Heaven In Your Arms b/w Maxine's Place" — Nomar 107 another bluesy based ballad that was paired with a jazz instrumental once Maxine had left the company, Maxine made the move to ABC where she stayed for over a year releasing half a dozen or so 45s. ("All In My Mind b/w Funny" was also rereleased as a double sider (Wham 7063), during her time with ABC). Most of Maxine's ABC output consisted of bluesy, soulful ballads that evoke smoke filled jazz clubs although Maxine Brown — "Am I Falling In Love b/w Promise Me Anything" - ABC Paramount 10370 is a floating shuffler that has seen turntable action at Northern soul clubs over the years and she did record an upbeat Curtis Mayfied authored upbeat number entitled "I Don't Need You No More". In another of those previously mentioned defining moments, Maxine was having lunch in a restaurant frequented by a certain fellow Brill Building acquaintance Ms Florence Greenberg when Florence asked her when she was going to finally leave ABC and come to her stable of Scepter/Wand where she would be promoted properly. Maxine's answer was "If You want me come and get me!" Florence wasn't the type of woman to sit on her laurels and the very next day Maxine became a Wand/Scepter recording artist!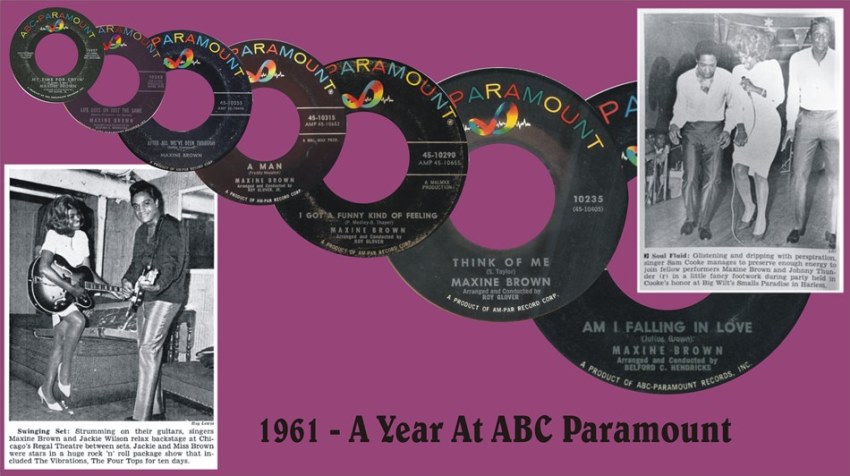 It's really Maxine's time at Wand that put her on a pedestal with Northern soul fans and that relationship started almost immediately, once collectors and DJs latched on to her catalogue. The first 45 she released came in on the label Maxine Brown — "Ask Me b/w Yesterday's Kisses" — Wand 135 paired a couple of Tony Bruno penned songs that moved Maxine's performance from a blues based balladeer to a soul singer amid that full blown exotic production style so perfected by the Brill Building inhabitants. The flip especially highlights Maine's soulful vocal and her adaptability as she pulls of a great story of love gone bad on a dancer that has seen the odd play over the years.
For her next outing Maxine was teamed with future legendary record producer Ed Townsend who was at that stage making a name for himself in New York. (6) Their collaboration delivered, Maxine Brown — "Coming Back To You b/w Since I Found You" — Wand 142 a disc that coupled a plaintive ballad with a more upbeat popcorn sounding song. In 1964 Maxine hit the Top 30 Chart again with Maxine Brown — "Oh No Not My Baby b/w You Upset My Soul" — Wand 162, a song which became an instant classic and performance that ranks up with anything she did before or after. Written by Brill Building stalwarts Carole King and Gerry Goffin and produced by one of New York's finest Luther Dixon, the song was originally written for The Shirelles but was recorded with alternate lead vocals and Stan Greenberg, (7) Florence Greenberg's son identified that the song needed a different melodic approach, hence it was offered to Maxine with the caveat that she develop the melody.
Luther Dixon didn't like the song, canned it and it lay dormant, my producer Stan Greenberg went into the vault, pulled it out and declared, 'This is a hit! And it's now Maxine's next song!". — Maxine Brown (8)
The song's dramatic overtones as Maxine loyally sticks by her man, despite dire warnings from her friends about his cheating, is a perfect companion to her earthy, somewhat raunchy style she employed in the delivery. She really did believe that her man wasn't like the other boys who "Played With Hearts Like They Were Toys" and the song delivered her a seven week stay in the Billboard Hot 100 where it peaked at #24. Although recorded by a number of other artists, some of them with more commercial success that the original, "Oh No Not My Baby" will always be a Maxine Brown song. The follow up release, Maxine Brown - It's Gonna Be Alright b/w You Do Something To Me — Wand 173 saw Maxine again interpret the efforts of Goffin and King on a similar styled beat ballad outing that simply oozes class. The pressure under which the Brill Building songwriters worked delivered, as history has shown, hit after hit but many of the sings that didn't quite hit the higher echelons of the Billboard Hot 100 were also high calibre and this plaintive, story of a girls past love receding in the arms of her new beau is exactly that. As an indicator of how strong the song is it was also recorded by Theola Kilgore, (Mercury #72564) and is often quoted in peoples top 10 soulful ballads of all time. Theola Kilgore's version is an absolute stormer of a 45 that deserves a place on every collectors' shelves for sure.
In 1965, with duets proving to be popular with record the buying public Maxine was paired up with another legendary soul star who was making a name for himself at the time… none other than Chuck Jackson. Maxine and Chuck would collaborate on a number of outings that led to five US 45 releases in addition to a whole host on international releases as well as a handful of LPs.
Maxine's solo career was operating in tandem still and in that same year she started duet-ing with Mr Jackson she released one of her most sought after 45s Maxine Brown — "One Step At A Time b/w Anything For A Laugh" — Wand 185, a song written by emerging songwriters Nick Ashford, Valerie Simpson and Josie Jo Armstead, who may well have been on backing vocal duties. A mid-tempo plea to take things a little slower in their relationship is the song's theme and as usual Wand's commitment to a big, almost orchestral studio sound gives Maxine the perfect foil.
As often happens in the Northern Soul arena one song becomes synonymous with an artist and in 1966 she recorded what is probably her most popular Northern Soul 45, Maxine Brown — "One In A Million b/w Anything You Do Is Alright" — Wand 1117, a fantastic tome, full of atmospheric horn riffs, lilting strings and of course Maxine's soulful sultry vocals as she extols the virtue of her lover as being 'one in a million'. Written by legendary songwriter Rudy Clark (who also wrote Betty Everett's, "It's In His Kiss, (Shop Shoop Song)" and The Olympics "Good Lovin' ", to name just two, the song will always be indelibly liked to Maxine. As an aside, UK pop/soul group Chapter Five also recorded the song which was released in UK on CBS which also gained the odd play on the Northern Soul circuit but it's really like comparing a Del Boy Trotters Robin Reliant to a gleaming Rolls Royce. From the opening guitar and tambourine combination Maxine's outing glides through three minutes of quintessential Northern Soul that sits at the peak of the idiom. It builds and fades, sounds like it was recorded by a philharmonic orchestra and provides the perfect platform for Ms Brown's seductive tale of how she's determined to make her man hers, no matter what the sacrifice. As an aside, Rhetta Hughes also delivered a credible version on Columbia (#44073) as did a UK singer called Karol Keyes on UK Columbia (UK- DB8001), that was produced by the Kinks' Ray Davies. There is also a version by Mary Ford on Tower Records (#279) but it's a poor effort compared with Ms Brown's outing and I'd suggest you flick by it should you see it in sales boxes!
That same year Maxine released another duo of platters that saw sporadic plays by Northern Soul DJs, Maxine Brown — "Let Me Give You My Loving b/w We Can Work It Out" — Wand 1128 paired a version of The Beatles classic with an upbeat dancer that was co-written by Maxine herself. The A side is a wonderfully lilting, mid paced outing with all the hallmarks of the Big City sound that came to identify Wand/Scepter productions of the era.
As Maxine's vinyl outings started slowing down in terms of sales, Florence Greenberg figured a revamp of material may well breathe some wind into her musical sails and looked to the current en vogue Southern Soul sound of Otis Redding . Hence, Maxine subsequently recorded with Otis Redding at the production helm in the summer of 1967, at Muscle Shoals, but Otis died in the now infamous airplane crash on December 10th of the same year, before he could furnish the finished article to Wand/Scepter. The songs were finally given their second life in 1985. Two of these recordings gained cult status amongst Northern Soul fans. (Appearing on Kent/Ace LPs), "Slipping Through My Fingers" which is a down home, gritty dancer and a fantastic version of "Baby Cakes", which of course was released on Otis' own imprint as imprint by another female artists as Loretta Williams — "Baby Cakes b/w I'm Missing You" — Jotis 471.
Another snippet from Maxin's career that deserves recording here is that when Tammi Terrell first took ill with the ailment that would sadly see her demise, it was to Maxine that Motown turned to fulfil the engagement at The Apollo in Harlem that Marvin Gaye and Tammi were scheduled to appear at. Marvin and Maxine dueted on,"Ain't No Mountain High Enough", which was a current hit for Motown at the time.
Of course Maxine also dueted with a huge success with Chuck Jackson and readers may well wonder why that part of her career doesn't feature here? I figured it was only a matter of time before Mr Jackson also appears in our Hall Of Fame and so to that end I decide to revisit Maxine's collaborations with Mr Jackson when that actually happens.
The majority of Maxine's records contain an element that it would seem remiss not to record here though and that is the backing singers. Most of the time backing singers are not just unheralded but often ignored but when it comes to The Sweet Inspirations who backed Maxine and indeed worked as the voices behind many soul performers including Solomon Burke, Aretha Franklin, Wilson Pickett to name just a trio and were also Elvis Presley's 'go to' girls for his recordings of the era. Cissie Houston, The Warwick Sisters Dionne and Dee Dee), Doris Troy, Estella Brown, Sylvia Shemwell and Myrna Smith were all members of the group at some stage during Maxine's tenure at Wand/Scepter. The group would of course go on to attain legendary status backing most of the stellar artists at Atlantic in the late 60s.
Despite being ill and hospitalised, right up until the day before the performance, Maxine was also a headliner at one of the early: Concerts In The Park, a premier live music event held in NY Central Park and which also included Ramsey Lewis and Lou Rawls on the bill. The trio performed a number of popular songs of the time and Maxine contributed with renditions of, "In The Midnight Hour" and "Soul Serenade" The concert was recorded and segments of it were released on a 1968 released Capitol LP of the same name.
With the success of Maxine's outings now waning with Wand, in 1968 she made the move to Epic Records and came together with fellow SS Hall Of Famer, Mike Terry on arranging and production duties and armed with a portfolio of quality songs mainly from then quills of Detroit's finest the LP is a much treasured item amongst soul fans even today. Amongst the list of songs on the album were two that were lifted and gained a scheduled release, Maxine Brown — "Seems You've Forsaken My Love b/w Plum Outta Site" — Epic 10334, the A Side is a great ballad written by Bridges Knight and Eaton (aka The Brothers Of Soul) and features Mike Terry's swirling, soaring string arrangement and angelic backing vocals amongst Maxine's pleadingly mournful lead. The Detroit based also furnished the flip side which has a much more up-tempo feel to it. The LP contains a number of cover versions, all of which are pulled back from becoming merely copies of the originals by both Mike's mixing board skills and Maxine's exquisite vocals, the pick of the litter being her version of Wilson Pickett's "I'm In Love" and one of the very few female versions ofThe Temptations classic, "I Wish It would Rain".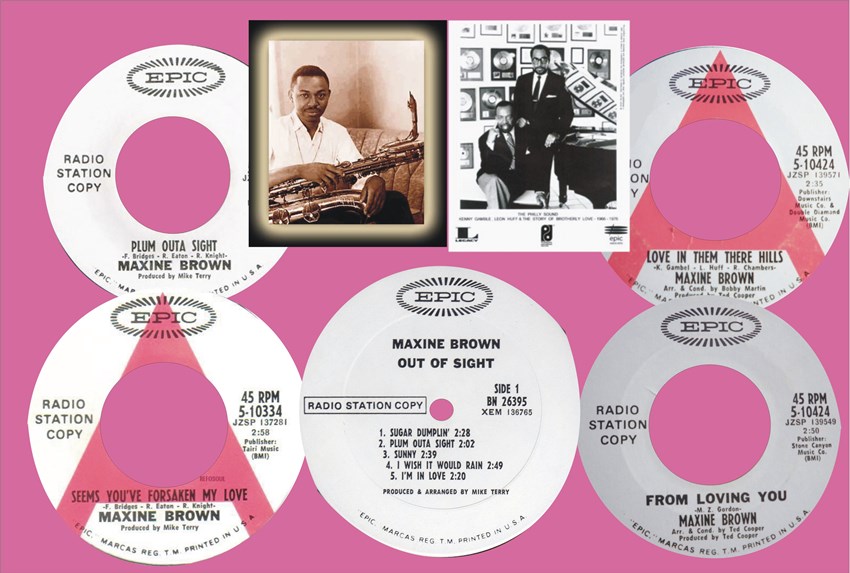 By the rapidly approaching new decade , maybe it was the rise of the Philly Sound emanating from sigma Sound Studios and CBS' Epics parent company's shiny new deal with two of its architects Mr Kenny Gamble and Leon Huff, (The up and coming record producers had already been approached by the managers of the fellow CBS contracted group The Vibrations to produce material on them, which they did) but for whatever reason the second Epic release on Ms Brown, Maxine Brown — "From Loving You b/w Love In Them There Hills" — Epic 10424, is a coupling of the Gamble and Huff classic "Love In Them There Hills" and Ted Cooper's "From Loving You" (Mr Cooper being a prolific in house producer for CBS' stable of logos including Epic and Okeh). The change of production team mustn't have impressed as Maxine was soon signing for the newly established Commonwealth United Records and the first 45 release from the infant company was the powerhouse Maxine Brown — "We'll Cry Together b/w Darling Be Home Soon" — Commonwealth 3001. This song, for your author at least, is the crowning glory of Ms Brown's career. A big statement indeed when you take into account her legacy of outings I agree. But if you were ever going to explain to someone who needed an example of soul music at its very best then point them in the direction of this 45. Job done! Co-Written by the re16 releases cently deceased (Jan 2015), Rose Marie McCoy and produced by legendary Bob Finiz, (Of Moses Smith — Girl Across The Street fame), the sheer quality of all involved propels the finished article with its lamenting vibe intro setting the initial pace, Maxine relates the heart-wrenching break up of her relationship, softly spoken at first but then she builds and builds and ….builds as does the backing track, melancholy strings, soul drenched backing vocals, but always at the core is Maxine, proving if anyone needed confirmation that she really was one of the great female voices of the era. The kind of performance that if you are unfortunate enough to suffer a house-fire, you make a bee line for along with family photos!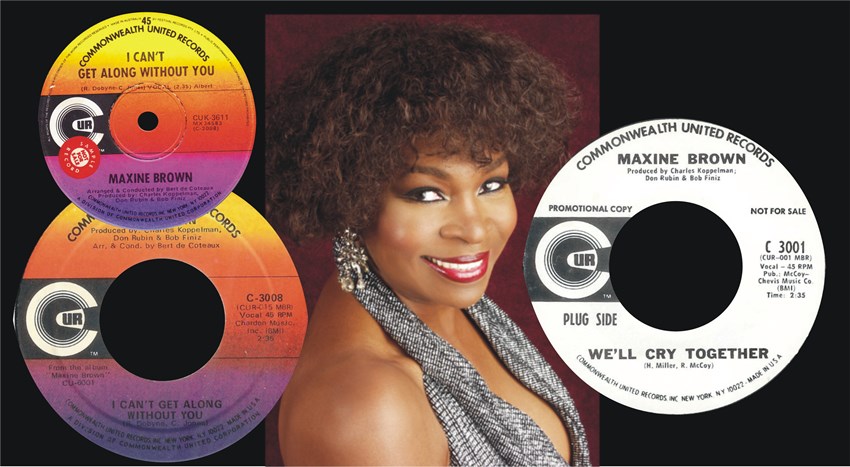 The Commonwealth United Record company was an offshoot of a film production company but after signing and releasing initial 45s on fellow Northern Soul favourites Lenny Welch, Richard Parker and Cissie Houston amongst its roster and releasing one more 45 on Ms Brown, Maxine Brown - I Can't Get Along Without you b/w Reason To Believe — Commonwealth 3008, its parent company went bust and took the record 'division' with it after only a mere 16 releases although it did manage to deliver an album on Maxine that also suffered from limited exposure and marketing as the company floundered. Maxine did however also release an album on the label Maxine Brown - We'll Cry Together - Commonwealth United LP (#CU6001), which has another song nestled on it co written by rose Marie McCoy, "See Don't See" which is real tight, funky styled dancer which has resulted in the LP becoming sought after item too. (There is reputedly a Canadian EP with this track on but I've not seen it yet). With Commonwealth United floundering, it left Maxine hunting for yet another label, which she found in 1971, when she was signed by Hugo and Luigi (9) for their newly established Avco Records. By co-incidence Avco Records was also an offshoot of a film company with Hugo and Luigi partnered with Avco Embassy Pictures. It was here that Maxine would find herself collaborating with yet another stellar soul producer when her suggestion that she might benefit from being produced by Van McCoy was accepted by the song-writing team. The Avco sessions produced three 45s, released in 1972/73, the first one by Van McCoy (utilising a young friend of Van McCoy's on backing vocals, a certain Luther Vandross), "Maxine Brown — Make Love To Me b/w Always and Forever" — Avco 4585, put two Van McCoy and Joe Cobb (a long time song-writing partner), penned ballads back to back which certainly gave Maxine enough scope to highlight her talents but it was the next release, Maxine Brown — "Treat Me Like A Lady b/.w I.O.U."- Avco 4604, that saw the production auspices of Tony Camillo (10), integrate a more funkier, modern sounding side to Maxine's work. The follow up single, which is also a collaboration with Tony Camillo, would prove to be her last on the logo, Maxine Brown — "Picked Up, Packed And Put Away b/w Bella Mia" — Avco 4612 is a real two sider, delivering a raucus stormer on which Maxine turns in a strong perfvormance as a woman wronged and determined to move on with her life on the plug side, whilst Maxine gives a great performance on a ballad that once again will please fans of her style when she lets 'rip' with that sultry, smokey voice.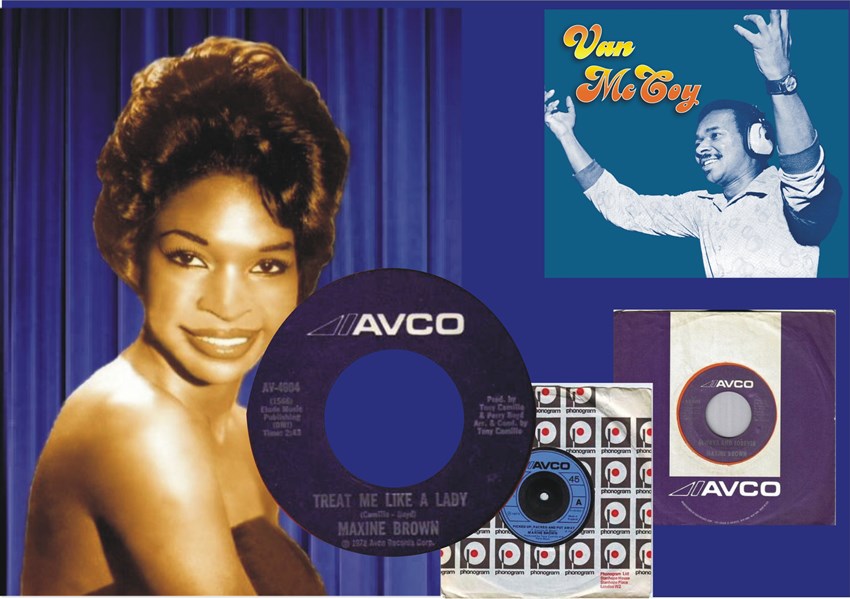 By the mid seventies, the music industry had embraced black music in all its forms and had seen the lyrically poetic and melodically based soul of the previous decade replaced by urban funk, disco and the lush arrangements of the Sound Of Philadelphia. This left balladeers like Maxine in a quandary. Either look for other opportunities or take up a 'day job'. Maxine chose the former and took acting and dancing lessons which she felt would add extra strings to her musical bow. Rhetta Hughes (Yet another of our soul heroines), was about to leave the stage show "Don't Bother Me I Can't Cope" and Maxine was encouraged to audition for the part. Her audition successful, she had 3 days to learn the part before her debut. (11)
Once Don't bother Me I Can't Cope finished it's run Maxine took to working the clubs and lounges around the city. Even with no record company backing she was still able to work a crowd with her voice singing everything from pop standards of the day to jazz classics. It wasn't until 2005 that Maxine would release her next recordings, sessions that she financed herself the year before, resulting in the album: Maxine Brown — "From The Heart" - Fountainbleu Ent. With 13 songs, some penned by Maxine herself, the album is a testament to the art of singing. From cool, jazz infused outings to the plaintive ballads that Ms Brown made her own, she delighted her fans who had never given up hope that she would return to recording. Maxine also continued singing even though she had slowed down on the recording front and together with Ella 'Peaches' Garrett and Beverly Crosby formed a trio called The Wild Women who performed a fusion of Gospel/Jazz/Soulful songs in and around New York. (Sadly, Ella passed away recently).
As was the norm, Maxine had recordings that for whatever reasons were left in the can and so when those erstwhile soul detectives at Ace/Kent Records in London gained access to the Wand Scepter vaults in the early eighties, it wasn't long before they unearthed masters that were given a new lease of life and Maxine's "It's Torture" was amongst the tracks that's aw a vinyl release. Maxine Brown — "It's Torture b/w I Got Love" - Town 110, became a hugely popular dance-floor filler in UK which led to her appearing at the Cleethorpes Weekender in 1987 at which Maxine wowed an enthusiastic crowd with her repertoire of classics which included "It's Torture", which has recently enjoyed a re-release coupled with an unreleased (at the time), song her old duet partner Chuck Jackson as, Maxine Brown — "It's Torture" b/w Chuck Jackson — "I'd Be A Millionaire" — City 032. Maxine has also performed in continental Europe as the Northern Soul fraternity there has blossomed.
Maxine Brown, despite missing the full blown break out that would have shot her to the International fame and fortune that her talents rightly deserved made an impact of aficionados of soul music worldwide. Her legacy of heart-wrenching ballads, great up-tempo dancers and everything in between will ensure that her legacy is kept fresh in peoples' minds for a long time yet. One of the great voices of soul music when it was littered with quality vocalists. And that's why we take great pleasure in welcoming Ms Maxine Brown into the Soul Source Northern Soul: Hall Of Fame.
Lorraine Chandler and Dave Moore
Notes and References:
1. Interview with Maxine Brown by James Power which can be found at: http://www.jamespower.net/Maxine_Brown.html
2. This Manhattans group is no connection to the one with the same name that started out recoding on Joe Evan's Carnival label.
3, http://nycommonplace.wordpress.com/2010/11/06/nomar-records/
4. Record Makers and Breakers: Voices of the Independent Rock 'n' Roll Pioneers by John Broven. Dated 2009. ISBN: 978-252-03290-5
5. Morris Levy was a notorious mover and shaker within the record industry. His involvement in shady dealings would soon attract the FBI and his mob connections were the focus of investigation that would reverberate throughout a number of 'blue chip' companies including MCA, Brunswick, Calla and Roulette.
6. Ed Townsend was a native of Tennessee who, after serving in the USMC would go on to become a sought after songwriter and producer. He worked with a plethora of soulstars including Ben e King, The Shirelles, Theola Kilgore, Dee Dee Warwick was the co-writer of Marvin Gaye's huge hit "Let's Get It On" and also wrote and produved the Impressions mid 70s #1 hit. "Finally Got Myself Together".
7. Stan Greenberg was the son of Wand/Scepter owner Florence Greenberg. Stan was blind from a young age and it was his disability that was reputedly led his mother encouraged him to forge a career out of music. Mr Greenberg started out producing records and was eventually given the task of managing the creation of a studio set up and its subsequent operation.
8. Interview with Maxine Brown by James Power which can be found at: http://www.jamespower.net/Maxine_Brown.html
9. Hugo Perretti and Luigi Creatore were a prolific and hugely successful song-writing team based in New York's Brill Building. They had scored hits as far back as the mid-fifties and produced a series of smash hits on artists as diverse as Perry Como, Elvis, Sam Cooke and were instrumental in the success of The Stylistics in the early seventies.
10. Tony Camillo was a well respected songwriter and record producer on the NY scene at the time. Probably his best known work was Gladys Knight's — "Midnight Train To Georgia" smash hit but his cv incudes hiuts with Holland Dozier Holland's Invictus set up as well as hits with Diana Ross, Peaches and Herb, Millie Jackson and The Fifth Dimension.
11. The musical play "Don't Bother Me I Can't Cope" was an all singing and dancing production that used as it's subject matter aspects of black people's lives at the time including tenements, ghetto life, slum landlords, the rise of Black power and used a fusion of black music to portray it's message utilising Gospel, Jazz, Soul, Funk etc as its medium.
Discography:
All In My Mind b/w Harry Let's Marry — Nomar 103
Funny b/w Now That You're Gone — Nomar 106
Heaven In Your Arms b/w Frankie and The Flips - Maxine's Place - Nomar 107
Think Of Me b/w I Don't Need You No More — ABC Paramount 10235
After All We've Been Through Together b/w My Life - ABC-Paramount 10255
What I Don't Know (Won't Hurt Me) b/w I Got A Funny Kind Of Feeling — ABC Paramount 10290
Wham 7036 - All In My Mind b/w Funny — Wham 7036
Forget Him b/w A Man — ABC Paramount 10315
My Time For Crying b/w Wanting You — ABC Paramount 10327
I Kneel At Your Throne b/w If I Knew Then — ABC Paramount 10353
Am I Falling In Love b/w Promise Me Anything — ABC Paramount 10370
Life Goes On Just The Same b/w If You Have No Real Objection — ABC Paramount 10388
Ask Me b/w Yesterday's Kisses — Wand 135
Coming Back To You b/w Since I Found You — Wand 142
Little Girl Lost b/w You Upset My Soul — Wand 152
Put Yourself In My Place b/w I Cry Alone — Wand 158
Oh No Not My Baby b/w You Upset My Soul — Wand 162
It's Gonna Be Alright b/w You Do Something To Me — Wand 173
One Step At A Time b/w Anything For A Laugh — Wand 185
If You Gotta Make A Fool Of Somebody b/w Your In Love — Wand 1104
One In A Million b/w Anything You Do Is Alright - Wand 1117
Let Me Give You My Lovin' b/w We Can Work It Out — Wand 1128
I Don't Need Anything b/w The Secret Of Livin' — Wand 1145
Seems You've Forsaken My Love b/w Plum Outa Sight — Epic 10334
From Loving You b/w Love In Them There Hills — Epic 10424
We'll Cry Together b/w Darling Be Home Soon — Commonwealth United 3001
Can't Get Along Without You b/w Reason To Believe — Commonwealth 3008
Make Love To Me b/w Always And Forever — Avco Embassy 4585
Treat Me Like A Lady b/w I. O. U. — Avco Embassy 4604
Picked Up, Packed And Put Away b/w Bella Mia — Avco 4612
https://www.youtube.com/watch?v=yuWphXZCqkA
https://www.youtube.com/watch?v=Ea_3pEvROQs