Induction Date: 01 November 2014 Category : Female Vocal Group
When the film 'Standing In The Shadows Of Motown' hit the screens over a decade ago, it finally let the world in on what was one of the music industry's best kept secrets. The group of musicians who had laid down the tracks to what became known as 'The Sound Of Young America', had been airbrushed out of most of the story of the rise of Detroit's musical empire based at 2648 West Grand Boulevard but Alan Slutsky's movie went some way to setting the record straight about the contribution to Berry Gordy's success made by people who were kept behind the scenes. I say it went someway but there was still a trio of ladies who, although acknowledged, still hadn't had the full splendor of their contribution highlighted as they deserved.
Jackie Hicks, Marlene Barrow-Tate and Louvain Demps sang to soul fans on hundreds if not thousands of soul records. Their voices soared alongside every artist to grace the recording studio that became affectionately known as 'The Snakepit', including but by no means limited to, The Four Tops, Martha And The Vandellas, The Temptations, Kim Weston, Jimmy Ruffin, Marvin Gaye, Mary Wells and The Miracles. Their work which, like the Funk Brothers, provided a cornerstone to Berry Gordy's vibrant combination of Gospel orientated Rhythm n Blues and secular lyrics, was vital to Gordy's worldwide success and the music industry, although lagging behind us, the fans, in appreciating them has since unearthed the contribution they made and heralded the ladies for what they were, simply the most successful studio backing singers of all time. Those ladies were of course…The Andantes! The story of The Andantes, is really the story of Detroit. The city's musical explosion of the sixties engulfed many of the city's aspiring musical youth and The Andantes were at the centre of it all.
Jackie Coela Hicks, a native Detroiter, was born 4 November 1939 to Aaron and Clara, Aaron her father having been enticed Northwards from Alabama by the Ford Motor Company met Clara in Detroit after she had also moved there with her family from Georgia, Alabama. Surrounded by church music from an early age Jackie's brother Aaron Jr sang with a number of choirs in the city, eventually became a music teacher and taught piano.
Jackie met Judith Marlene Reid when, as five year olds, they began singing as members of The Hartford Memorial Baptist Church presently located just off the James Couzens Freeway and along with their friends Emily and Edith Phillips became something of a trio/quartet with Emily or Edith joining in with Jackie and Marlene. They impressed their musical director, Ms Mildred Hankins—Dobey so much that she christened them The Andantes. (Andante is a musical term relating to tempo and the beats per minute that a piece of music is to be played at). Judith, who was always known by her middle name, Marlene, is also a native of Detroit having been born on 25 September 1941 and was adopted as a three month old baby by Victor and Johnnie Reid. Both Marlene's parents had also made the economic trek to the Motor city in search of job opportunities, her father Victor hailing originally from Mt Bayou, Mississippi and her mother from Hawkinsville, Georgia. Victor found work in the Dodge Main Motor Plant at Hamtrack, a position he held for 33 years. Victor also sang in an adult choir whilst Marlene's mother was also a musician, who directed a youth choir and played piano and organ at the church (Hartford Memorial), close to their Stanford Street home.
Jackie, Marlene and Edith sang together through their formative years and attended Northwestern High School (1) listening to the emerging rock n roll sound and were especially fond of groups like The Drifters and Jackie recalls that one of her favourite songs of the time was Gene Chandler's 'Duke Of Earl', a song that the girls performed in a school talent show. (2) As the girls progressed through their teenage years, they broadened their musical influences as well as their skills with Marlene taking piano lessons and being taught to read music. Chaperoned by Jackie's brother Emory, the girls were allowed to attend dances and other music events in and around the city as well as just over the Ambassador Bridge spanning the Detroit River border in Windsor, Ontario. As the girls prepared for graduation from Northwestern High, Berry Gordy was pitching his idea for a record label to the Gordy family for an $800 loan that would change all their lives, The Andantes included.
In 1959, Richard 'Popcorn' Wylie, on leaving High School had set his own sights on a musical career, a gifted songwriter and piano player he had managed to book an audition for the new record company on West Grand Boulevard: Motown. With Motown especially looking for musicians/artists with original material, Popcorn was well placed and asked his friends, The Andantes to come along with him to assist him by singing the backing harmonies, which they had been doing in his basement for while anyway. Popcorn and the girls, (Jackie, Marlene and Emily), duly arrived at their appointment, performed their songs and both Popcorn and The Andantes instantly became Motowners! Emily and Edith Phillips however had plans outside music and with Emily already married and Edith about to be a new wife the sisters chose not take up Motown's offer. The third piece of the vocal jigsaw that would create such harmonious magic over the next decade was already singing at 'Hitsville', in the form of a young lady who sang with a group of early Motowners known as: The Rayber Voices. (3)
Louvain Demps was a native New Yorker, born in the Big Apple 7 April 1938. Her parents, Alfred Moor was a Philadelphian and Louvain Ameroux, after whom Louvain was named hailed from O'Fallon Missouri. They first met in New York but settled in Michigan, originally in Ann Arbour but later in Detroit where Alfred became a postman. The family settled in the Courville area of the city which was a predominantly Polish area back then and the young Louvain recalls attending Courville Elementary School on nearby St Aubin Street where by all accounts she was something of a little firebrand with a temper match! Her father was an opera buff who also loved classical music and both Louvain and her only sibling sister San Carmen were given violin lessons as children, a craft that neither of them pursued. From an early age though, Louvain loved music, films and was a great fan of Lucille Ball and Red Skelton.
Louvain worked her way through Cleveland Elementary School and eventually attended the Sacred Heart Catholic School and she and her family became members of the local Holy Ghost Roman Catholic Church where Louvain and her two Godsisters, Marlene and Jackie Harper would join the choir under choirmaster Mr Oreal Taylor. As her teenage years dawned Louvain had already decided that a singing career was her goal. In junior high school she cut her first record on which she sang "Waiting For The Sunrise", as a present for her mother. Originally wanting to be an athlete and even a police officer at one stage until discovering she was too short, the record hops of the late 50s were in full swing and Louvain was hearing all kinds of different music and developing an even more determined outlook on her ambition to be a singer. After graduation Louvain married Max Demps, who she met whilst he was visiting his cousin, an old school friend who lived on the same street as her. They married in June 1956 and set up home but staying on Arlington Street.
Louvain's introduction to Motown came via her best friend, Rhoda Collins who was songwriting and attempting to get her songs recorded. Via an ad she spotted in the local paper that stated for $100 they would record your song for you she subsequently met Raynoma Gordy. Louvain went along to the appointment to demo her friend's songs and ended up with an audition of her own. That audition took place at a building on Dexter and Louvain passed with flying colors! Testing her vocal range to its fullest led to her impressing her accompanying pianists Brian Holland, Berry Gordy and Marv Johnson so much that she was signed to the company and began singing as part of The Rayber Voices, a group that had moved to Motown when Gordy had absorbed the Anna logo and now sang backing vocals on many of the sessions at the time. The official line up of the group at the time was Robert Bateman, Raynoma Gordy, Brian Holland and Sonny Sanders. As Ms Ray's duties at Motown became more time consuming, it was Louvain who made the female vocal contributions and she can be heard on a number of early timeless classics like Barrett Strong's 'Money' and Eddie Holland's 'Because I Love Her'. Louvain was nineteen years old, married and had now started a family having been blessed with little Max her infant son. A singer she wanted to be…. And at last, with the support of her husband and family, a singer she was!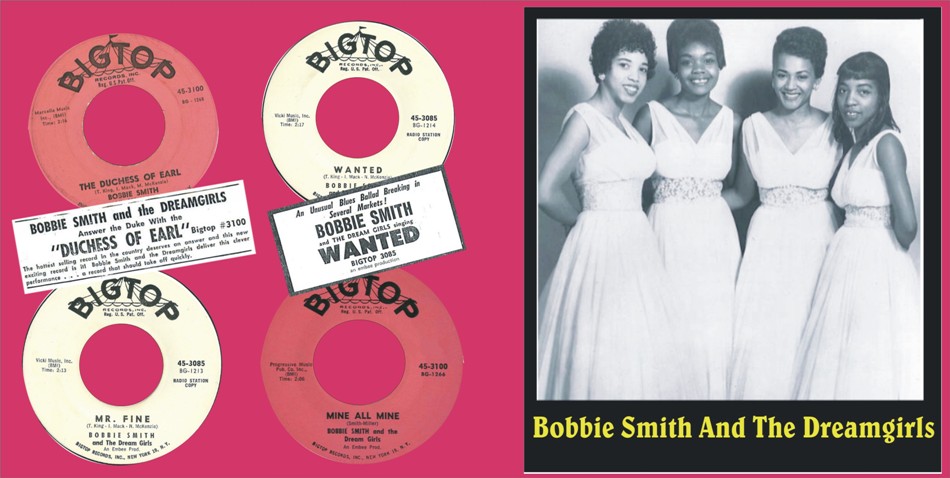 It was now that Louvain discovered that there was work to be had outside of Motown and on responding to a newspaper ad placed by local entrepreneur Harry Balk, discovered that he was looking for singers, successfully auditioned and became a Dream Girl, alongside Bobbie Smith, (Elma Holman), her sister Sheena Carson (Genever Holman) and Kay Green. the fourth member of the quartet was Tina LaGora and it was during Tina's pregnancy that Louvain stepped in as the fourth voice. (4) She recorded a couple of outings in New York with the all female group, including the 1961 release, Bobbie Smith And The Dreamgirls — "Mr Fine b/w Wanted" — Bigtop 3085 and three months later, Bobbie Smith And The Dreamgirls — "Duchess Of Earl b/w Mine All Mine" — Bigtop 3100. By 1962, Louvain was appearing at record hops as a member of the group, whilst also undertaking vocal duties as a member of The Andantes having been introduced to Jackie and Marlene because The Rayber Voices were doing less and less studio singing as a unit. As The Rayber Voices faded from the studio scene, The Andantes took up the mantle of their successors and thus began a decade of Motown's producers preferring them on their productions than anyone else.
It may surprise people to discover that many of the female group releases feature The Andantes quite prominently including early Velvelettes and Supremes sessions and a number of Martha and The Vandellas tracks. As songs like, The Velvelettes - "Needle In A Haystack", The Supremes - "Run Run Run" and Martha And The Vandellas — "Quicksand" hit record stores and provided a platform for 'The Sound Of Young America', there too, in the final mix, amongst the Funk Bros fabulous musicianship and the lead singers plaintive vocals are three metronome-like, pitch perfect, angelic voices, in choruses, in call and response lyrics, in the Oohs and Aaahs are Jackie, Marlene and Louvain, The Andantes.
"When it came to producing the records, it's a fact that The Andantes recorded on everyone's product" - Micky Stevenson: Motown A&R Director
As well as quickly becoming indispensable in the studio the girls would also perform on the road at times with the traveling live shows that the company deployed. Mickey Stevenson, the respected A&R Director, songwriter and producer recalls "When I took the Motown Revues out, they would sound the best and sound just like the records. I would take The Andantes and put them off stage with microphones, behind the curtains. I intentionally did that so we sounded great………. When it came to producing the records, it's a fact that The Andantes recorded on everyone's product, from the Four Tops to The Supremes; they did everything". As the studio got busier and busier so did the girls schedule. If all three couldn't make it to a session then others would become honorary Andantes for that session too. Two ladies of special note who sang on sessions as Andantes were Pat Lewis and Ann Bogan. Ms Lewis of course has an individual musical legacy of her own but it was when the girls were one voice short for a session that Pat first stepped in. The resulting, Stevie Wonder - Uptight (Everything's Alright) b/w Purple Raindrops" - Tamla 54124 went on to deliver a Billboard Hot 100 #3 slot so I guess everyone was happy with Pat's input! Ann Bogan's musical journey began when she was discovered by Harvey Fuqua singing in church in her home town of Cleveland Ohio and would eventually lead her to becoming a member of The Marvelettes. Before that however she was a member of The Challengers who recorded for Fuqua's Tri-Phi logo in Detroit. When Berry Gordy absorbed Fuqua's label it also took over control of it's A&R roster. Hence Ms Bogan found herself striving to make a name for herself in Gordy's ever growing stable of artists. This included standing in on backing vocal duties which she often did, with The Andantes and with others.
Of course the ultimate goal of any singer is to be heard and despite Berry Gordy's reluctance to allow his studio stalwarts like The Funk Brothers and The Andantes to spread their own musical wings to much the girls did in fact record under their own name. On the 6th February 1964 and suitably armed with two songs written by the red hot in-house production team of Holland — Dozier — Holland, the girls recorded a session constructed around presenting their own voices in center stage. Ann Bogan was given the role of lead vocal for the session and little could they suspect that on that crisp, mid winter's day in that little studio on a suburban, tree lined street in Detroit, they would create one of soul music's most sought after outings on wax. The Andantes — "Like A Nightmare b/w If You Were Mine" — VIP 25006.
Despite the disc being something of placation for the girls' constant pestering to record, Berry Gordy having probably already decided that any 45 by his studio stalwarts wasn't worth risking, (putting one of your best assets into the shop window isn't good business sense), the uptempo, pacy song, full of vibrant drum fills played by Lamont Dozier, staccato horn riffs, an inspired Mike Terry sax break midway and a whole slew of 'Oohs and Aaahs' from the girls in support of Ms Bogans high alto, almost strained lead works like a charm. It's got Motown circa 1964 stamped all over it and had it been a Martha Reeves and The Vandellas release would quite possibly have delivered a Hot 100 hit.
With no success with their 45 on the horizon the girls continued undertaking backing vocal duties both at Motown and beyond. Although Berry Gordy demanded exclusivity from his musicians and The Andantes both the girls and the Funk Brothers regularly sang and played for other producers and not just in Detroit. Companies in Chicago, New York, Philadelphia all made use of the hit making machine from The Motorcity. When Carl Davis needed an injection of 'vibrancy' for a Jackie Wilson session it was to Detroit's premier combination of The Funks and The Andantes that that looked to. The whole "Higher and Higher" album (Brunswick LP #54130), was performed by them which irritated Gordy back at West Grand Boulevard to the point that he employed people to investigate whether they were 'moonlighting'. It's also The Andantes backing Jackie Wilson on his much sought after picture sleeved 45, "A Lovely Way To Die". Of course without the security of a contact, the girls still had to earn a living, especially as they became young mothers with family responsibilities and if it was a slow week in The Snakepit, they looked for gigs elsewhere. But it was Motown and backing the glittering Motown stable of artists that would ensure the Andantes would leave a legacy to match (if not surpass), the acts they supported.
Kim Weston recorded a number of songs with the girls that hit the spot with record buyers and quite a few would also go on to achieve success with Northern Soul fans. Apart from the atmospheric background support on the anthemic, Kim Weston — "I'm Still Loving You b/w Go Ahead And Laugh" — Tamla 54110 and Kim Weston — "Helpless b/w A Love Like Yours (Don't Come Knocking Everyday)" — Gordy 7050, it's the ladies beautiful soaring voices that echo Kim's emotional 'Thrill A Moment' throughout, Kim Weston - "Thrill A Moment b/w I'll Never See My Love Again" - Gordy 7041 that is really the peak of their collaborations. The backing vocals become as important a component as the opening bongo intro, or the stirring string arrangement, or indeed Kim's tone perfect, soulful tale of her precious love, incidentally written by her with input from stalwarts William Stevenson and Ivy Joe Hunter. When all the pieces of this musical jigsaw came together in March 1965, the end result was one of Motown's all time masterpieces. With every single part of the hit making machine firing all its cylinders the inspired ballad takes on an impressive, wholly atmospheric, moodiness that fits the song itself like a musical hand in a calf-skin glove. The Funks, Kim Weston, The Andantes... perform like a well tuned musical Ferrari and a more perfect example of craftsmanship within the company's catalogue would be hard to find. The Andantes at their very best!
Another female artist that benefited from having the group behind her on some of her successful outings was Brenda Holloway. Once again it's the subtle but nevertheless vital 'Oohs and Aaahs' as well as the call and response lyrics that the girls bring to the musical table on 45s like the 1965 release of Brenda Holloway — "When I'm Gone b/w "I've Been Good To You" — Tamla 54111, a song originally recorded and subsequently aborted as a 45 release by Mary Wells a few months earlier, (Motown #1061). It's a song that was also recorded in California by that other Motown songbird Barbara McNair but Brenda and The Andantes really make it their own and in the process created a stone mint classic for the Northern Soul fans. Brenda's breathy vocal is a perfect foil for the Smokey Robinson penned classic whilst once again it's the soaring backing vocals by The Andantes that provide the extra, powerfully dramatic musical podium, from which Brenda launches her sultry goodbye to her cheating beau. Simply put, it's another 45 that has enraptured soul fans from the day it came of the press, was slipped into a sleeve and dispatched to record shops. It provided Brenda with a Top 30 hit on Billboard's Hot 100 (#25) and peaked at #12 on its RnB equivalent.
The Andantes were, by the mid sixties, an integral part of the Hitsville hit making machine often compared to the car producing assembly lines in the industrial plants the Motor City was equally famous for. They were there as Motown's young aspiring singers became household names, they watched as the producers and songwriters hit the charts, providing the only real competition to The Brit Invasion. As The Miracles, The Supremes, The Four Tops, The Temptations, Stevie Wonder, Marvin Gaye led the assault on the international music scene, The Andantes, alongside that other troupe of musical talent The Funk Brothers, remained in Detroit, at 2648 West Grand Boulevard, continually adding to Motown's legacy, unseen but certainly not unheard!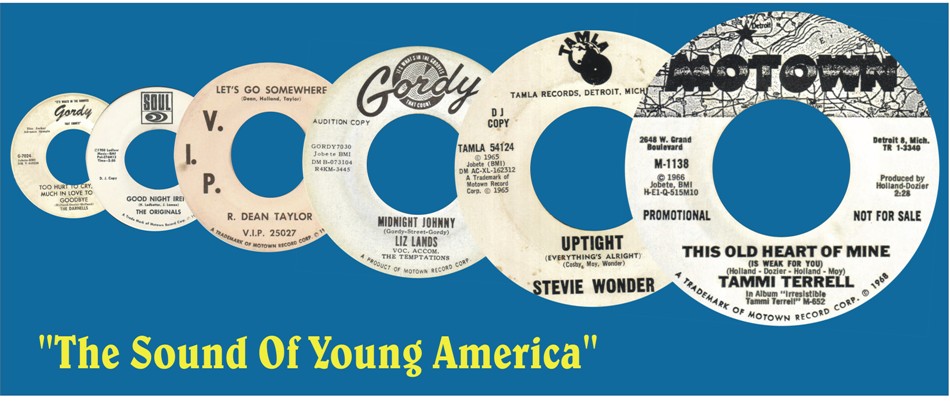 If you ever wondered who it was that nudged the fantastic horn riffs to one side every now and then on Stevie Wonder's fantastic "Uptight (Everything's Alright) (Tamla # 54124). Then wonder no more, it was indeed Jackie, Louvain and Marlene, the very same trio that lifted Tammi Terrell's outings from the great category to the fantastic category! A couple of great performances really highlight the quality of the vocal input from 'background singers' and their effect on the final sound. "Come On And See Me" (Motown #1095), sees the girls interloping with Tammi's emotional plea for love with that soaring style that created an almost tangible atmosphere to the songs, whilst their contribution on Ms Terrell's version of, "This Old Heart Of Mine" (Motown #1138) is nothing short of stupendous. Without them the song becomes a pale copycat of The Isley Bros hit but with the girls stamping their signature impression all over it, it becomes a superb combination of fantastic musicianship coupled with uptempo vocal gymnastics worthy of a musical gold medal!
"You could put a good singer on a good track. You could then put The Andantes behind them…and you had a hit record!" - R Dean Taylor
R Dean Taylor's blue eyed dancers "Lets Go Somewhere" (VIP # 25027) and "There's A Ghost In My House" (VIP #25042), were also given The Andantes treatment and Mr Taylor himself recalls: "You could put a good singer on a good track. You could then put The Andantes behind them…and you had a hit record!", (5) something that just about every producer did as the Motown machine rumbled ever onwards! The fantastic, Liz Lands — "Midnight Johnny b/w Keep Me" — Gordy 7030 is yet another Northern soul favourite song that was transformed by the girls "Stay away, stay away" and "Midnight Johnny".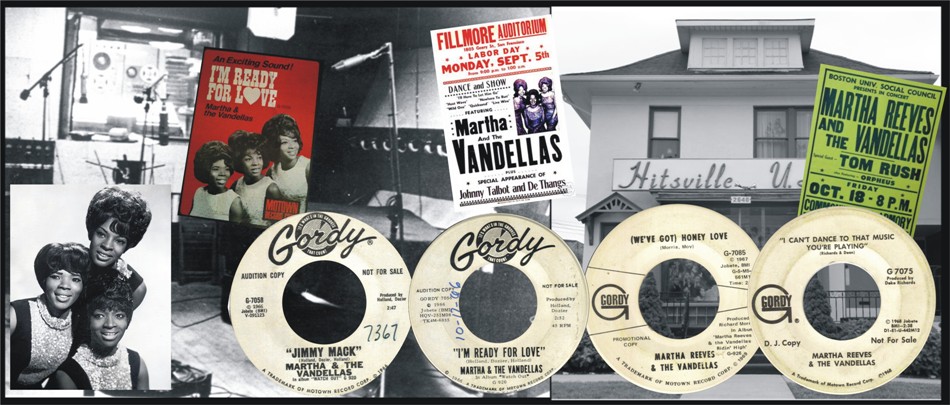 Martha Reeves of course already had supporting voices in the form of the original Vandellas, Annette Beard and Rosalind Ashford, (Ms Beard being replaced by Betty Kelly in 1964) but even their 45s contain vocal enhancements contributed by the girls as did many of the hits enjoyed by The Marvelettes. Martha and The Vandellas — "Jimmy Mack b/w Third Finger, Left Hand" — Gordy 7058 gave the group it's second #1 RnB hit once paired with The Andantes by the Holland — Dozier — Holland triumvirate.
Of course H-D-H became one of the most prolific record producing teams of all time with Lamont Dozier eventually claiming the crown of the most successful producer of all time having scored more #1US Chart hits than anyone else. The Generals of Motown's assault on the Billboard Charts the trio absorbed The Andantes into their creative mix. The group became such a feature on the recording sessions that they were given their own office space in which o rest awaiting the call to perform. Their role in the success of The Four Tops rise to international stardom via a series of fantastic outings on 45, certainly needs to be more recognized. As vital to the whole finished song as Earl Van Dyke's clattering piano, or Mike Terry's low end baritone sax snippets, the ladies "Oohs and Aahs!" combine with their male counterparts to create a musical balance that H-D-H and Levi Stubbs make full use of and together they literally grab the songs by the throat and squeeze the very soul from each note. If you're not sure about how much their contribution was to these fantastic outings, re-listen to Four Tops — "Something About You b/w Darling I Hum Our Song" — Motown 1084 on which the girls sing nothing but "Oooh ooh ooh!" and then imagine the song without them! Or check out the soaring background voices on, Four Tops — "Shake Me Wake Me (When It's Over)" b/w Just As Long As You Need Me — Motown 1090, that's not just Messrs Benson, Fakir and Payton, oh no indeed, it's the Seven Tops, the real 'Magnificent Seven': The Four Tops and The Three Andantes!
All three of The Andantes recall their sessions with the Four Tops and H-D-H as being fun filled sessions that produced some of their best work, and Louvain Demps especially liked working with the Four Tops and cites "Bernadette" (Motown #1104) as one of her favourite songs thus: "The Guys sounded great, we sounded great and the production was amazing. The playback was so exciting to hear that first time. After all of the elements were on the record, it was like WOW!" It's also the one song that Marlene would pick if she had to place one in a treasure chest.

The Andantes also have special memories of their work with Marvin Gaye. In addition to Louvain's fondness for "Mr Sandman", Jackie still gets s thrill out of hearing, "I Heard It Through The Grapevine" and in fact still has it as her ringtone! The duets Marvin recorded with Kim Weston also conjure up evocative memories for the trio and are amongst their proudest moments. Marvin and Kim's outings were all enhanced by The Andantes contribution in the back ground and songs like, "What Good Am I Without You" and "I Want You Around" are fine examples of how sweet, unobtrusive vocals can play such a large part in the final sound.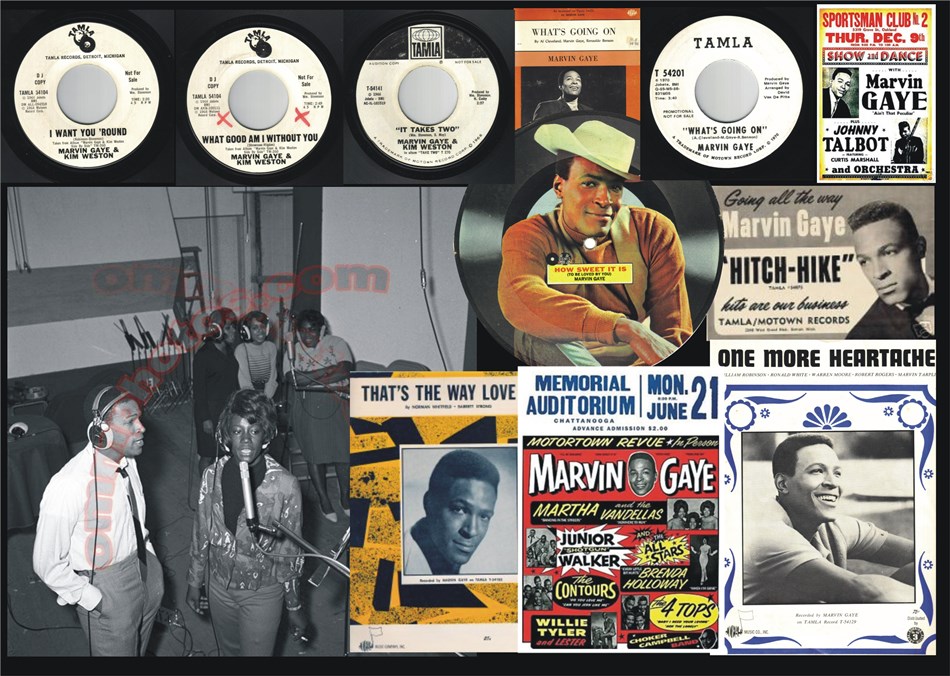 As Motown changed and H-D-H left, other songwriters and producers would take up the baton. Nick Ashford and Valerie Simpson, Norman Whitfield, Pam Sawyer, Gloria Jones, Syreeta Wright, all recorded great music that would go on to achieve classic status and there, at the ever beating heart of it were The Andantes. When Marvin Gaye released his seminal album "What's Going On" in 1971, it featured the girls as the backing vocalists and when it delivered 3 #1 RnB Hits as well as hitting the top spot as an album I guess it's a lasting legacy to not just the girls but the musicians and Marvin himself. But even that kind of success couldn't ensure more sessions and more work as Berry Gordy looked Westwards, his eyes firmly fixed on Hollywood.
When, in 1972, Motown left its Detroit home for pastures new in California it appears to have done so with so many loose ends and a bucketful of unfinished business. Lives were left hanging and the three ladies of The Andantes found themselves picking up their last paychecks shortly after the move and having some serious decisions to make. With family responsibilities to meet it was the lure of a salary that drove them now, not the lure of the Snakepit and after almost 14 years of being a supporting pillar of 'The Sound Of Young America', it was all over.Jackie found herself working for the City of Detroit and now lives in Southfield, Michigan, Marlene took up a position working for the State, whilst Louvain made a new life for herself in Atlanta, Georgia initially working with disabled children but also kept up her singing on a number of projects including singing commercial jingles and singing backing vocals for artists appearing locally as well as studio sessions.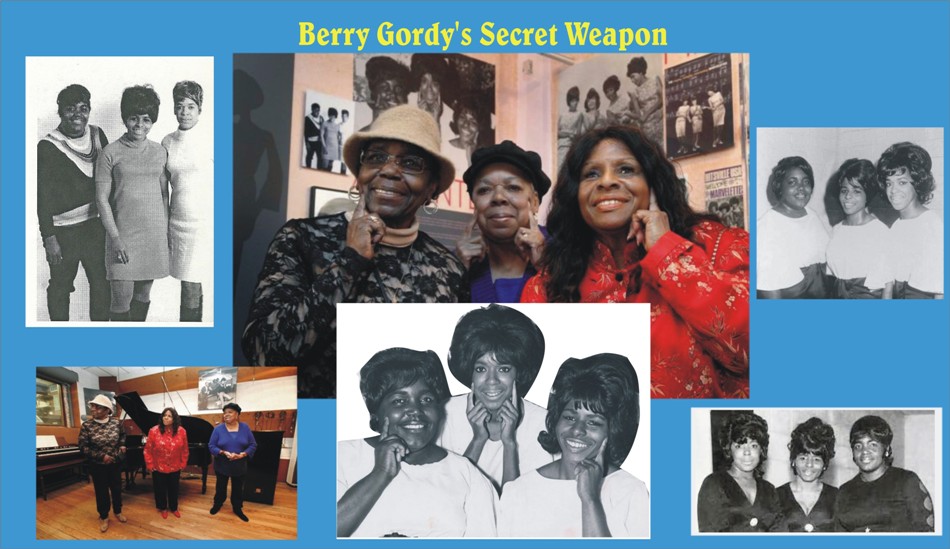 All three have no regrets bar one. The one thing they would have loved to change about their legacy is they would have liked to have been annotated on the records they contributed so much to. Well, we can't put the credits on the records but we can certainly give kudos, respect and our gratitude to the ladies for contributing so much to the music we love and so it's with that gratitude front and foremost that we welcome the most successful backing singers of all time, The Andantes, to our Northern Soul Hall Of Fame.
Lorraine Chandler & Dave Moore :16 November 2014
Notes and References:
1. Detroit's Northwestern High School would provide fertile ground for Motown's future international stars. Many of Motown's 'big hitters' attended school there including, The Supremes, Mary Wells, Smoky Robinson, The Supremes and of course Richard 'Popcorn' Wylie and Motown bassist supremo, James Jameson.
2. Motown: From The Background, Vicki Wright (with The Andantes). Published by Bankhouse Books, 2007. ISNB 10:1-904408-29-X
3. The Rayber Voices were an amalgamation of the beginning of RAYnoma and BERry Gordy's first names.
4. Harry Balk would later establish Impact and Inferno Records, Duke Browner becoming his most prolific producer on the labels. Harry was also the manager of Del Shannon who was discovered by Ollie McLaughlin and went on to head up Motown's Creative Division in the early seventies.
5. Motown: From The Background, Vicki Wright (with The Andantes). Published by Bankhouse Books, 2007. ISNB 10:1-904408-29-X
Acknowledgments:
Discography:
As with quite a few of our Hall Of Famers the discography of The Andantes would take up enough space to slow down the site! With most Motown mid 60s releases to their credit and the extra curricular releases running into hundreds of outings the four snippets below are simply an example of their talents.