While following Paul Masons (BBC Newsnight) twitter feed, I noticed amongst all the "current affairs" type tweets one or two comments/connections that could be taken as northern soul related, which at the time made me look twice, but didnt really give it that much thought. After seeing last week that he had tweeted a youtube link of the Carstairs, this again stirred my interest and led to me replying to his tweet asking if he was up for passing on a quick word or two on his northern background (so to speak). As felt that it could be interesting reading for members here on Soul Source.
Anyway Paul replied seemingly well up for it and within a few days he passed on the following set of words all about his northern background, which also included a photo of himself back at Ms, which is a lot more than I originally expected!
If you do watch BBCs regular weekday Newsnight then am sure that you will be well up to speed on just who Paul M is and indeed what he actually does on the show, however for those who may not be aware will just add below a brief grab of a bio before his words...
Paul Mason (born 23 January 1960) is economics editor of BBC's Newsnight.
Paul was one of the BBC's first bloggers and has twice been nominated for the Orwell Prize.
He covered the collapse of Lehman Brothers live from outside its New York HQ and, "has hardly stopped for breath since then", reporting on the social and economic impact of the global meltdown from the mean streets of Gary, Indiana to the elite salons of Davos.
A memoir of Wigan Casino
Paul Mason
I discovered Northern Soul when I was fourteen. It took me about a week to learn to dance and less than that to find a pair of Royals brogues and some 19" bottomed trousers.
Less than a year later me and my schoolfriend Mike Morley each packed our pyjamas into our badge-encrusted Adidas bags one Saturday night and set off to "sleep" at each others houses. We were really going to Wigan of course.
It was a vivid experience for a 15 year old: the crush of the queue outside, which was brutal ­ you had to shove to get in. The hyper-cool people in the cafÃÆ'© along the row of shops next to the Casino: I think this was the elite of record collectors and music journalists. Lots of southerners anyway: a bloke dressed like the Great Gatsby. People wearing tiny Japanese sunglasses.
For those who only know the images from the Tony Palmer film this might be a surprise but the "funk" and disco scenes were already lurking on the edges of Wigan, and the magazines at the time ­ "Blues & Soul" above all constantly introduced you to a wider selection of music than was actually played at Wigan.
Once inside I bought "Free For All" by Philip Mitchell on Vee Jay, danced, flaked out and only really came back to life in the morning, when we went to the cafe in the Casino¹s basement to dance once the allnighter had finished.I remember there was a CND sign painted on a black wall and some very brilliant dancers doing slow-mo spins in the space between people¹s piled up bags and leather overcoats.
Gary Ord from Leigh was my mentor in all things Northern Soul ­ he¹s pictured in the Tony Palmer film. Because the sleepover excuse didn¹t actually work, I didn¹t get to the allnighter again for a year, but had to make do with the Ritz all-dayers, plus numerous other 7pm till 11pm nights in Leigh, Manchester, Bolton, Goldborne and Wigan itself.
The most I ever paid for a record was £7 for Better Use Your Head on Veep, and I remember in the same year getting £17 a week for a working at a factory in Leigh during the school holidays, so £7 was a lot.
Once Mr M¹s opened, I used to spend most of the time at Wigan allnighters in there. We became instant ³oldies snobs² and looked down on the main room. On the main floor I used to dance on the right hand side, with the Leigh and Goldborne people. It was ­ as I remember it ­ quite territorial!
On the last ever night I went to Wigan we went out of the back of Mr Ms at dawn and were surprised to discover it emerged into a warren of eerie cobbled alleyways.
It felt like time travel.
When the faster, funk-influenced style of dancing came in I went over to that, and that was the vibe at the Ritz by 1977-8 as I remember.
My top ten Northern tracks are:
1. Better Use Your Head, Little Anthony
2. She¹ll Come Running Back, Mel Britt
3. It Really Hurts Me Girl, The Carstairs
4. Where It¹s At, The Jades
5. Gonna Get Along Without You Now, The Vibrations
6. Get Out, Harold Melvyn and the Bluenotes (the first Northern record I ever heard)
7. Don¹t Bring Me Down, Rita Da Costa
8. What¹s Wrong With Me Baby? The Invitations
9. Contact, The Three Degrees (heard this played only once at Leigh Casino and it took me until the iPod era to find it again)
10. Just Say You¹re Wanted, Gwen Owens
I could go on. Thanks to Youtube and iPlayer I¹ve heard tracks I never heard while I was on the scene. I¹ve also got to appreciate Doo Wop and even earlier R&B, and to understand the lineage that led to soul in the 1960s.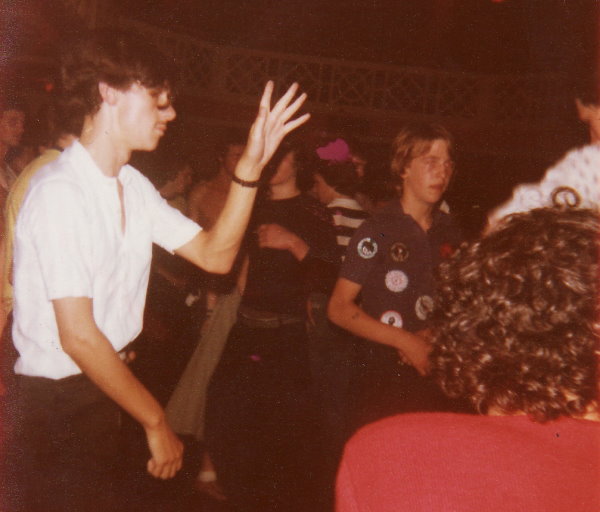 The photo shows me dancing at Mr Ms at ­I think ­the Fourth Anniversary Allnighter.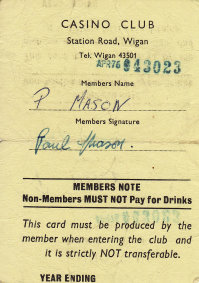 The membership card is my second one ­ I lost the first.
Only a few years ago did I actually get to go to Detroit and Chicago. I covered the housing crisis there and it was heartbreaking to see the birthplaces of soul ­ the once vibrant black communities ­ reduced to slums and being re-colonised by vegetation. But among all kinds of people I met there - taxi drivers, Ford workers, even the mayor of Gary Indiana, who was once mates with Pookie Hudson ­ I met people quite unsurprised to find a white guy from Northern England who knew about Okeh, Stateside and Veep.
I went to Wigan allnighters regularly until 1979, when we decided it was getting too violent, too druggy, and generally not as brilliant as it had once been. I went to a couple of revival nights in the 1990s but I prefer to remember it how it was:
Thousands of young, mainly white, working class kids dancing to black music in an atmosphere of friendship and solidarity, overtly anti-racist, breaking through barriers of place and time: we more or less invented the dance scene of the late 20th century. A small part of me is still always there.
Paul Mason
12 Jan 2012
As said earlier Paul Mason is the economics editor of BBC Newsnight. For those who know him from that side of the real world or through his previous books then the news that he has a new novel titled "Rare Earth" that is due to be published very shortly by Orbooks may be of interest (19 Jan)
You can view details of "Rare Earth" via the link below...
uk  http://www.noexit.co...hp/itemcode/551
usa  http://www.orbooks.c...log/rare-earth/
UK publication details are as follows:
Rare Earth / Ebook / March 2012 (all formats)
Rare Earth / paperback / October 2012 / £7.99
site end word
Many thanks to Paul for the great response to my initial request, was very refreshing in this day and age to get such a reply from someone who is in the "public eye".