Out doing the rounds is this current new 45 release from Secret Stash Records Usa
here's some of the sound...
http://secretstashrecords.com/AudioClips/ssr2002/AGrinandBareIt90.mp3
http://secretstashrecords.com/AudioClips/ssr2002/BIveGotToFindMyBaby90.mp3
here's some of the ink...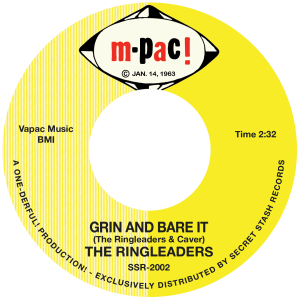 here's some of the blurb...
ailing from Saginaw, Michigan the Ringleaders first recorded for George and Ernie Leaner in April of 1966. Their sole release for M-Pac! eventually caught on in the Northern Soul scene and today copies sell for hundreds of dollars. Adding to the group's lore, two acetates with the unreleased tracks "All of My Life" and "This Is Goodbye" surfaced in the UK in the 1980s becoming holy grails of sorts, and cementing the Ringleaders as Northern Soul heavyweights. Presented here for the first time are two additional unissued tracks from The Ringleaders. Eight months after their first release, the Ringleaders recorded "Grin And Bare It" and the following month, January of 1967, they tracked "I've Got To Find My Baby" in their final session for the Leaners. Although these are unreleased tracks, we have faithfully reproduced the M-Pac! label to pay homage to how they would have looked had they been released in 1967. This is just a sampling of many great tracks to follow as part of The One-derful! Collecton, so stay tuned!
here's some of the website
http://secretstashrecords.com/
available from all the usual suspects
what's the members take on this release then....?