Induction Date : 01 November 2014 Category : Outstanding Contribution
A living legend to some, where do you start to map out the life and achievements of someone that has been at the forefront of the Northern Soul scene for so long, surely he has soul music running through his veins? Promoter, DJ, Record Dealer and Head of Publishing at Kent/ Ace Records, it's because of his unending quest for the sublime music that we cherish that his name deserves to be one of the inaugural inductees into the Northern Soul Hall Of Fame.
Born in Sheffield in 1952, Ady started on his journey into the world of Rare and Northern Soul in 1967 at the Frollickin' Kneecap in Market Harborough, a regular soul night, his first all-nighter would be at the deserted Kelmarsh railway station in 1969 which had been converted into a pub with dancehall, in the middle of the Northants countryside, half a mile away from the next building. He continued as an enthusiastic punter for the next 5 years buying vinyl as and when he could and, after university he snagged a job on a barrow on Rupert St market in Soho that sold 1000s of old 45s, before becoming a full time record dealer in 1974 making trips to the States twice a year.
Ady, with his good friend Randy Cozens, formed the 6Ts Rhythm and Soul Society in August of 1979, because Randy wanted somewhere to listen to great music. The first event being held in a function room called Henri's at the Bedford Head pub in Maiden Lane, Covent Garden in London's West End. After a couple of successful months there they had a solid following and with the help of one of the first club mailing lists they sent out slightly amusing newsletters before each event and got the crowd to follow them to their next venue. This was a pub in West Hampstead called the Railway that had an upstairs function room called the Starlight Room (they also had a downstairs one called the Moonlight). The Starlight had originally been a mod club in the 60s, called the Klooks Kleek (Zoot Money's Big Roll Band did a very good live LP from there, Zoot/ Live at Klook's Kleek Repertoire REP 5034), while the Moonlight was a pioneering London Northern Soul club that Ady had gone to in the early 70s where Mick Smith and David Burton played all the current Northern monsters to about 30 hardcore punters. The 6Ts was up in the Starlight Room and it went from strength to strength over the next year.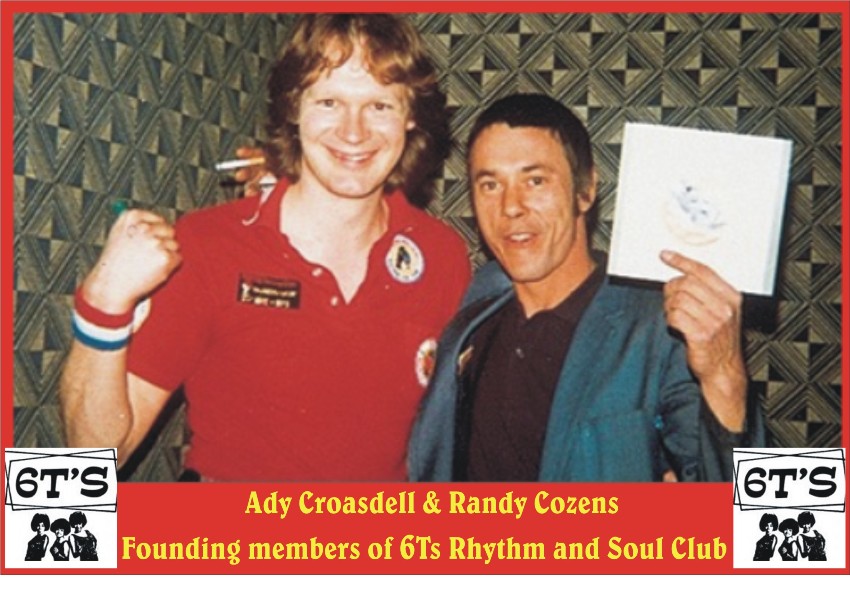 The DJs in this period were Randy, Mick Smith, Tony Rounce, Tony Ellis, Terry Davis, Ian Clark and Pete Widdison, you may notice that Ady wasn't listed. The music was original mod soul classics and similarly sounding classy dance records. However, they finally got kicked out of there, after one particularly wild evening when, amongst other mayhem, Pete was seen swinging off the rafters by the club's management.
They then moved around London a bit, holding one-off dances at the Notre Dame Hall (Leicester Square), the Horseshoe by the Dominion Theatre (Tottenham Court Road), the 101 Club (Clapham), before getting their first date at The 100 Club. The first nights were more your Friday night beer laden parties and more and more R&B was getting played. However, Randy had hankered after getting a night going at his beloved Last Chance Saloon mod soul club from the 60s and as all their weekends were booked they went for a Friday all-nighter from 3am to 10am, where Ady started his Djing career, and probably about the same time he was nicknamed Harboro Horace by Randy, a nickname that he used on the sleeve notes of the compilation LP's he had a hand in.
So when the 100 Club management started a regular Friday club night rather than leave the place entirely they decided to try a Saturday all-nighter after the jazz had finished. This started at some time in 1981 and has been going on ever since. In fact, this year the 6T's Rhythm and Soul Club's 35th Anniversary was celebrated! The longest running all-nighter venue in the world. To celebrate the 6Ts brand and ethos Ady, beginning on the 5th Anniversary Allnighter, has issued a celebratory 45 on each subsequent anniversary and, in a kind of ironic way, many of these 100 Club Annivesary discs have become sought after records in their own right.

6Ts now has a reputation for being at the forefront of Northern Soul music, the music policy is the best of Northern Soul rarities, recent discoveries, unissued acetates and master tapes, a bit of modern, the odd R&B track and a smattering of oldies when needed/demanded. Ady, not wanting to rest on his laurels, decided to try and run a weekender for the same reason that Randy and he had started the 6Ts; i.e. no one else was doing it. A booking agency called TAC from Southend had run three or four good Northern/Motown weekenders in Great Yarmouth, which he had attended as a DJ and punter. He'd helped them with their bookings and sorted out the choice of songs for Chuck Jackson and Ray Pollard, amongst others. The weekenders there, although great, only lasted a couple of years, the profit margin was low and attendances were only average, though enthusiastic.
As a student he used to visit a Hi-De-Hi style holiday camp in Cleethorpes where his mate's uncle was the comedian. He vaguely remembered it as having a great old-fashioned 60s dancefloor and revisited it to find it a perfect contender for a weekender. After a year or two of persuasion, he eventually talked them in to giving them a chance and the first event got under way. The acts booked were Mary Love, Tony Middleton and Willie Tee and they got an impressive line-up of the best Northern and Modern DJs operating at that time. However bookings were slow and with a month to go they were facing bankruptcy, they had to make a decision whether to pull the event or keep their fingers crossed. Of course it didn't run smoothly even with late bookings and "walk on" attendances pushing up the numbers. Willie Tee pulled out the day before the event, so everyone was given a £5 refund on arrival.
Despite that, it was such a great weekend that they were sure they'd have no trouble filling the place once word got out. So the next one was booked for April 1994, 6 months after the first one. The line-up was Barbara Lewis, Lou Courtney and Betty Lavette, stunning in anyone's book, but the event's finances still needed to be subsidized by Ady. Not to be put off, he realized that every 6 months was too much and decided to leave it until later in 1995 and at this point the management came to the rescue by saying why didn't they have it in June before the school summer holidays. Because of the move the crowds were appreciably bigger and have grown every year since. The event is now a sell-out, months in advance, testament to his dedication as a promoter.
Since then there have been many memorable weekenders where people have said they've been better than the previous one. Artists have included Doris Troy, Tommy Hunt, Maxine Brown, Al Wilson, Bobby Hutton, Little Ann, Hoagy Lands, Sidney Barnes, The Velvelettes, Dennis Coffey, Willie Tee, Dean Parrish, The Diplomats (The Skull Snaps), the Mirwood Revue, Carl Carlton, Spencer Wiggins, Melvin Davis, Mary Love, Tobi Lark, Bettye Swann, Darrow Fletcher and recently the Weekender hosted the fabulous husband and wife team of Edna Wright (Sandy Wynns) and Greg Perry. In addition to his promotions and DJ contributions in UK, 'Horace' has also gone on to DJ in Italy, Germany and Spain and has even occasionally lectured on he subject of Rare Northern Soul.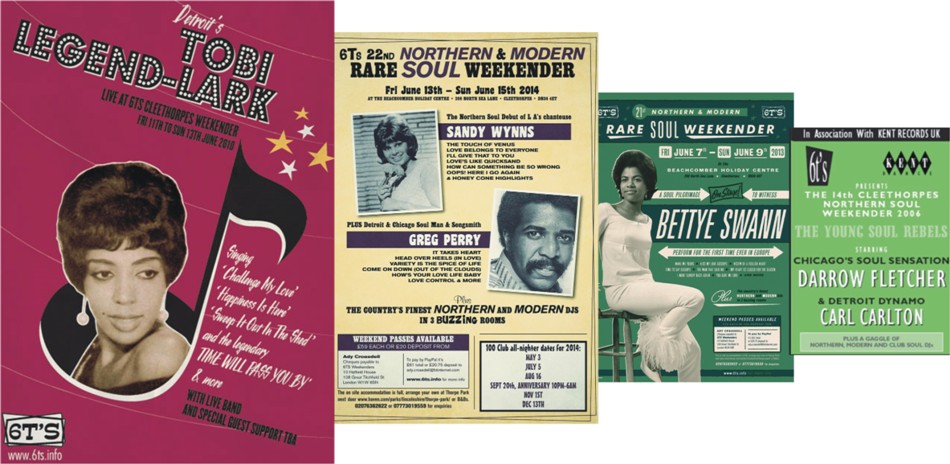 Way back in 1982 Ady visited Ted Carroll's Rock On record stall on Golborne Road in West London, Ted later took a stall on the newly founded Soho market near Chinatown, not far from where Ady had his barrow, and he used to buy the 60s soul singles that the old vinyl merchant had plundered from warehouses and old shop stock on his travels. This interest in a music that was not particularly cherished in London at that time led to Ted asking Ady to stick together 15 singles from Los Angeles' Kent and Modern labels and come up with an LP that would satisfy all those young mods who pestered Ted for some "soul like what all the original mods used to listen to". Pinching the title from a popular Popcorn single of the time by Moses David on Tollie, Ady came up with "For Dancers Only" Kent 001, a selection of Northern Soul stompers, girl group floaters, male vocal harmonies and low down Rhythm & Blues, this was the start of Kent/ Ace records.
He was then asked to rattle off a follow-up, when his first attempt flew out of the shops, that was the imaginatively named "For Dancers Also" Kent 002, the discerning public were soon hooked. A deep soul LP came next, followed by a collection of 60s soul classics, an LP of pure Northern Soul dancers, 70s soul sounds and many more sides of soul music's polyhedron.
Thirty plus years on, he is still coming up with black music compilations from the 60s and 70s that soul fans continue to support and enjoy. His eventually getting access to all the major record labels has given us, the Northern/ Rare soul fraternity music from the Okeh, Chess, RCA, Atlantic and even the mighty Tamla Motown vaults. This has meant the supply of sounds from this golden era is virtually limitless. Hugely influential independent labels like Stax, Goldwax, Fame, Westbound, Carnival, Mirwood, King, Scepter/Wand and others have learned to trust his integrity and have thrown open their doors saying "go ahead tell it like it was". Smaller Independent labels such as Sounds Of Memphis, Dave Hamilton's Detroit productions and GWP have come up with sizeable vaults that have delivered superb soul music that had frequently been unheard since its creation.
Then there are the series like Mod Jazz, Modern Masterpieces, Northern's Classiest, New Breed R&B et al that just keep on coming. It has allowed the public access to solo CDs from acts as big as the Impressions, James Carr, Candi Staton and the Staples Singers all the way through runaway successes such as Doris Duke, Sam Dees, Spencer Wiggins, who were previously only known by the cognoscenti, on to O.C. Tolbert, Jackie Day, the Minits and Vernon Garrett who weren't that well known on their own blocks.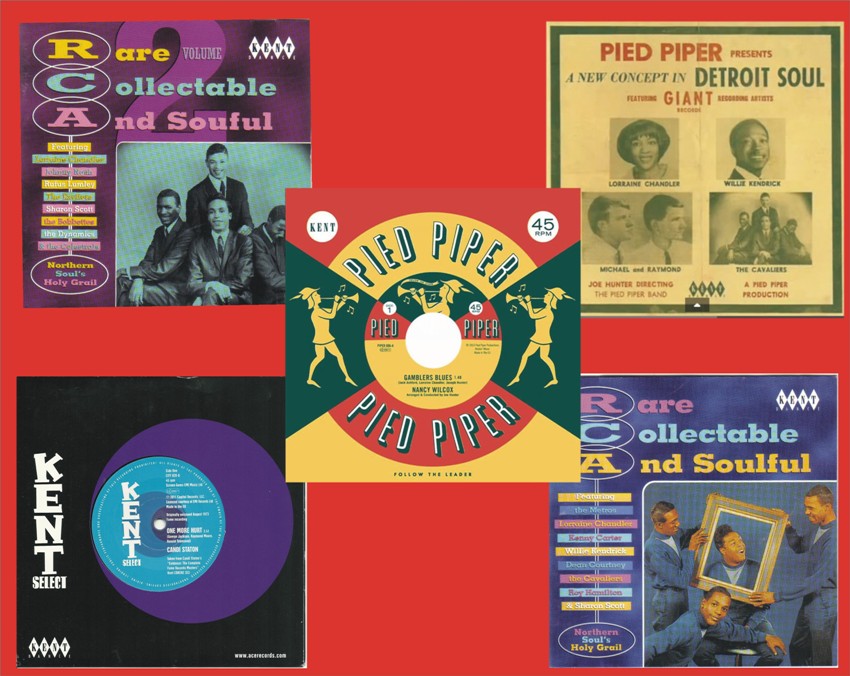 The continued penchant for vinyl has left the rare soul lover with a pile of LPs and a growing 45s discography that would be enough to fill a DJs play box, what a great set would be played from it too, especially with the legendary Pied Piper productions recently added. With 300 plus CD compilations to date, the influence of Ady's discoveries for Kent/ Ace records is seen all over the planet with mod and soul clubs cropping up in far flung places eager to enjoy the music of the 60's and 70's that have been rescued from obscurity. I guess it's a testament to Harboro' Horaces standing within the soul fraternity in that of all the 'non musical' people that could have topped the list of inaugural inductees Mr Croasdell was up front and centre by a country mile.
David Hogenson & Dave Moore 01 Nov2014
Notes and references
1. Acknowledgement to Dave Rimmer's http://www.soulfulkindamusic.net for some background information.
2. Acknowledgement to the official 6T's website, http://www.6ts.info for information.
3. Acknowledgement to realmodworld.com for excerpts from an interview with Ady.
4. Acknowledgement to acerecords.co.uk for background information
Discography:
Horace's Records
001 - Melba Moore - The Magic Touch b/w Tommy Hunt - The Pretty Part Of You
002 - Roosevelt Grier - In My Tenement b/w Lavern Baker - Wrapped, Tied And Tangled
003 - Hector Rivera - Chance For Romance b/w Playing It Cool
004 - Eddie Daye & The 4 Bars - Guess Who Loves You b/w Jimmy Armstrong - Mystery
005 - Ray Pollard - This Time b/w The Cairos - Stop Overlooking Me
006 - Little Johnny Hamilton - Oh How I Love You b/w Entertainers IV - Getting Back Into Circulation
007 - Carla Thomas - I'll Never Stop Loving You b/w Barbara Lewis - The Stars
Kent/ Ace Records
https://www.youtube.com/watch?v=T4zvtS4j7Ts